Facebook Has Most "Mobileness" Of Top Internet Media Companies
That's what Citigroup says in a new report today. Facebook is way outpacing Google, Yahoo and LinkedIn, according to these charts.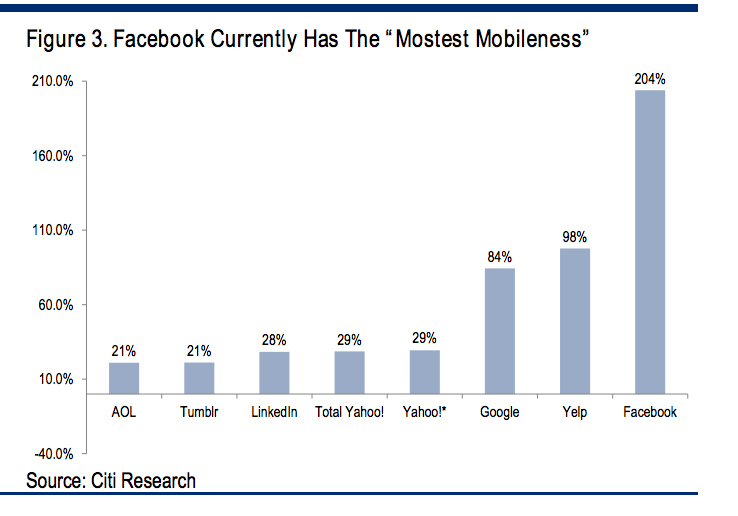 Facebook is crushing other top Internet media companies AOL, Google, LinkedIn, Yelp and Yahoo in "mobileness," Citigroup analysts said in a report today, highlighting the richness of the social network's smartphone and tablet presence.
"Mobileness," a concept coined by the analysts, is the ratio of a company's total minutes spent by users on mobile properties compared with the minutes spent on its desktop properties, using ComScore data. Facebook and Yahoo, after the latter's acquisition of Tumblr, have both grown the measure "at a materially faster rate than their peers" in the past 15 months, with Facebook being the clear leader.
While Facebook's mobile strength is nothing new, these charts drive home just how good it is.
Growth in Internet usage on mobile devices has and will probably continue to be "the most important and impactful trend in the Internet sector," Citi analysts Mark May, Kevin Allen and Nathaniel Brogadir, wrote in the note. "We view companies with strong positions on mobile platforms as better positioned longer term than those without."
While the trend lines on the two charts below are a little hard to differentiate, they show month-over-month growth by mobile minutes over desktop minutes for various companies in the U.S. from May 2012 to July 2013.