Exclusive: J.C. Penney Executive Exodus Continues
Jeff Herbert, an outside consultant brought in by Sergio Zyman for J.C. Penney's marketing department, is gone. So is the general merchandising manager of the home department, an area that was one of ex-leader Ron Johnson's big bets.
J.C. Penney's leadership as of September 2012; circles represent executives no longer at the company: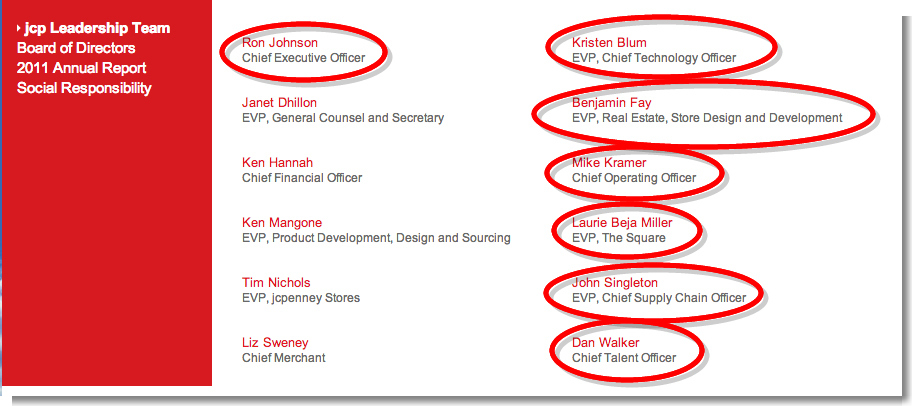 The management upheaval at J.C. Penney in the aftermath of former CEO Ron Johnson's exit continues.
Jeff Herbert, a consultant that ex-Coca-Cola marketer Sergio Zyman brought in to lead marketing, is no longer working with the company after clashes with management, sources told BuzzFeed on the condition of anonymity.
In May, J.C. Penney told BuzzFeed that Herbert, a colleague of Zyman's and former chief marketing officer at Aflac, was taking on more responsibility at the retailer and disputed an account that Zyman had severely scaled back his work at the company. A spokesman for J.C. Penney wouldn't confirm the changes in an email today.
Paul Rutenis, general merchandise manager for the home division, has also left the company, sources said. J.C. Penney's spokesman did confirm that Rutenis is no longer with the retailer.
Rutenis, who joined J.C. Penney in April 2011, was heading up one of ex-CEO Johnson's biggest bets, a revamped home division, featuring vendors such as Michael Graves, Bodum, and Martha Stewart. The department was unveiled this summer.
J.C. Penney brought back Mike Ullman, Johnson's predecessor as CEO, in April after an attempted overhaul by the ex-Apple retail chief resulted in a $4.3 billion, or 25%, sales decline. Johnson wanted to eliminate coupons and move the retailer to an "everyday low price" strategy, and sought to rebrand the company as "America's Favorite Store," featuring a host of in-store boutiques with new designers as well as food and yoga classes. The changes instead alienated longtime customers and failed to draw in enough new ones.
Ullman has been cleaning house and reorganizing the company's management structure since his return, dismissing a slew of Johnson-led hires. Sources tell BuzzFeed that he has not yet replaced the company's chief information officer or chief operating officer, and the positions are not listed on the company's website.
Marketing has been especially hard-hit, a continuation from Johnson's tenure, as Ullman shifts the company back to a promotional advertising model and looks to draw shoppers into stores again.
Chris Chapo, a vice president of data science and research who came from Apple, and Brooke Niemiec, a former Disney manager who was J.C. Penney's divisional vice president of customer relationship marketing and loyalty, also left recently, sources told BuzzFeed.
Today's J.C. Penney leadership page: