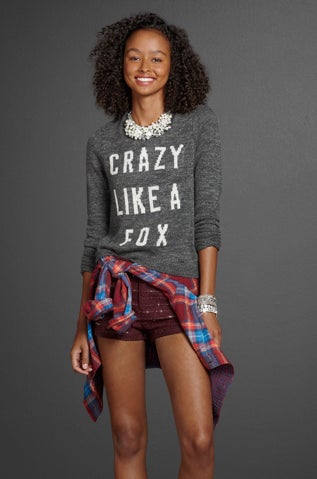 Abercrombie & Fitch is struggling far more dramatically than it has reported in getting girls to wear its clothes.
The brand — of whom LFO sang in 1999, "I like girls that wear Abercrombie & Fitch" — reported a 10% quarterly decline in revenue online and at stores open at least a year on Aug. 22. But within that, comparable sales on the women's side of the business actually plunged 30% — a "meltdown" that isn't getting better, sources told BuzzFeed on the condition of anonymity.
While CEO Mike Jeffries described "continued softness in the female business," particularly with knit tops, on a conference call last month, he didn't delve into specific figures for the three months through July 28. Abercrombie doesn't break down the ratio of men's to women's apparel it sells, but former executives estimate its assortment to be 40% male and 60% female. The company, while again declining to provide additional information, said menswear performed better than women's clothing last year in an annual filing.
Abercrombie's Gilly Hicks underwear brand — the most recent addition to the Abercrombie and Hollister family — is also seeing terrible results at its stores, despite running only 28 locations as of July 28. The company spent in the ballpark of $150 million in capital opening the locations, which have a cumulative operating loss in the $200 million range, but Jeffries remains gung ho on the brand, sources told BuzzFeed.
Abercrombie didn't immediately respond to a request for comment on the numbers.
Jeffries said last month that the company, which is "very excited" about intimate apparel, was testing Gilly Hicks merchandise in Hollister stores to success and planned to expand that this spring. He noted the brand is doing well online internationally, though it has "some legacy issues with U.S. stores square footage."
Gilly Hicks is described as "the cheeky cousin of Abercrombie & Fitch" in regulatory filings. "Inspired by the free spirit of Sydney, Australia, Gilly Hicks makes the hottest Push 'Em Up bras and the cutest Down Undies for young, naturally beautiful, confident girls," the company said in its most recent annual report. It's aiming to compete with the likes of Victoria's Secret's Pink and American Eagle's Aerie, which have capitalized on the trend of ever-younger girls buying decorated bras and underwear.
Abercrombie rivals American Eagle and Aeropostale also posted sharp comparable store sale declines in the second quarter, unusual because the three typically get a boost from the start of back-to-school shopping. All three retailers are battling the growing heft of fast-fashion retailers such as H&M and Forever 21, which didn't exist in such large scale a decade ago, and facing a teen shopper that may be spending less this year.
Abercrombie, in particular, however, has been working for longer than a quarter to revive its once-edgy brand image, which has been losing favor with U.S. teens in recent years. Jeffries, 69, who built the company into a global retailer over 20 years, has been criticized for being a micromanager and holding Abercrombie back in some ways. His latest employment agreement is set to expire in February 2014.
The CEO's leadership style is said to have repelled at least one private-equity firm that was considering a takeover of the retailer last year, which is of note, as PE firm Sycamore Partners reported an almost 8% stake in Aeropostale today, signaling a potential buyout.
Jeffries noted last month that "the next key milestone" for a long-term strategic review of the company that began in the spring will be a presentation of its plans to the board of directors. Sources tell BuzzFeed that meeting is today.