Everything That's Wrong With J.C. Penney Is In The Risk Factors Of This Analyst Note
Gilford Securities analyst Bernie Sosnick wrote a note about J.C. Penney's slight increase in same-store sales for October. But the real state of J.C. Penney could be found in the risk factors he listed.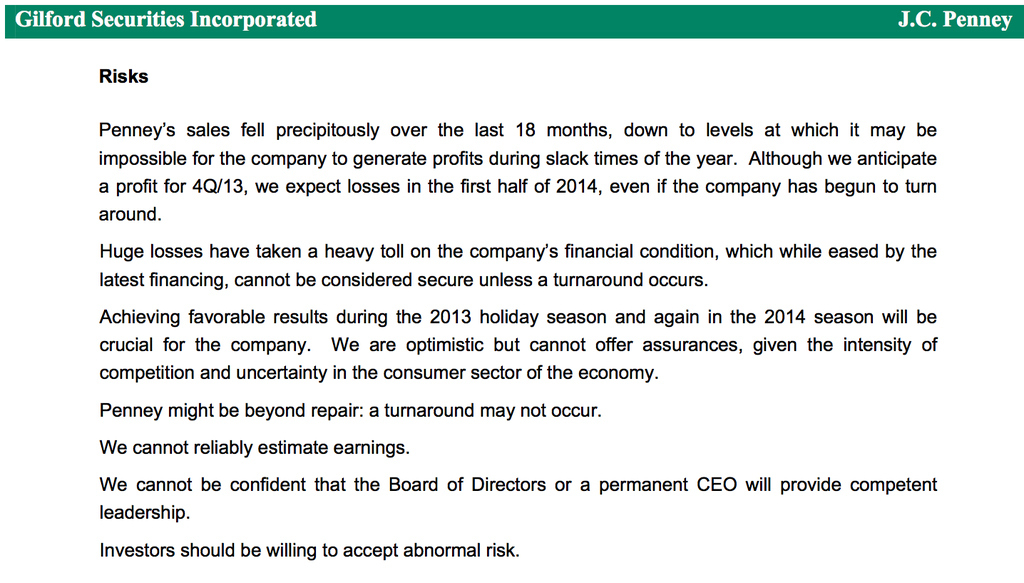 J.C. Penney analyst Bernie Sosnick wrote on Thursday that the retailer was making "a bit of progress," after the company reported an 0.9% increase in same-store sales for October.
But the really interesting part of his note was his outline of risks to investing in J.C. Penney, which perfectly sum up the beleaguered department-store's problems in seven bullet points. If you can't read them above, we have them here:
-Penney's sales fell precipitously over the last 18 months, down to levels at which it may be impossible for the company to generate profits during slack times of the year. Although we anticipate a profit for 4Q/13, we expect losses in the first half of 2014, even if the company has begun to turn around.-Huge losses have taken a heavy toll on the company's financial condition, which while eased by the latest financing, cannot be considered secure unless a turnaround occurs.-Achieving favorable results during the 2013 holiday season and again in the 2014 season will be crucial for the company. We are optimistic but cannot offer assurances, given the intensity of competition and uncertainty in the consumer sector of the economy.-Penney might be beyond repair: a turnaround may not occur. -We cannot reliably estimate earnings.-We cannot be confident that the Board of Directors or a permanent CEO will provide competent leadership.-Investors should be willing to accept abnormal risk.
Chief Executive Officer Mike Ullman is trying to turn around the company after he returned to replace former CEO Ron Johnson in April.
J.C. Penney shares have fallen 58% this year after a 44% decline in 2012. Three analysts tracked by Bloomberg have a buy rating on the company, with 15 hold recommendations and seven "sells."