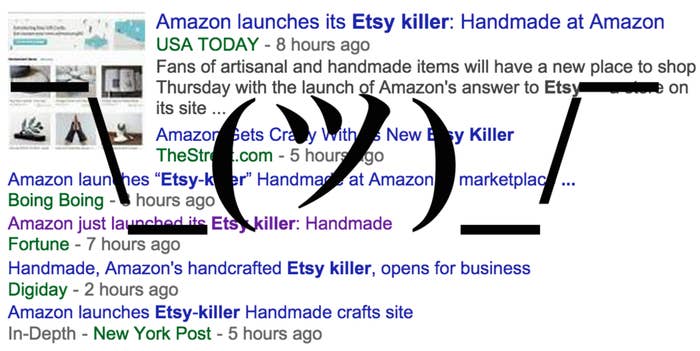 Etsy forums are abuzz over the idea that a ruthless e-commerce behemoth is making its move into the crafted whimsy and charm market.
Amazon's new "Handmade" section looks and feels like Etsy, but the crafters and makers that keep Etsy in business don't seem to be buying into the idea that it's an Etsy killer. But many hope a big new competitor will acts as a kick in the pants to an online marketplace they believe has drifted far from its core vision.
Amazon's new platform, which launched Thursday, is trying to out-Etsy Etsy by saying it will only admit items made "entirely by hand, hand-altered, or hand assembled." The guidelines are a clear rebuke to Etsy, which angered and confused many in the DIY community in the past two years by allowing vendors to use outside manufacturers and by introducing Etsy Wholesale.
Critics say such moves dilute Etsy's integrity and create an uneven playing field, while Etsy contends it's a way to support its most popular sellers and a means of helping the site scale. Recently, it launched a platform to help sellers connect with approved, responsible manufacturers, which some viewed as the ultimate slap in the face to its handmade product roots.
But loyal sellers on Etsy's forums aren't abandoning ship for Handmade, or H@A just yet. Even those who have added items to Amazon's new platform view its launch as an opportunity for Etsy to refocus on handmade items and product standards, especially amid allegations that more than 5% of its goods are counterfeit or in violation of trademarks. They're also hoping Etsy will ramp up advertising so it can garner more name recognition.
"For the last two years, we have been begging Etsy to bring the old Etsy back — so many people, including customers — and they're not listening," Dorota Sularczyk of Gainesville, Virginia, who sells jewelry on Etsy, told BuzzFeed News in an interview. "Maybe this Amazon Handmade will give them a little kick in the behind."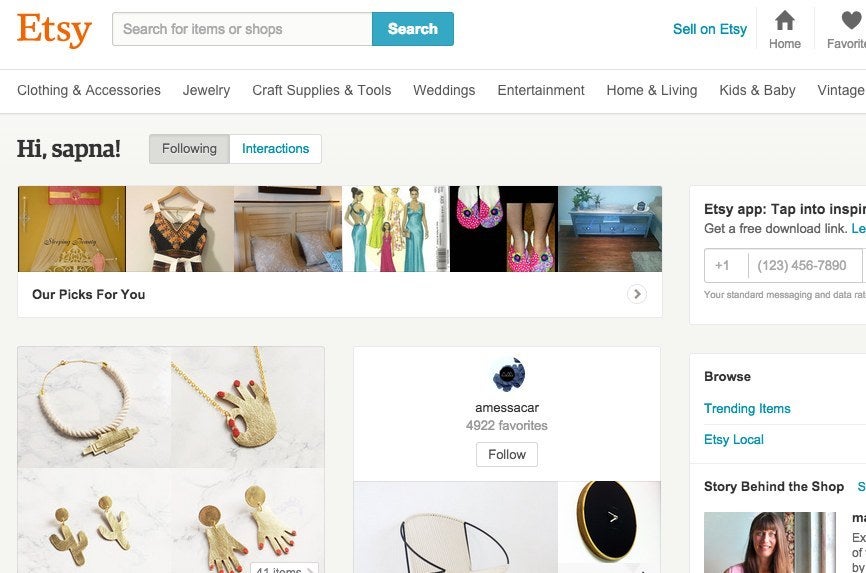 While Etsy is clearly vulnerable right now, it helps that it was Amazon, of all companies, that decided to hit back at the marketplace.
In a number of threads, sellers expressed concern around non-handmade goods showing up in Amazon search results, while others complained the section wasn't distinct enough from Amazon's overall brand. The price for increased visibility is higher too — Amazon will take a 12% cut of sales compared to Etsy's 3.5% and begin charging a $40 monthly fee next August.
"I am signed up but haven't opened shop yet," wrote the owner of FestiveHomeDecor, which says it's Etsy's top seller of decorative throw pillow covers. "Waiting a bit to see how things go. I am trying to maintain a unique handmade brand and I really don't want my items to show up with a bunch of other 'stuff' like the Amazon search results as currently shown. But I will not cut off my nose to spite my face. This is my only income and a sale is a sale is a sale."
When searching for "narwhals" in the Handmade section yesterday — they're a beloved creature in the DIY world — Amazon showed me 17 results, and immediately beneath that, 21,316 narwhal-related items in all departments. It's not the best solution for those who are frustrated with Etsy's changing definition of "handmade." (Handmade, for Etsy, includes "items that are made by you, the seller, or are designed by you and made with the help of an approved outside manufacturer who complies with our ethical manufacturing policies.")
"At the moment, I don't like it the way I liked Etsy when I first opened Etsy up in 2010," Sularczyk said. "it still feels like you're on Amazon, you're not on some handmade place."
The result for "owls" in Amazon's Handmade section early in the day on Thursday.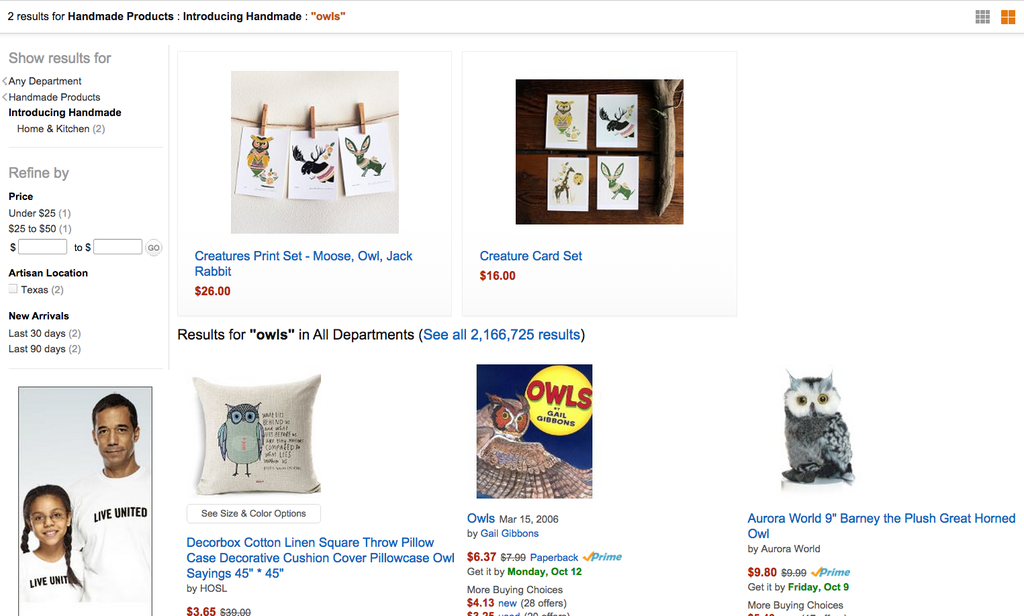 Etsy's stock tumbled 4.3% yesterday after the rival site launched. The company, which went public in April, has seen its shares drop 55% since its first day of trading.
While more than half of all Etsy sellers also sell their goods outside of Etsy — and rivals like Zibbet and ArtFire have generated plenty of "Etsy killer" buzz — Amazon is notorious for its willingness to rack up losses in an effort to crush the competition. In this case, it's truly a David and Goliath story: Amazon posts $75 billion in annual sales to Etsy's $2 billion.
Above all, sellers believe this is a moment for Etsy to double down on the premise that made it so popular in the first place.
"On Etsy, I'm competing with a lot of stuff that I don't think is handmade in my opinion, and I don't agree on Etsy's decision on calling it handmade," said Jennifer Johnson of Inglis, Florida, who supports her two daughters with sales from her Etsy jewelry shop. She made at least one sale on Amazon's new platform yesterday.
"It's too early to tell how they're going to treat Handmade on Amazon," she told BuzzFeed News. "I don't know what it'll be like in a year or three years, but ultimately, if I still had both shops, and both of them functions, and if Amazon doesn't hurt Etsy that much, I would still be on both."
Kim Jennings of Pensacola, Florida, has been a loyal Etsy jewelry seller for years — it helped put her husband through law school — but as of 7 p.m. ET yesterday, she had racked up 21 sales on Amazon and zero on Etsy. She says the launch of Amazon's Handmade platform may force Etsy to finally confront the "gray area" around manufacturing.
"Amazon has it as a separate handmade marketplace, and at least right now, they are keeping it separated," Jennings said in an interview. "A person has looked and said okay, this is handmade, whereas Etsy seems like it's kind of freewheeling and taking whatever. It's a very passive stance, more reactive than proactive."
"That's certainly the flagship of Etsy and it seems they've strayed pretty far from it," she said. "My heart is definitely on Etsy, so I just want to see them get back to that."