Dov Charney Fans Made A "Save Dov" Instagram Account
The page appears to have been made by current or former employees. They also can't spell the new CEO's name.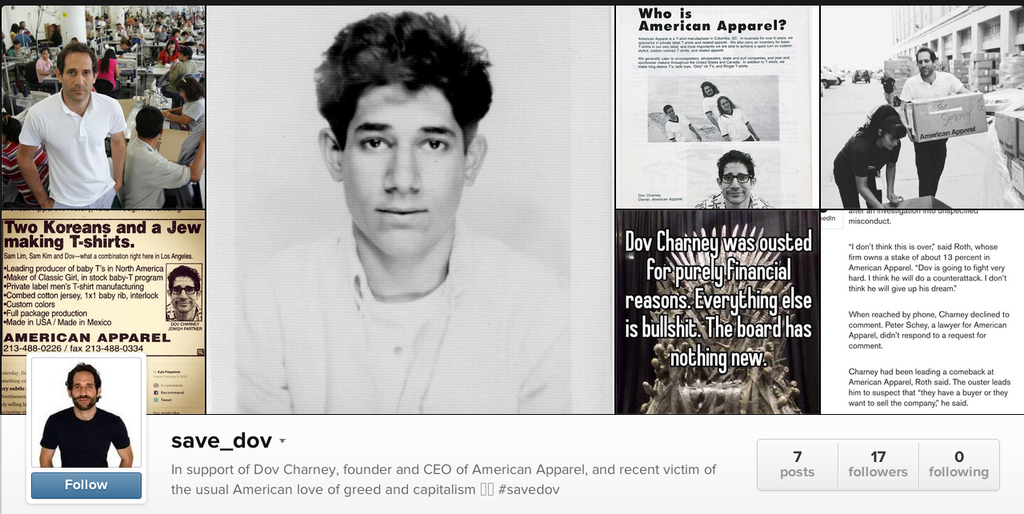 American Apparel's ousted founder and Chief Executive Officer Dov Charney has a small — but devoted — group of supporters on Instagram.
An account called "save_dov" has cropped up after Charney's surprise termination last Wednesday, posting pictures of the executive as well as early company ads. Some of the accounts commenting on the save_dov photos have also posted pictures of a young Charney to their own accounts, with hashtags such as #savedov, #whoisjohnlutrell, and even, oddly enough, #byedaddy. While the account only has 17 followers right now, it's been circulating among former employees, one of whom passed it along to BuzzFeed. (Its bio: "In support of Dov Charney, founder and CEO of American Apparel, and recent victim of the usual American love of greed and capitalism.")
John Luttrell was the company's chief financial officer until he became its interim chief executive officer in the wake of Charney's ouster. Two sources familiar with the situation said that Luttrell wasn't part of the coup plot against Charney and only learned about the board's decision in the past week. The board, on the other hand, has been seriously discussing the idea for about three months, the sources said.