Dig Inn Follows Sweetgreen, Chipotle Path As Food Lifestyle Brand Chains Boom
The chain, founded by a former private equity associate at Wexford Capital, is winning fans with its "farm-to-counter" restaurants.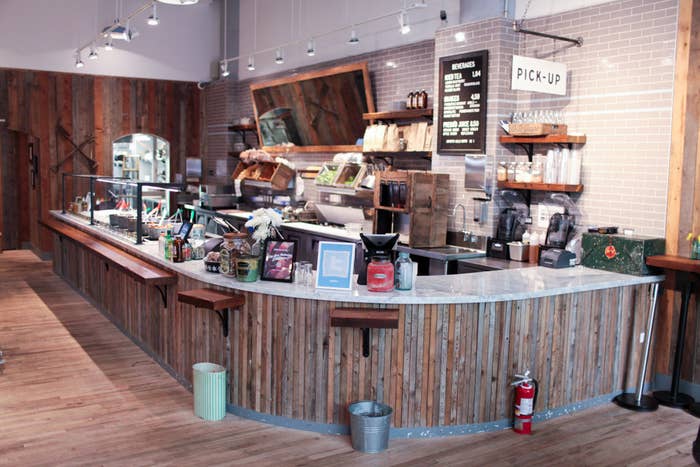 Dig Inn wants to be the Chipotle of farm-to-table dining.
The chain, with seven locations in New York and an eighth set to open in the next month, aims to get customers in the door, order from a glass-cased, assembly line–style counter, and out in 10 minutes with a $10 plate of organic food, for lunch or dinner.
Instead of burritos and quesadillas, the meals consist of an entrée, like lemon herb chicken or wild salmon, along with seasonal sides, such as roasted beets with toasted pumpkin seeds, kale and apple salad, or Sicilian-roasted cauliflower with chickpeas. The chain brings to mind the prepared foods section of Whole Foods, except someone else is doling out the portions, and there's no long grocery line at the end.
"We're really excited about this phrase we developed, 'farm to counter,'" said Adam Eskin, the 33-year-old founder and chief executive officer of Dig Inn. "The farm-to-table thing is ubiquitous now. I think people get it, but it doesn't provide the access from a price point perspective that we're trying to deliver."
Dig Inn is expanding at a time when healthy fast-casual restaurants are booming in popularity with both customers and investors. Sweetgreen, a popular locally sourced salad chain with 26 locations, just got a $22 million investment from Steve Case's Revolution Fund in December. The AOL co-founder, in a blog post explaining the investment, cited "a shift in America's taste for fast-casual dining" to quick "healthy dining options," particularly among young people. Increasingly, investors are seeing food startups as akin to investing in a lifestyle brand — indeed, Sweetgreen even has its own annual music festival with a lineup that has included Foster the People and Lana del Rey.
Sweetgreen is a budding success; Chipotle paved the way.
Some of the best performing initial public offerings in the past year have also been out of such chains, like Zoë's Kitchen, or just restaurants that offer healthier options along with more indulgent ones, like Noodles & Co. Zoë's, a Mediterranean food chain that went public last month, cited Technomic data in its IPO filing, saying that the fast-casual restaurant industry is expected to grow to $50 billion in sales by 2017 from $31 billion in 2012. Chipotle pioneered the trend about a decade ago and it doesn't show signs of letting up.
Dig Inn is comparatively small at this point — its raised $7 million in funding so far with plans to raise additional capital through a series C round later this year, though it's mostly been from friends, family, and a number of loyal customers. Eskin says the chain will end the year with 10 or 11 locations, all in New York, with run-rate revenue above $30 million. That'll grow to as many as 20 stores next year, including its first restaurant outside New York, in Boston.
Chipotle has more than 1,600 locations and is planning to open as many as 195 this year. The chain, which posted sales of $3.2 billion and profit per share of $10.47 last year, has seen its stock soar to more than 10 times its 2006 IPO price, closing above $500 each yesterday. The co-CEOs earned a whopping $58 million together last year, spurring protest from shareholders, including New York's pension funds.
Dig Inn is seeing more than 1,000 customers a day in some locations, at an average $10 check, and is fast becoming one of the biggest buyers of local produce in the city — last year, the chain bought 124,000 pounds of kale and 142,000 pounds of Brussels sprouts.
Eskin believes Dig Inn will become a $1 billion company — which would be a long way to come from its humble beginnings.
Eskin, a graduate of Brown University, ended up at Dig Inn from a job as a private-equity associate at Wexford Capital, a well-known hedge fund and private equity fund manager that oversees more than $5 billion in assets from Greenwich, Conn. He got a closer look at the restaurant business when Wexford bought and sold the Catalina Restaurant Group, which owns two Denny's–style chains; he also wrote the underwriting memo for the firm to buy a block of shares in the Chipotle IPO in 2006. After those forays, Wexford ended up buying Pump Energy Food in 2006, a struggling health-oriented five-store eatery in New York that was geared toward body-building types. Eskin, 26 at the time, was put in charge of turning it around.
"We were trolling around and the high-level thesis that we were sort of trying to implement at the time was Americans are going to need to eat higher-quality, better for you food, this is a trend that Whole Foods is pioneering and it's unfolding in front of our eyes," Eskin explained. After about a year of looking at the Pump, though, they realized it didn't quite fit the bill and that "in order to have any shot of being successful longer-term, it needed to be completely overhauled."
One of Dig Inn's restaurants: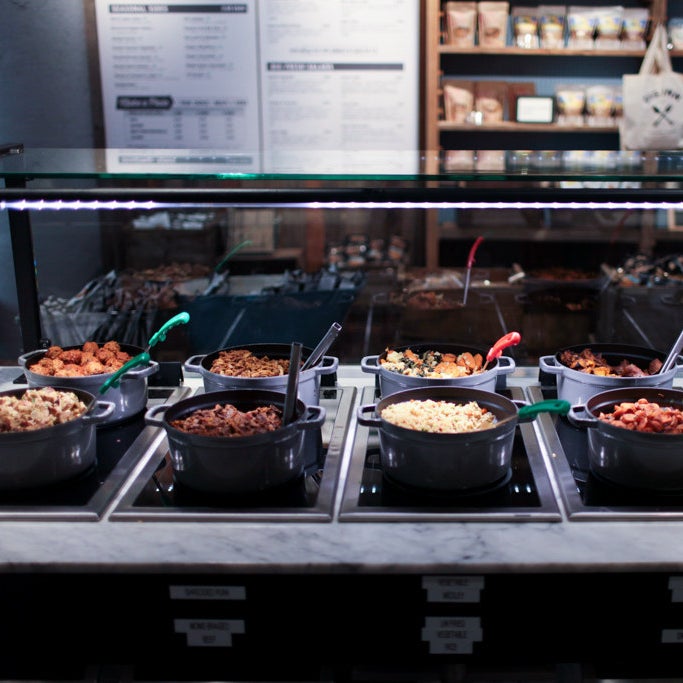 At that point, Eskin decided to leave Wexford and take a gamble on fixing the Pump, though the firm retains a minority stake in the chain. He started revamping the restaurants one by one, adjusting décor and changing the menu, looking to Chipotle as an example, and officially renaming it as Dig Inn Seasonal Market in September 2011. He now has 16 to 17 employees at Dig Inn's corporate office and 350 employees total.
"Chipotle was the first company to develop the 'through-put model,' meaning, how many people can you move through your line in an hour," he said. "It's similar to us, you see the food being prepared in front of you, it's not behind closed doors in some kitchen where you don't know what's going on. You pick a lot of things along the line, it's handed to you and you pay at the end. For a lot of reasons, that model is a lot more economically efficient and it lends itself, I think, to a much more transparent model from a food quality and preparation perspective."
Dig Inn is making deals with farmers as it works to create a more efficient local supply chain, and is building a new facility about three blocks away from the massive Hunts Point Produce Terminal Market. It'll be a convenient delivery spot for produce, and enable the chain to fulfill any orders that get messed up at the last minute by visiting the market.
"We're trying to build a food brand and while we deliver this food through the restaurant channel, we're trying to build something bigger," Eskin said. "We can't really rely on the old way of thinking in the restaurant industry — we want to be bringing people into the organization who dream bigger dreams, $1 billion company builders."