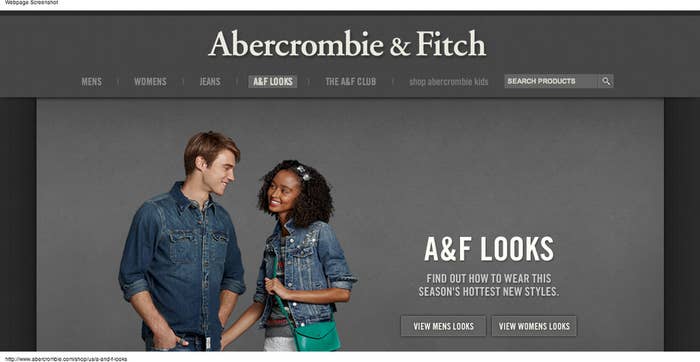 Abercrombie & Fitch's dismal sales in the second quarter were about as bad as those at American Eagle and Aeropostale, and, according to Wall Street analysts, they say more about a tough teen shopping environment than anything else.
But they might also offer a clue about the impact of social media on a brand's sales.
Looking back to the months of May, June, and July, which comprise the quarter reported today, the national conversation around Abercrombie was dominated by coverage of comments Chief Executive Officer Mike Jeffries made to Salon in 2006, saying Abercrombie only markets to "cool, good-looking people." The old quote was paired with a fresh comment from an independent consultant saying the CEO doesn't want larger people shopping at the stores.
The idea that Abercrombie and its CEO were shunning fat people drew the ire of celebrities such as Ellen DeGeneres, Sophia Bush, and Kirstie Alley. It also spurred a wave of viral self-acceptance essays, and Jeffries himself became a meme on Reddit and Tumblr. Eventually, the executive apologized through a post on Facebook, saying the comments were taken out of context, and the company boosted its anti-bullying efforts.
Still, according to NetBase, a social media intelligence company, there were 118,834 mentions of Abercrombie on networks including Twitter, Facebook, blogs, and news websites throughout the quarter, and a whopping 79% of those were "negative." That also includes another smaller spike of mentions in June, when the retailer was targeted by impassioned Taylor Swift fans who felt a T-shirt the company made referencing her love life was insulting to the pop singer.

While plenty of companies get skewered on social media, Abercrombie's target demographic is the digital native, meaning its potential customers were most likely catching wind of all this talk.
YouGov BrandIndex says that in a survey of adults 18 and over during May, June, and July, respondents said they were less likely to make a purchase from Abercrombie than other retailers, especially while the retailer was attracting negative buzz. Toward the end of May, less than 4% of respondents said they would consider buying something at Abercrombie, lower than the overall teen retail space and general apparel companies.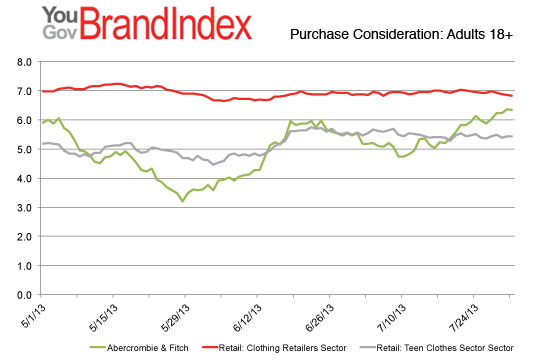 Sales at stores open at least a year and online slid 10% for Abercrombie, on top of a 10% decline last year. In the United States specifically, they fell 11%. While American Eagle posted a 7% decline for same-store sales, Urban Outfitters posted a 5% increase for its namesake brand.
Abercrombie's stock fell 21% Thursday after its profit missed Wall Street's expectations and Abercrombie said it's "not providing guidance beyond the third quarter due to a lack of visibility given recent traffic trends." Outside of visits to the store, the women's side of the business was especially weak, according to the company.
Analysts on the earnings call today didn't ask about the controversies or how teen perception of the brand may have shifted, which is typical of how such presentations tend to go.
It's difficult to tell what precise impact all the bad publicity had in terms of teens wanting to shop at Abercrombie — but for a company that has predicated its image on being the spot for popular kids to shop at, it certainly didn't help.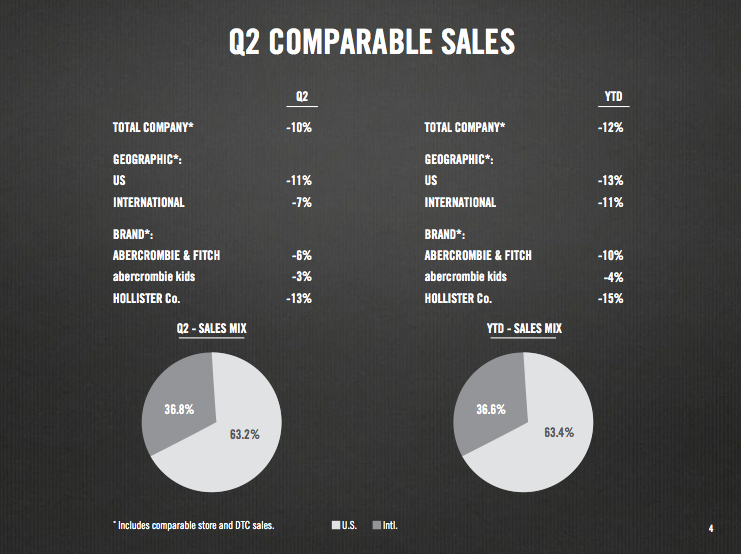 Bonus: a typical slide from Abercrombie's earnings presentations.