Reports last week that J.Crew may open a lower-priced chain under the "J.Crew Mercantile" label caused quite a stir in the retail industry. While CEO Mickey Drexler said it's too early to discuss such a possibility, the fact is that J.Crew already has an affordable line — its incredibly robust outlet business, which exists not only physically but online as well.
Once a destination for out-of-season or damaged full-priced inventory, outlets have grown into a lucrative and somewhat deceptive place for retailers to hawk an entirely new line of lower-quality goods geared toward a different customer. J.Crew, like many other retailers, notes in filings that it sells "a specific line of merchandise" through J.Crew Factory that's "based on (full-price) products sold in previous seasons" — in other words, it's kind of a knockoff of itself.
J.Crew and competitors like Gap and Off 5th, Saks' outlet brand, have learned they can generate larger profit margins by selling cheaper, made-for-factory products, and so they are increasingly stocking outlets with such goods. But it's spurred a heated debate in the industry over whether consumers are really aware of what they're buying. Despite increased coverage of the issue in recent years, discussions abound online about how to tell outlet merchandise apart from the "real" stuff, an easier task with some brands than others. J.Crew Factory, for example, puts two diamonds under the "r" on its labels, while the Gap Outlet label uses three dots.
But it's not always so visible. Executives from Off 5th, which carries brands like True Religion and Alice + Olivia, told investors last year its products are 10% leftover Saks inventory, 25% private-label goods, and the rest mostly merchandise created for the stores by "brand-appropriate" vendors. While price tags on outlet goods may list a manufacturer-suggested retail price (known as an MSRP) or, a "valued at" price, that's little more than a number ascribed by the retailer and doesn't mean it was ever sold for such a sum in an actual full-price retail location. (Giant discounters like T.J. Maxx and Nordstrom Rack also label prices this way.)
When there are authentic items in the mix, it's not easy to tell because there aren't any rules around that from the Federal Trade Commission. On Off 5th's website, a Rag & Bone knit dress is listed at $122.99, a 62% discount from the original price of $325. But when you hover over the price, it brings up a box that says: "The strikethrough price reflects the regular price at which we've normally sold that item or, if we have not previously sold an item, the price at which that item (or a comparable item) is normally sold in the market." So, there's a chance any of these items could be cheaper versions of the real thing, sent straight from the designer labels to outlets.
Retailers' embrace of e-commerce for its outlet stores — once purposefully located many miles away from full-price stores — is giving consumers a new and powerful tool to compare and contrast such items. J.Crew's factory website, launched in late 2012 with the tagline "It's your stylish little secret," makes side-by-side comparisons of similar merchandise possible for the first time. Gap and Banana Republic outlets also plan to test online by the end of this fiscal year, a spokeswoman said.
E-commerce represents "the change in the marketplace — the customer can compare without regard to geography what's being made available to them, and that's why expansion of these outlet strategies is very, very dangerous," said Mark Cohen, a professor of marketing at Columbia Business School. "At what point does your outlet business become too visible to your regular business?"
Four members of Congress went so far as to ask the FTC in January to investigate "potentially misleading marketing practices by outlet stores," citing the difficulty in identifying made-for-outlet goods and "deceptive reference pricing." They also noted there is no standardized definition for "factory outlet" and "outlet store," both largely interchangeable terms.
Connecticut's Better Business Bureau also recently posted an article explaining to consumers that looking at factory goods versus full-price items might be an "apples to oranges" comparison, suggesting there's confusion around what the merchandise actually is.
"There's no regulation that defines use of the word 'outlet' — it's wide open as an opportunity," Cohen said.
This dress may never have been sold at $325.
The New York Times magazine noted as far back as 1997 that many outlet goods were made-for-factory. But brands have been increasing that proportion steadily in recent years, according to calls with analysts and investors — it's so much more profitable to take "make" out of a product then sell it at a supposedly discounted price than to sell actual full-priced, high-quality goods at a discount.
In the past year, Bebe has said it believes it can sustain outlets with 65% made-for-outlet merchandise, while American Eagle has said it anticipates carrying 75% made-for-factory items starting this year. Under Armour said in September that its outlets have recently carried 75% made-for-outlet goods, while Children's Place said its proportion is closer to 80%. Coach and high-end luggage maker Tumi have said 85% of their outlet goods are made-for-factory. Vera Bradley said it plans to carry more made-for-factory items because it has learned it's downright problematic to carry retired designs "right on the heels" of selling them at full price. But adding to the confusion, you have some brands at the other end of the spectrum, like Lululemon, which carries only genuine excess inventory in its outlet stores, and Abercrombie, which only recently started testing two outlet stores with made-for-factory product.
It seems to be a lucrative business, especially in a deeply competitive retail environment. J.Crew stopped breaking out sales from J.Crew Factory years ago, but said in a 2005 filing that its outlets produced $447 in sales per gross square foot, just shy of the $462 for full-price stores.
Michael Kercheval, president and CEO of International Council of Shopping Centers, the industry's largest trade group, contends that consumers "fully understand" that they're typically not getting authentic brand leftovers at outlets.
"It has been a transition where going to the outlet was a little bit of an adventure, you didn't know what you were going to find," he said. "That doesn't happen now. People go to the outlets knowing that if it's an Eddie Bauer outlet, it's Eddie Bauer outlet products. There may be full-price there, but most of the merchandise is going to be made for outlets ... Quite frankly, if you get a pair of sunglasses from the outlet store that is a name brand, you will know there's a reason why it cost one-fourth of what you would pay at a full-price store."
Kervechal says the difference between outlet merchandise and non-outlet merchandise has become so distinct that regional malls may even open separate wings of factory stores in coming years. The availability of outlet goods online has actually made it clear the customer doesn't care that the two are different, he says.
But Cohen, the Columbia professor, thinks retailers should be careful about how they operate their outlet businesses versus their main ones, especially as the web increases transparency.
"The folks that do this carefully will be fine, and the folks that will be careless and stupid are going to get hurt," he said.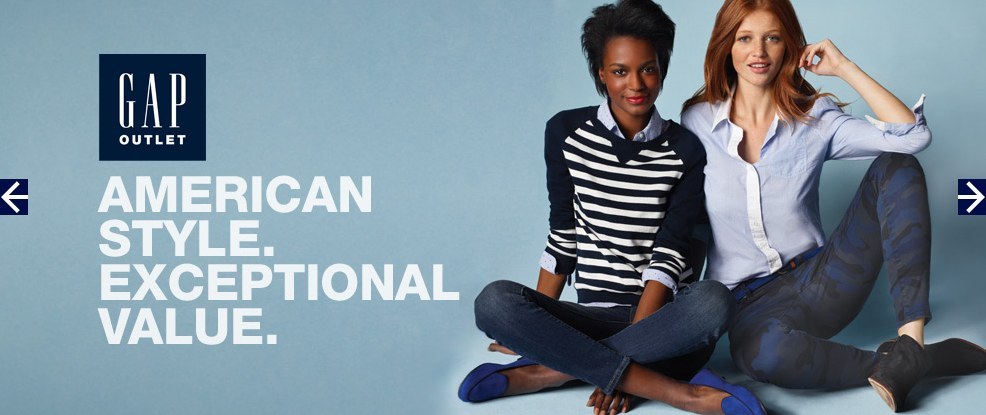 Example of Gap Outlet label: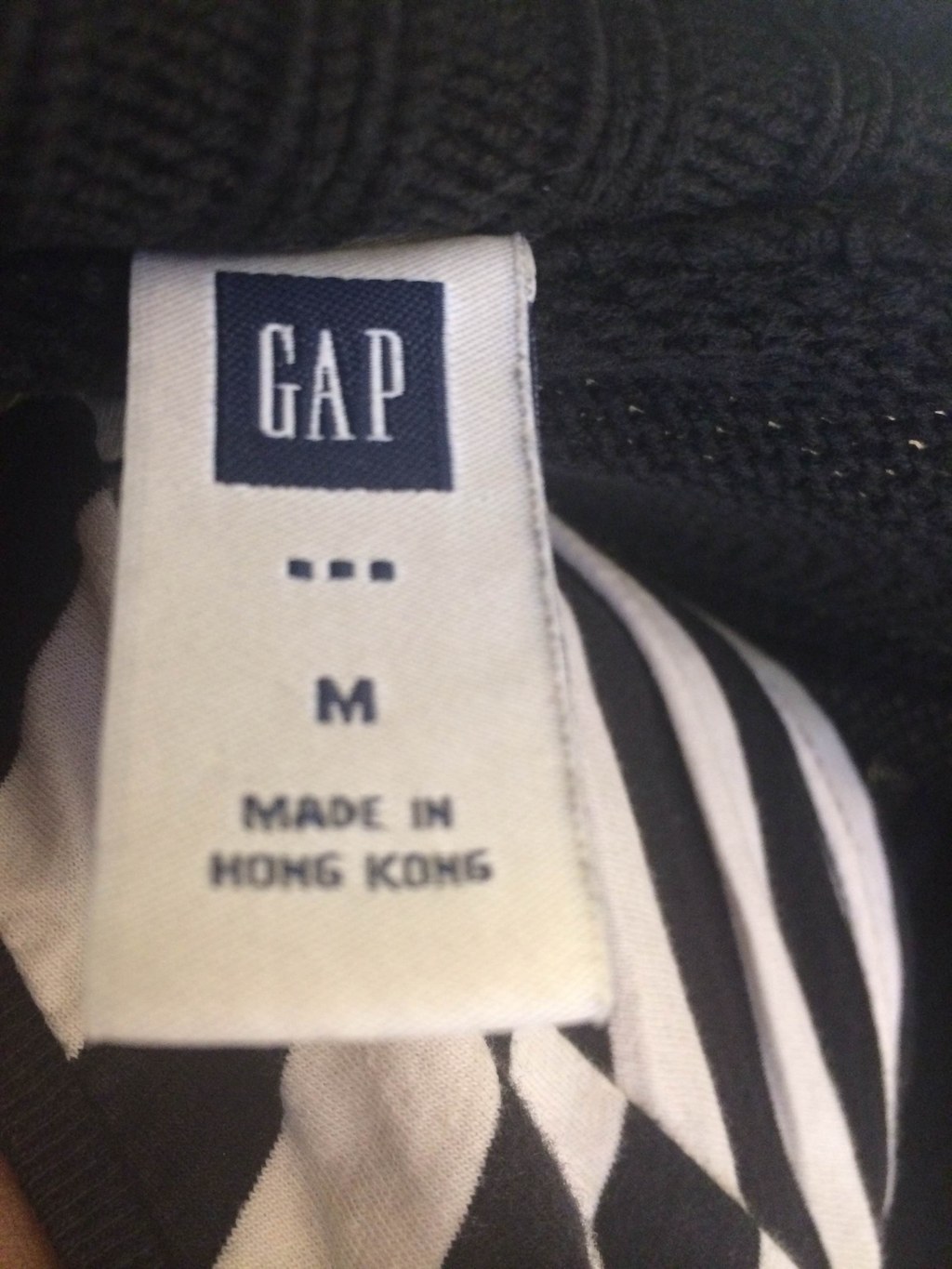 If you have more information on outlets, please email sapna.maheshwari@buzzfeed.com.