As Americans visit the mall less and spend more time online, retailers are under intense pressure to close sales when they finally do get those valuable moments of face-time. More and more, that means closing the gap between merchandise displayed online and what's carried in stores — a relatively simple idea that's a big challenge to implement.
This month, Gap and Banana Republic started offering customers the ability to reserve items in stores from the web at about 900 U.S. locations, a project that it started work on last year. Customers could already use Gap and Banana Republic's websites to see what stores carried certain items, but now they can hold up to five pieces of merchandise at those locations until closing the next day, without any obligation to make a purchase. Gap and Banana say customers have made about 500,000 reservations so far.
Reserve in Store helps the customer "know it'll be worth her getting in the car and driving to the mall," Josh Mahoney, vice president of product management for Gap's growth, innovation and digital division told BuzzFeed. Customers can essentially plan their visits from work or home and feel confident in what they'll be able to try on in stores, he said.
I reserved a denim shirt at a Gap near BuzzFeed's New York office to see how the system worked. The website initially guessed my zip code incorrectly but once I fixed that, it said the shirt was available at that store, then gave me the option of entering either my email or phone number for a reservation confirmation in an hour. (It noted the contact information would only be used for the request.) After 30 minutes, I got an email saying the shirt would be held for me until the store closed the following day — and sure enough, there it was.
The extra work tied to this new technology is part of the reason Gap recently decided to raise its minimum wage over the next two years, an announcement met with massive fanfare, including props from President Obama. Employees are expected to offer styling tips to customers when they walk in for reserved items — for example, suggesting a scarf or sandals to go with that shirt, or a pair of pants that might look good with it. After all, they have a sense of your taste and your size based on the products you reserved, and should be able to drive bigger transactions. They should also be aware, though, of whether customers are in a rush, or don't want to be marketed to, Mahoney said. The conversion rate on reserved items is "off the charts," Gap CEO Glenn Murphy said last September, though the company declined to provide specifics beyond saying it's "really excited" about the numbers.
Gap, which doesn't offer the service at Old Navy, is "figuring out where to go next with this feature," and plans to start testing ordering from stores at some Banana Republic locations in June, Mahoney said.
While many retailers now let customers see what's available in stores from the web, Reserve in Store is relatively rare. For example, Abercrombie's website lets customers find items in store but notes they can't reserve or hold merchandise. Nordstrom shows availability in various locations down to size and color but requires customers to buy online then pick up. And other retailers, like Macy's, which sells an enormous array of goods, doesn't share whether an item is available in a nearby store at all.
Gap's willingness to offer Reserve in Store adds a layer of risk, but one the retailer thinks is worth it. Let's say a customer wants to buy a small denim shirt at Gap, and the only one left in the store is the one I reserved — but I don't end up purchasing it once I try it on the next day. Gap will have lost the sale.
Mahoney brushed off the concern, though.
"I obviously can't speak for other retailers, but listening to our consumers, we've created an experience she likes that makes shopping easier for her," he said.
This is the window that pops up after clicking "Reserve in Store."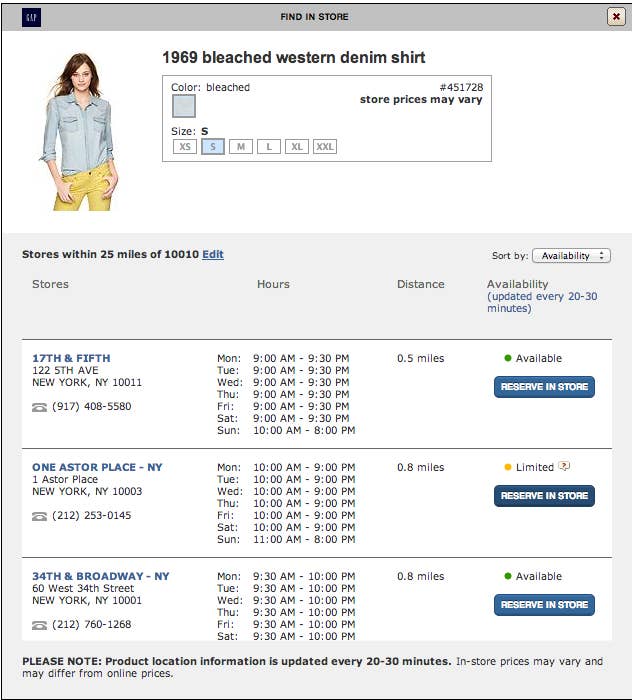 Customers can choose to get an email or text confirmation.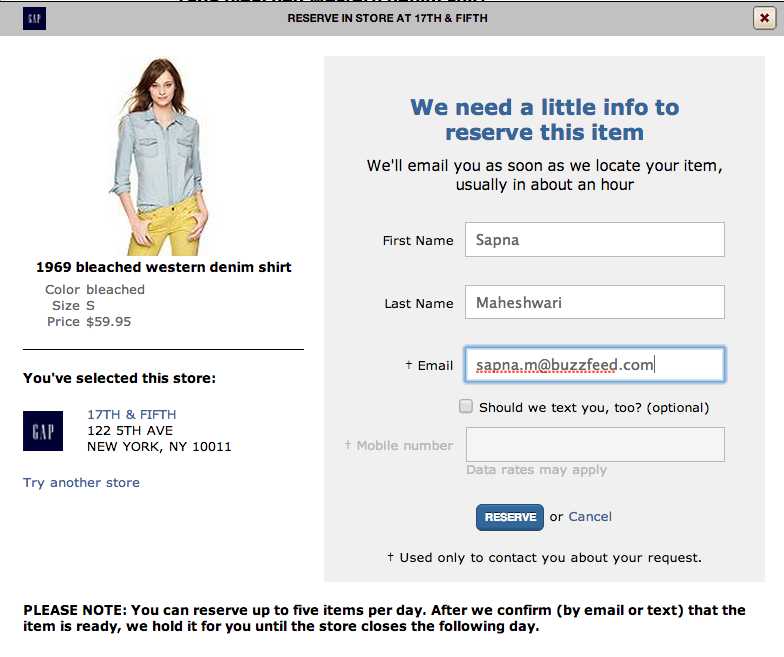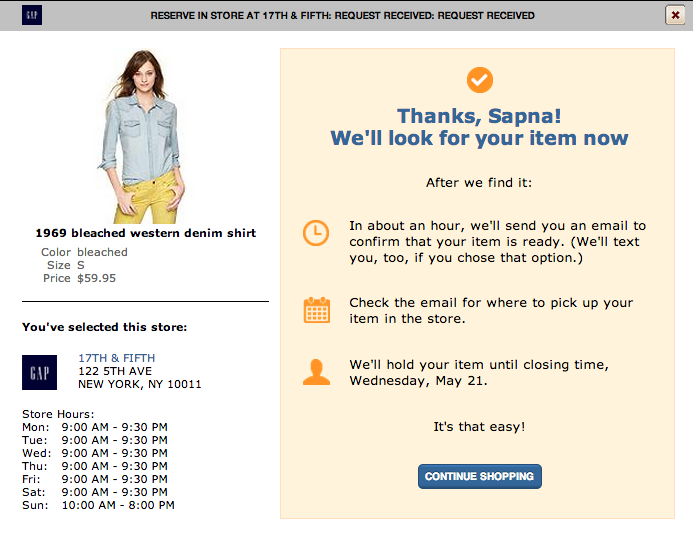 An email confirmation arrived after 30 minutes.
The shirt was then waiting at the store.