Coca-Cola Buys 17% Of Monster Beverage, Underscoring Meteoric Rise Of Energy Drinks
Monster's shares are soaring in after-hours trading. Like a jolt of caffeine.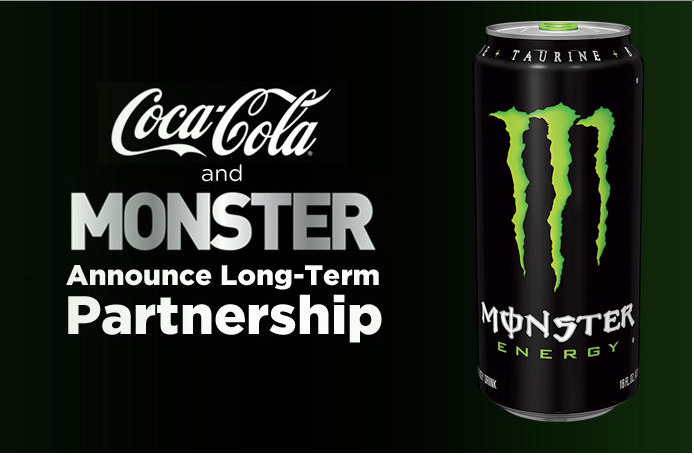 After months of speculation that Coca-Cola may make a bid for Monster Beverage, the soda maker finally went for it today.
Coca-Cola is paying $2.15 billion to acquire a 16.7% stake in Monster, a deal that will include adding two members to the energy drink maker's board of directors, according to a statement Thursday. Coke, which will also become Monster's preferred distribution partner around the world, said that Monster will be its "exclusive energy play." It will transfer ownership of its own energy properties, such as Full Throttle, NOS, and Burn, to Monster Beverage so it won't be competing with itself.
Monster's stock price surged 35% to $97.48 in after-hours trading from a closing price of $71.65.
Red Bull and Monster are the dominant players in an energy drink market that's been growing wildly over the past 15 years. Globally, the industry grew into a $27.5 billion business last year from $3.8 billion in 1999, Euromonitor told Quartz in May. And Americans are the ones driving that jump.
Coca-Cola is also taking a prescient stance, given how young people today are consuming caffeine. The American Academy of Pediatrics' official journal said in a February report that "coffee and energy drinks represent a greater proportion of caffeine intake" among adolescents in recent years, "as soda intake has declined." It's hard, however, to create a brand like Monster or Red Bull from scratch.
Monster has seemed to recover from damaging allegations in 2012 that its beverages were responsible for at least five deaths. In May, San Francisco's city attorney filed suit against Monster, accusing the company of inappropriately marketing to children.