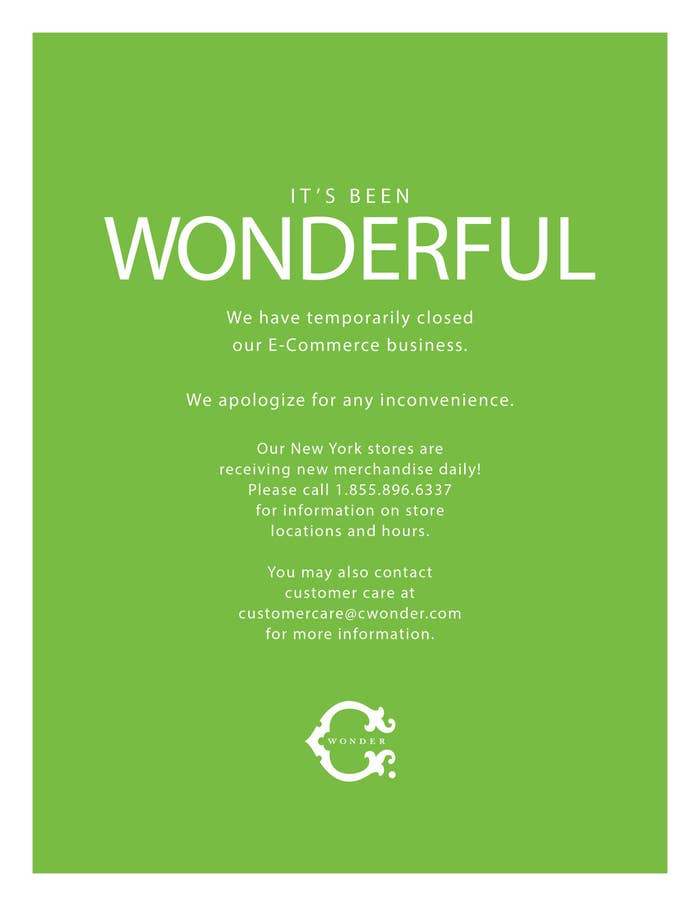 C. Wonder, the whimsical retail chain created by Tory Burch's ex-husband Christopher Burch in 2011, filed for bankruptcy today.
The retailer, which told employees the brand would be shutting down on Jan. 5, said it filed for bankruptcy under chapter 11 in New Jersey after "a combination of market pressures and mounting operating costs," it said in a statement today. It plans to liquidate its remaining inventory in four New York City area stores, and has closed the rest.
Most of the chain's roughly 100 employees left the day of the Jan. 5 announcement, a source previously told BuzzFeed News, which broke news of the closure earlier this month.
When reached by cell phone prior to the statement by BuzzFeed News, Christopher Burch declined to comment, referring enquiries to his public relations representatives. In the release today, he said "This is a very sad day for C. Wonder and its wonderful employees, vendors and customers."
C. Wonder LLC filed a motion for a Burch-controlled entity to acquire certain company assets, including its intellectual property, according to the statement.
Venture capitalist J. Christopher Burch opened the first C. Wonder in 2011, which drew immediate comparisons to his ex-wife Tory Burch's pricier namesake brand. It shared a similar enough aesthetic — lacquered doors, gold-accented merchandise, bright colors — that some in the industry dubbed C. Wonder an act of "revenge retail." A source told BuzzFeed News in November that this mentality may have pushed the chain into a number of ill-advised, costly leases, including one in the Flatiron neighborhood of Manhattan below a hair salon favored by Tory Burch.
Before completely shutting down, the chain attempted to close 20 of its 32 locations and spoke of a potential transition into a wholesale brand, but the efforts failed. Earlier this month, it shuttered its social media accounts, and now, its website is also closed. A notice on the webpage says new merchandise is still arriving daily in the New York stores.
C. Wonder's filing is the latest in a string of bankruptcy filings out of retailers in recent months, including teen chains Wet Seal and dELiA*s.