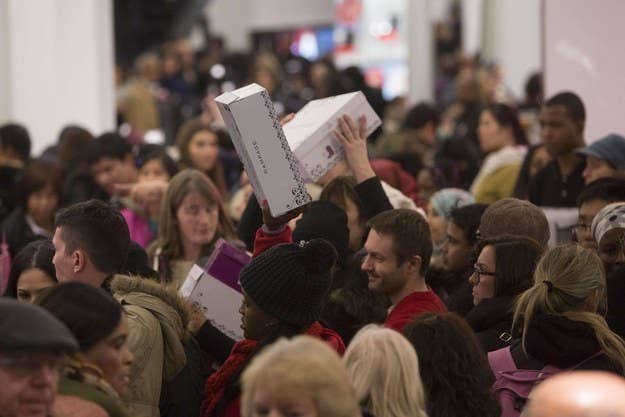 As holiday data comes in, the case for retailers to open on Thanksgiving is looking increasingly flimsy.
Early reads for Thanksgiving weekend sales, including the once all-important Black Friday, are looking disappointing, as retailers' big deals become ubiquitous throughout the month of November and shoppers increasingly turn to the web.
They're also weakening the case for opening as early as 4 p.m. on Thanksgiving, ruining a cherished holiday for hundreds of thousands of retail workers, and gradually turning a day of thankfulness and loved ones into one colored by frenzied mall shopping. Such sullying might be justified if sales were booming. But sales are falling — so what's the point?
The National Retail Federation, the industry's trade group, said it expected spending during the Thanksgiving weekend to hit $50.9 billion, a drop of 11% from an estimated $57.4 billion last year. The estimate, based on a survey of 4,631 consumers, is a first take and is often eclipsed after more detailed numbers come in from retailers.
Analytics firm ShopperTrak noted that pulling sales into Thanksgiving resulted in store visits on the holiday increasing 27.3%, while Black Friday foot traffic fell 5.6%. In other words, consumers will go when the deals occur. The NRF estimated total shopper traffic during the weekend, which tracks Thursday through Sunday, fell 5.2% to 133.7 million people.
The retail industry, which once offered its biggest deals on Black Friday, has been pulling opening times earlier and earlier in recent years in an effort to drum up sales. A 2011 Washington Post story discussed Walmart opening at 10 p.m. and Toys 'R' Us opening at 9 p.m. on Thanksgiving Day, new times that year, in an effort to seize shoppers still awake after Thanksgiving dinner. In 2010, the Los Angeles Times wrote about Target's 4 a.m. opening, an hour earlier than in 2009, and Kohl's 3 a.m. opening as historic firsts for the companies.
The trend continues. This year, many retailers started welcoming customers at 4 p.m. or 6 p.m. on Thanksgiving Day. Some, like Old Navy, remained open the entire time until 11 p.m. or midnight on Black Friday.
As early as 2012, some were warning that the change in opening times was simply shifting the distribution of the same weekend sales volume, rather than growing the overall pie. But this year's data, particularly with the influence of the web, makes the strongest case for moving deals back into Friday, even if it all starts at midnight.
"Traffic quickly moderated as the weekend progressed and the earlier openings merely pulled demand forward rather than creating incremental purchases," Edward Yruma, an analyst at KeyBanc, wrote in a Dec. 1. note. Shopkick data, too, showed that 30% of all "Black Friday" store visits happened before 3 a.m. ET on Friday, from 18% last year.
There's a human cost to opening on Thanksgiving Day for the hundreds of thousands of retail employees who have to staff stores. Some chains, with an eye toward allowing employees to spend the holiday with their families, chose to stay shut on Thanksgiving, including Cabela's, Costco, Trader Joe's, T.J. Maxx, Patagonia, and REI.
Beyond that, a not-insignificant portion of Americans view shopping, which has in the past become violent, on a day devoted to giving thanks, as distasteful — though retailers can't ignore the many who eagerly turn out to shop as early as possible, particularly when the prices are good.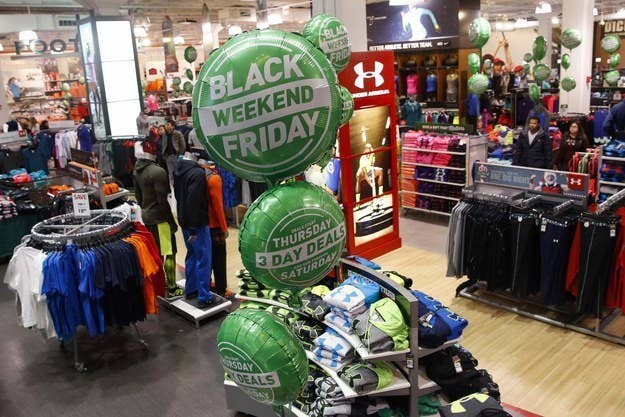 Many experts are also blaming Black Friday's diminishing significance on the preponderance of deals offered throughout the month of November and the promise of heavier discounts in December. Indeed, Walmart, the world's biggest retailer, made headlines last month with the introduction of "New Black Friday," or five days of deals. An executive told the Wall Street Journal at the time: "It used to be called Black Friday, then it became Thursday, now it's a week long...Maybe we should just call it November."
Just as importantly, retailers offered so many of the same discounts online as in their stores that many consumers chose to avoid the crowds in favor of using their computers. IBM estimated that Thanksgiving Day online sales rose 14.3% from last year, while Black Friday sales rose 9.5%.
"We suspect the combination of pre-Thanksgiving discounts that began over a week ago, increased ubiquity of deals online, and the general feeling that sales and discounts would persist right up until Christmas curbed the anxious need to hit the malls," Canaccord Genuity analyst Camilo Lyon wrote in a note today. "We also suspect consumer electronics took a large part of consumers' holiday shopping budgets. That Best Buy's website went down due to traffic overload speaks directly to that point."
This year's extended hours, particularly Thanksgiving openings, ultimately create a "dual-burden" for retailers, Simeon Siegel, an analyst at Nomura, said in a report today.
"Whereas in the past, retailers had 3 hours of concentrated shopping to focus on; now they were required to focus on a longer stretch of time, examining competitor offers and strategizing when to put out their most compelling deals," he wrote. "Additionally, we'd expect store level costs to increase, with holiday payroll for Thanksgiving-related staff along with the costs of opening the store for greater periods of time of time to sell a similar amount of goods."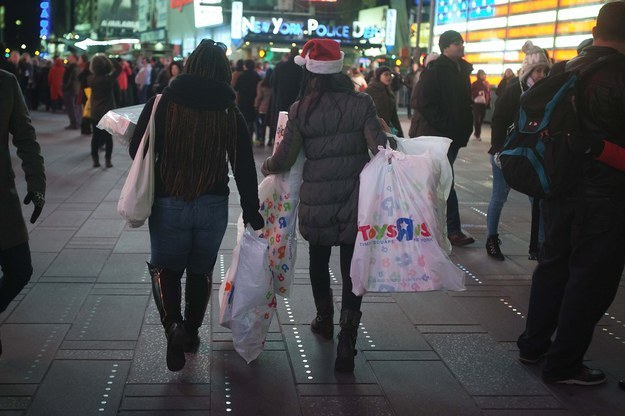 Contact Sapna Maheshwari at sapna.m@buzzfeed.com.