Basically Every Apple Rival Bought Twitter Ads Against The iPhone Event Today
Including Nokia, Samsung, Microsoft, and others. This is what the new monetized internet looks like.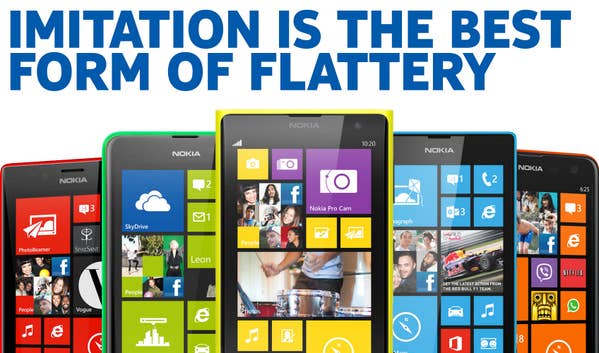 Apple's rivals were prepared for the company's iPhone launch today — at least on Twitter.
Nokia UK , Samsung, LG, and Microsoft's Windows Phone all bought Twitter ads to show up at the top of users' timelines on searches for "Apple" or "iPhones," today, taking advantage of an event that generated more than 25,000 related tweets per minute. According to Twitter, that's on par with the volume of tweets sent about Ryan Lochte and Michael Phelps's race at the 2012 Olympics — in other words, huge.
It's good news for Twitter's ad business, showing brands the potential to reach users engaging with a live event, especially as they work to make that case with television. While Nokia and Microsoft's Windows Phone created their own responses to the new iPhone, Verizon ran ads for faster wireless tied to the keyword "Apple."
Of course, whether the tweets sway consumer buying decisions — that's up in the air.