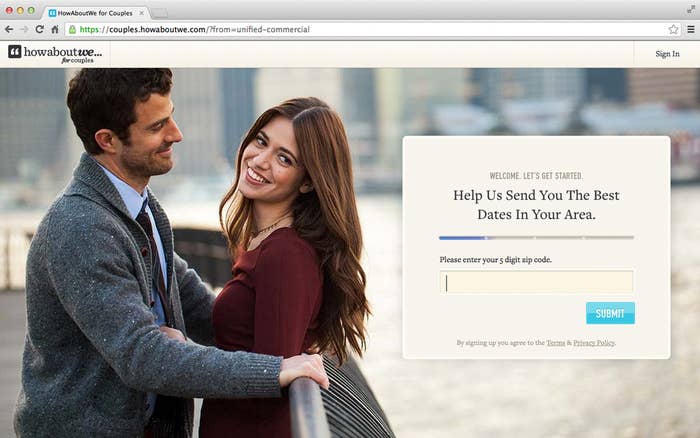 For dating websites and apps, helping users successfully find that special someone poses a unique dilemma for their businesses — losing valuable customers.
That's why the hot new trend among these kinds of services is planning dates for those already in a relationship. HowAboutWe for Couples, an offshoot of online dating startup HowAboutWe, has been a tremendous success since its launch a year ago. And Barry Diller's IAC, which owns Match.com, OkCupid, and Tinder, today announced the launch of Delightful, which bills itself as "a service that plans extraordinary dates for two."
The idea behind these services is, essentially, to retain users past the "discovery phase." Once a person finds what they're looking for on a dating website, the company, in turn, loses both the data they're collecting on that person and the recurring monthly revenue from their subscription fees. Converting them to users of an offshoot dating-planning service is, by extension, a way to hang onto that revenue stream.
The business of date planning has worked out remarkably well for HowAboutWe in the past year, which just launched HowAboutWe for Couples in its fifth city, Los Angeles, this month. It's only been a short period of time, but the company says the couples business accounts for 30% of its revenue, and that's expected to grow even further. About 65% of its roughly 100-person staff is devoted to working on the couples offshoot, which costs $18 a month. In New York, about 12% of couples users previously used the dating part of the website, showing it's a smart way to hang onto customers but also attract a ton of new ones.
"It has totally transformed our business and our idea about what we do," Aaron Schildkrout, co-founder and co-chief executive officer of HowAboutWe, said in an interview with BuzzFeed. "It lasts longer than a dating product typically lasts," he said, noting that industry-wide, people tend to use dating websites for about four to eight months before falling off.
"The entire DNA of our company is based on the idea that love happens through experience," he said. "So I think we're extremely well-positioned and trusted by our members to build incredible dates for couples."
The company said it's seeing month-over-month retention of 90% for the couples service, and that it's growing at nine times the rate the dating part of the site grew in its early stages. It's posting 100% average quarterly growth.
Looking at HowAboutWe for Couples' metrics, its no surprise that IAC's Match.com registered Delightful.com in July, announcing the service in a press release today.
Delightful, which is available only in San Francisco right now, though it says it has plans to expand to other cities, has a lower monthly subscription fee of $12. It also offers a concierge service and curated "Date Library." Almost all of the makers of Delightful previously worked at OkCupidLabs, according to their LinkedIn profiles.
The language on Delightful's site isn't far off from HowAboutWe's. Delightful says: "Whether it's your first date or your fiftieth, Delightful is here to handcraft the perfect experience for every occasion." On HowAboutWe's press page, the company says: "Whether it's the first date, 100th date or 50th anniversary, we believe wonderful experiences keep relationships inspired."
Match, mostly through subscriptions, brought in $713.4 million in revenue for IAC during 2012, a huge portion of the media company's $2.8 billion in overall sales for that year.
"We're first to market and committed to leading and owning the space but we're not surprised that other people have caught on to how important this is and following in our footsteps and trying to build some more products," Schildkrout said.
"The people running the other major dating companies are very smart, and whenever someone has a really good idea that helps members of their sites find what they're looking for in a powerful way, other people recognize it quickly and try to replicate that experience in their own products," he said.
HowAboutWe for Couples...

...and IAC's version, Delightful.