Same-Day Delivery Poised For Big Breakthrough This Holiday Season
More retailers are getting in on same-day delivery this holiday season. The economics of the business finally make sense, experts tell BuzzFeed News.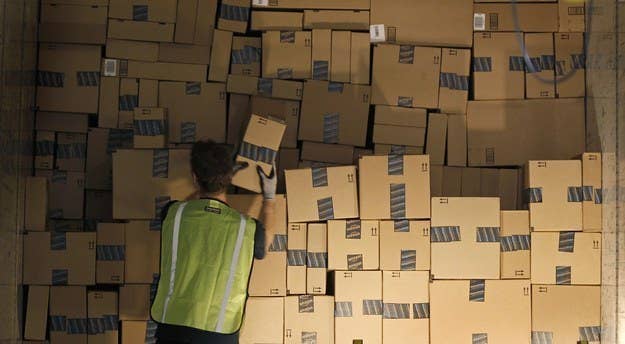 Five years after Amazon introduced same-day delivery, it's finally catching on with mass retailers.
Macy's said its namesake chain and Bloomingdale's will start piloting same-day delivery in eight major markets this fall, while Neiman Marcus started testing the service in three cities earlier this year. Both department-store companies are using startup Deliv, which has partnered with a laundry list of other retailers and America's biggest mall operators, including General Growth Properties and Simon Property, to make same-day delivery as inexpensive as standard shipping.
Cheap same-day delivery for items like sweaters and Lego sets is the next step in the smartphone-enabled instant gratification trend that's already changing transportation and food delivery. A confluence of factors is hitting at just the right time: retailers finally have the right technology in place after upgrading their systems to accommodate the new norm of "buy online, pick-up in store," labor is cheaper and more connected than ever, and of course, they're motivated by fear of Amazon. Adding to that, mall owners, nervous about their own future, are subsidizing the service.
And it's not just big retailers — just a few weeks ago, apparel startup Everlane started offering one-hour delivery in San Francisco with the help of Postmates. Amazon now offers "Get it Today" in 12 markets, seven days a week, after steadily building up to 70 million square feet of fulfillment center space at the end of last year.
Since Macy's announced its partnership with Deliv this month, the startup has been "flooded with inbound requests," Daphne Carmeli, founder and chief executive of the startup, told BuzzFeed News. "We talk to hundreds of retailers. It's not a question of if I'm going to jump on same-day delivery, it's when and where I start it. I think 2014 is much more aggressive in the volumes we're seeing, and the traction we're seeing is much higher than 2013...it's just growing."
The trend, like many others in the retail industry, can be traced back to Amazon.
"Amazon in the last year has put a tremendous amount of muscle in marketing this notion that you as a shopper can get things whenever you want, you can get it fast and you can get it cheap," Carmeli said. "Whether it's drones, or algorithms, anticipatory shipping, building out warehouses — they're doing so much to get consumers used to the fact that this is going to be fast and cheap and that same-day is going to be the new standard."
Shipping costs, which were once a major barrier for retailers, are much lower than they used to be.
Amazon's same-day delivery costs just $5.99 for Prime members; non-members pay $9.98 for the first item and a 99-cent fee for additional products. Everlane is charging $4.99 for one item; order two or more and the service is free. As for items shipped through Deliv, Carmeli says the delivery fee tends to be between $8 and $10, though it can go as low as $5 as mall operators and retailers offer discounts in hopes of getting customers hooked on the convenience. Foot Locker, which is testing same-day and next-day delivery at five California stores, says the option is only $5 thanks to the partnerships with Deliv and mall operators.
Michael Preysman, founder and CEO of Everlane, says it's not much more expensive to do one-hour delivery with Postmates than it is to ship from the company's warehouse in Denver. He said he sees the rise of cheap same-day delivery as a smartphone-driven phenomenon.
"There's this whole network of couriers that have come about, whether it's Uber, which is doing a bit of delivery stuff, or Postmates, or Instacart, which is starting to bring in more than just groceries," he said. "There's this massive workforce that's completely mobile all the time that didn't exist three years ago."
He noted that same-day delivery is still in its early days, though.
"We don't totally know what the impact is going to be, but there were two ideas," he said. "One is that the convenience is just amazing — you order and literally 40 minutes later, it's at your doorstep. It's this idea of, 'Why would I shop anywhere else?' And as we think about driving activation, we always think of how we lower the barrier to purchase, and a big barrier of purchasing is, 'Well, it'll arrive in four days, so I'll go to my local store.' With this, it's 'Forget it, I'll try Everlane and see if it works."
Still, more consumers are beginning to accept ever-faster shipping as the norm.
"These delivery options, I think it's all part of what the customer is expecting these days," Karen Katz, chief executive officer of Neiman Marcus, told analysts and investors earlier this month. "She just wants optionality."
Greg Greeley, vice president of Amazon Prime, echoed the sentiment.
"More customers have been opting for same-day delivery this year in particular because of the recent improvements we have made to our service," he said in an e-mail to BuzzFeed News. "Prime has made two-day shipping an every day experience rather than an occasional indulgence...and now, Amazon ships more than twice as many items with Prime than with our traditional free shipping. During that same time, we have also dramatically expanded our offering of same-day and one-day shipping alternatives for Prime members – and members are embracing these new delivery options."
Contact the reporter on this story at sapna.m@buzzfeed.com.