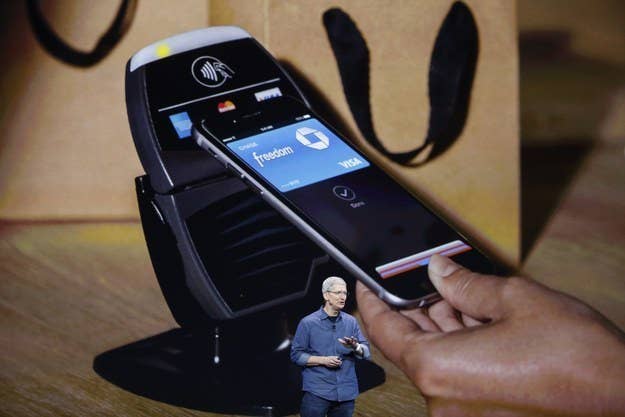 Apple Pay might not sound as sexy as the new iPhone 6 or Apple Watch — is "payment services" ever? — but it ended up being the most important announcement out of Apple's splashy launch event today.
Apple, beginning with new technology on the iPhone 6, iPhone 6 Plus and Apple Watch, is aiming to zap the wallet and allow customers to pay for items with their phones and a touch of the finger as early as next month. The company has partnered with American Express, MasterCard, Visa and the most popular domestic banks, which together account for 83% of credit card purchase volume in the U.S., as it works toward its goal. It's also signed on a handful of top retailers including Whole Foods, Macy's, Walgreens, McDonald's and Sephora for Apple Pay, so that customers with the new devices can actually walk into stores, tap their phones to check out and "sign" for purchases with a fingerprint.
iPhone users will also be able to make in-app purchases the same way, without having to enter shipping and billing data every time, as Target excitedly pointed out earlier today. Companies like Uber, Groupon, and Panera have all agreed to use Apple Pay in their apps.
JPMorgan Chase Chief Financial Officer Marianne Lake hailed Apple Pay as "the future" at a conference Tuesday.
While major credit card companies and technology giants have been working for years towards making mobile payments seamless, it's been tough to get consumers and merchants to buy into their solutions on a large scale. Apple, however, seems poised to succeed where others like Google Wallet haven't.
Perhaps most significantly, the new iPhones and smartwatch will come equipped with Apple Pay technology (including NFC, or near-field communication, antennas), and the company will make it easy for customers to import the hundreds of millions of cards that they already have on file with the iTunes Store.
"Other services require the consumer to make a specific gesture — they have to do something special to go and get the payments services, whereas with this, you're essentially going to get it as a default," Mung Ki Woo, Group Executive of MasterCard's Mobile division, said in an interview with BuzzFeed, noting the introduction is "a milestone" for the mobile payment industry. "Therefore, consumer activation of this service is likely to be high."
"As a consumer, you will just have a very seamless and magical moment when you're checking out," said Rajat Taneja, Visa's executive vice president of technology. "You will just take your phone and any wearable and bring it close to the PoS device and you're done."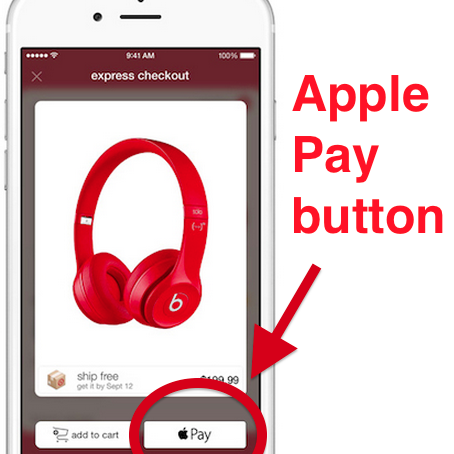 And then of course, there's the participation from retailers, who are willing to buy into what Apple is proposing with their own in-store improvements.
"We have been waiting for what the standard for mobile payments would be," Julie Bornstein, Sephora's chief digital officer, told BuzzFeed. "Yes, it is taking work for us to do this, but it's worth the work because we believe it's going to be a great consumer experience in our stores and on our app," she said, adding that implementing the technology in its stores would probably take a couple of months.
Apple is riding a wave of transformation in check-out technology, as many merchants upgrade their registers to work with NFC in order to process "chip-and-pin" cards ahead of an October 2015 deadline set by the payments industry. Credit and debit card security has become a huge concern, particularly in the wake of high-profile hacks of retailers like Target, P.F. Chang's, Neiman Marcus, and most recently, Home Depot.
"Many of those terminals will come equipped with the contactless reader to accept these mobile payments, that refresh is underway," said Taneja. "The vast majority of merchants will end up adopting a reader that will accept NFC."
Michael Silverman, a Whole Foods spokesperson, said that integrating Apple Pay into Whole Foods existing checkout infrastructure will be simple because all the stores already have NFC-equipped registers.
"We're committed to providing innovative new choices and conveniences for our customers, and the ability to buy groceries with just a simple touch of a finger elevates convenience to a whole new level," said Walter Robb, the co-CEO of Whole Foods Market in a statement that was representative of what many of Apple's partners said publicly.
Of course, there will be hiccups when it comes to adopting a massive new payment platform. Smaller businesses might not have the ability or foresight to switch to Apple Pay, at least not right off the bat, and concerns around security are already swirling.
So what, exactly, is in it for Apple? Nothing so direct as data, none of which will be used for Apple marketing, Silverman said.
"It's a great consumer convenience and experience, and it adds even more value to your smartphone if you can use it as your wallet too," Sephora's Bornstein said.
"It's obviously a way for them to enrich the level of services they provide to consumers," MasterCard's Woo said.