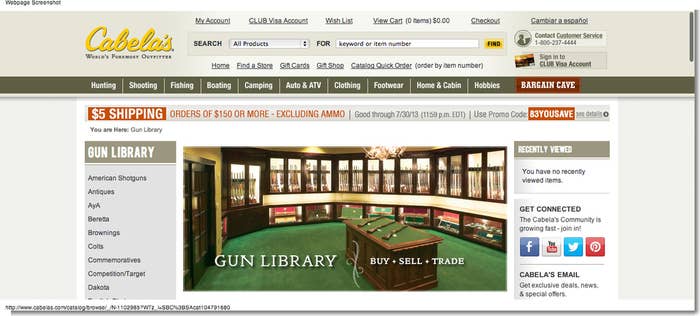 The feverish level of gun sales following a public and legislative outcry for more gun control after a series of tragic mass shootings last year may be subsiding.
That's the takeaway from the earnings report of one publicly-traded sporting goods retailer, at least.
Cabela's, which generated almost half of its $3.1 billion in sales through hunting equipment last year, says its sees gun demand assuming "a new normal." In business speak, what that means is that Cabela's thinks it won't be able to match the 10.5% growth in comparable store sales it reported for the second quarter, which itself was down from the 24% gain it recorded in the first quarter. In layman's terms, what that means is that Cabela's think it isn't going to sell as many guns over the next year as the memory of last year's tragedies in Newtown, Conn. and Aurora, Colo. fade and gun control lobbying efforts lose steam.
"The gun business is settling to what I would probably assume to be a new normal, which is elevated above history but not at the fever level that we saw recently, and that's a good thing," Chief Executive Officer Tommy Millner said today on a conference call with analysts. Cabela's is "encouraged" by the sales of its other merchandise, especially as it opens new stores, to make up for any decline in the elevated sales of guns and ammunition, he said.
Cabela's, which also sells archery, fishing and hiking gear, is among retailers that benefited from an uptick in firearm demand after President Barack Obama declared his intention to seek new gun control regulations following the grisly elementary school shooting in Newtown, Conn. this past December. That was after a separate massacre in July at the movie theater in Aurora, Colo. The threat of legislation has fallen, however, after the Senate in April defeated several measures to expand gun control.
Cabela's noted in its latest annual filing that its merchandise most likely to be impacted by legislative change represents a "small percentage" of overall hunting equipment sales, and that it didn't anticipate recently enacted New York gun restrictions to have a significant impact on its business.
In fact, it may ultimately be helpful for the company to have gun control back in the spotlight.
"We expect demand for firearms, ammunition, and accessories to remain strong as gun control continues to be a legislative focus," the company said in the filing.