American Eagle CEO Mysteriously Resigns After Less Than Two Years
The teen retailer's stock fell after announcing CEO Robert Hanson will be leaving "effective immediately." Its executive chairman will temporarily fill the role while it looks for Hanson's replacement.
American Eagle's stock under its now former CEO versus Aeropostale and Abercrombie: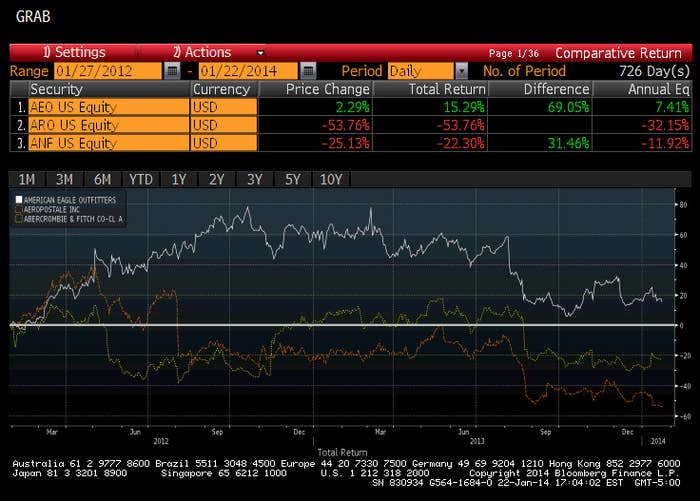 American Eagle, the purveyor of preppy teen fashions, said Wednesday that its chief executive officer is leaving the company "effective immediately," without offering additional details.
Robert Hanson, a former Levi's executive who joined American Eagle on Jan. 30, 2012, will be temporarily replaced by executive chairman Jay Schottenstein while a successor is sought, the retailer said in a statement after the market closed. In addition, Roger Markfield, a former co-CEO of American Eagle and its executive creative director, will stay on past his planned retirement date of Feb. 1. The stock fell 4.3% to $13.70 in trading after-hours.
"On behalf of the board of directors, I want to thank Robert for his contributions during his tenure and wish him well in his future endeavors," Schottenstein said in today's statement. "I look forward to working closely with Roger and our talented team to capitalize on the significant potential of our brands and to position the company for growth and long-term success."
The hottest teen retailers of the '90s have been facing declining sales in recent years, with the advent of fast-fashion companies like H&M and Forever 21 and fewer teens hanging out in the mall. The "three A's" — American Eagle, Aeropostale, and Abercrombie — have been especially hit as preppier fashions have declined in popularity.
Still, American Eagle has been able to fend off some of the issues facing its rivals, at least from a stock perspective. While Hanson was in charge at American Eagle, the company's shares rose 2.3%, while Aeropostale's plummeted 54% and Abercrombie's fell 25%. (Aeropostale has had the same CEO since 2010 while Abercrombie's Mike Jeffries has led that company since 1992.)
At a presentation at the ICR XChange conference earlier this month, Hanson acknowledged that 2013 was a "vey tough year" but said the retailer is "entering 2014 with a firm foundation to compete moving forward."
"As we think about 2014, the headline for us is really adapting to change," he said on Jan. 14. "We're not going to fundamentally change our strategy plan. We think there's a lot of evidence that the strategies themselves are working."
American Eagle's Kristen Zaccagnini didn't return a voicemail from BuzzFeed seeking comment.