American Apparel Officially Fires Dov Charney As Consultant, Names New CEO
The decision to fully boot Charney, who was still working for American Apparel as a paid consultant, comes after an internal investigation. The board suspended him earlier this year.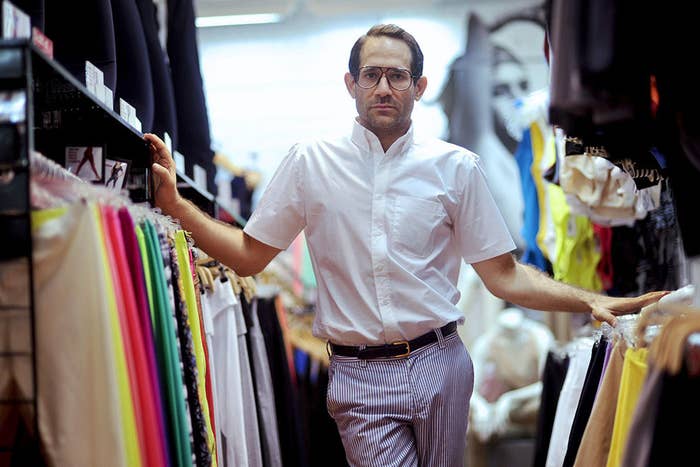 Dov Charney, the controversial founder and former CEO of American Apparel, has officially been fired from the company. Paula Schneider, who's worked at Big Strike, BCBG Max Azria, and Laundry by Shelli Segal, will be the new CEO of the company starting Jan. 5.
Charney, who was suspended as president and CEO by the board on June 18 for "alleged misconduct and violations of company policy," has been the subject of an internal investigation since July 9, American Apparel said in a statement today. A special committee of the board has been overseeing the investigation by FTI Consulting. Based on the results, the committee said it "would not be appropriate" for Charney to be reinstated as an employee in any capacity, let alone as CEO. American Apparel has also severed Charney as a paid consultant, the role he held during his suspension.
American Apparel's board moved to fire Charney in June for a long list of reasons including: breaching his fiduciary duty, violating company policy, sexual harassment, and misusing corporate assets, according to his termination letter, which was obtained by BuzzFeed News. In news reports following his dismissal, Charney proclaimed his innocence and called the board's accusations baseless.
The release did not contain any comment from Charney and a source close to the company said the board is anticipating legal action from him. The American Apparel founder has now effectively been stripped of any relationship to the company outside the shares he owns, according to a second source. (The stock now trades below $1, far off its high of $15.80 in 2007.)
In an e-mailed statement, Charney said he's "proud of what I created at American Apparel" and "confident that, as its largest shareholder, I will have a strong relationship with the company in the years ahead."
"Naturally, I am disappointed with the circumstances and my over 25 years of deep passion and commitment for American Apparel will always be the core DNA of the company," he said. "I would like to thank the city of Los Angeles and the entire American Apparel family of employees world-wide; from corporate and retail, the factories and suppliers as well as our investors and customers for their incredible loyalty and support. I wish the company continued success."
Charney has long been a wildly colorful figure in the business world, particularly within retail, and American Apparel is well-known for its provocative marketing and "Made in U.S.A." ethos. In 2008, American Apparel's CFO resigned after Charney called him a "complete loser" to the Wall Street Journal. Charney is also still mentioned in the same breath as a 2004 Jane magazine profile in which he masturbated in front of the reporter. Beyond that, his reputation has been tarnished by sexual harassment lawsuits accusing him of a myriad of offenses such as sending explicit messages to employees and taking photographs of them while naked. Many of the lawsuits have been dismissed, but Charney has admitted to walking around the office in his underwear and to dating employees.
Still, the board never acted against Charney until this year. It said it learned of new information this spring that spurred an investigation, ultimately resulting in the decision to oust Charney.
The termination letter to Charney read: "Based on the events and circumstances detailed above, you are hereby suspended and placed on administrative leave effective today, June 18, 2014. Your suspension and administrative leave will last until July 19, 2014 or until such earlier time as you are able to fully effect a cure of your misconduct. On July 19, 2014 we will inform you of our final decision concerning your employment status." As today's release shows, that final decision actually wasn't reached until now.
Schneider will replace interim CEO Scott Brubaker, formerly a managing director at consultancy Alvarez & Marsal, who joined in September. He will stay on as a consultant "to ensure an orderly transition" at the Los Angeles retailer.
"American Apparel has a unique and incredible story, and it's exciting to become part of such an iconic brand," Schneider said in today's statement. "My goal is to make American Apparel a better company, while staying true to its core values of quality and creativity and preserving its sweatshop-free, Made in USA manufacturing philosophy."
Updated to add that American Apparel's board is expecting legal action from Charney.
Updated with e-mailed statement from Charney.