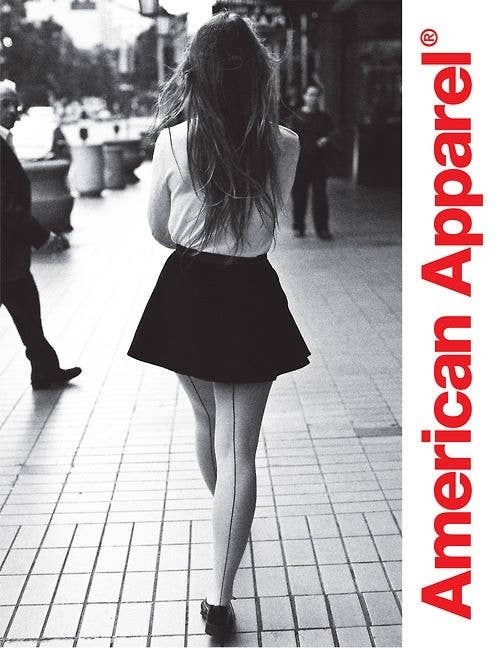 American Apparel says it's at risk of getting delisted from the New York Stock Exchange, a major vote of no confidence in the controversial retailer's plan to turn itself around.
The company, which has been struggling financially, said yesterday it was notified in a Feb. 28 letter that it's "not in compliance with the continued listing standards of the Exchange," referencing a section in the NYSE's company guide that describes financial impairment.
Per that guide, this means American Apparel "has sustained losses which are so substantial in relation to its overall operations or its existing financial resources, or its financial condition has become so impaired that it appears questionable, in the opinion of the Exchange, as to whether such issuer will be able to continue operations and/or meet its obligations as they mature."
In other words, its operations are a mess.
American Apparel has until March 21 to submit a plan describing how it will regain compliance by April 15. If that plan is accepted, American Apparel will still face periodic reviews to make sure it's sticking to it — otherwise, it will be delisted. In that case, it will be far more difficult for American Apparel to raise money. And while it could remain profitable, getting kicked off an exchange is often the first step for a company on the way to bankruptcy. Delisting can trigger a drop in a company's credit rating, or push up payments it has to make to creditors.
CEO Charney, who founded the company in 1997, cited the importance of remaining listed in an interview with BuzzFeed in January, saying it makes it far easier to "get money from the public markets rapidly." He also said, however, that he doesn't anticipate the company to be profitable this year on a non-adjusted basis.
American Apparel hasn't posted an annual profit since 2009 and reported a loss for 2013 yesterday. Shares have been trading below $1, and are in the range of 80 cents today.
The company said "management is pursuing options to address the company's financial requirements and intends to submit such a plan on or before the deadline set by the Exchange."
American Apparel stock is trading in the range of 80 cents a share today.