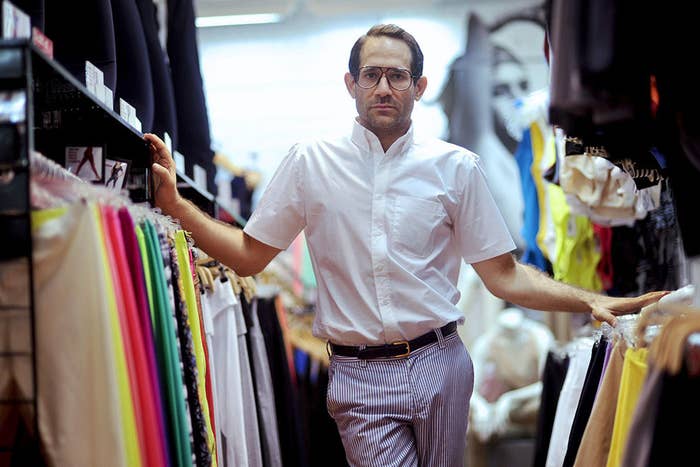 American Apparel's board is "hopeful" that shareholders and lenders will understand why they decided to oust its visionary, albeit mercurial, founder and CEO Dov Charney once they hear full details of what happened. But while the board is prepared to explain to them the murky circumstances around his alleged misconduct, the company isn't yet ready to discuss them publicly.
Still, sources familiar with the situation told BuzzFeed that new revelations in lawsuits sent to arbitration earlier this year made it impossible for the retailer's board to continue ignoring Charney's behavior. Once the new details came to light, the board's new co-chairman Allan Mayer said the board began an investigation and "eventually determined that he had committed some very serious violations of company policy so we made a decision to terminate him." Mayer, who has been an American Apparel director since 2007, said in a telephone interview with BuzzFeed that he couldn't confirm or deny a report in the Globe & Mail that said Charney attempted to "discredit a number of women who had charged him with sexual harassment."
One of the sources familiar with the matter said the board was unaware of the newly surfaced video of Charney dancing naked with a woman who might be a current or former employee, and added it didn't play a part in CEO's dismissal. This source and another one said the board had been seriously discussing firing Charney for about three months.
At the same time, sources who spoke with BuzzFeed on Friday said that it will be extremely difficult for Charney to fight their decision by rallying shareholder support to add members to the board or by teaming up with a private equity firm to take American Apparel private.
"Obviously we read the newspapers, we read the stories, and heard the allegations and were aware of the rumors but… a board of directors can't act on stories in the newspaper. You have to have established hard facts," Mayer said. "There is a legal process and a corporate governance process that has to be followed."
Mayer said that despite Charney's notorious reputation, it was "remarkably hard to pin down hard facts." But that changed earlier this year when what Mayer, a principal partner at powerhouse Hollywood PR agency 42 West, described as "established facts that were unambiguous [and] weren't rumors or allegations" came to the board's attention.
Mayer declined to discuss what precisely those established facts were, but left open the possibility that he or the board may elaborate more in the future by adding, "at least not at this time."
As for Charney, Mayer said that "he's been informed specifically of what the underlying causes are."
Charney declined to comment on the situation.
American Apparel has been hit with a number of well-publicized lawsuits in recent years alleging sexual harassment by Charney, as well as "assault and battery, impersonation through the internet, defamation and other related claims," regulatory filings show. While most initial complaints by former employees are publicly available, these cases are then typically adjudicated in a non-public arbitration process, as per agreements with employees. Even Charney has such an agreement, which may help conceal the details that got him fired in the event he chooses to pursue legal action against American Apparel's board, a person familiar with the matter said.
Charney's termination from American Apparel, which he founded in 1998 and built into a globally recognized brand, will be effective after a 30-day cure period. He's currently suspended, and has been replaced as chairman by both Mayer and director David Danziger. He was informed of the board's decision after the company's annual shareholder meeting on Wednesday in New York. The news shocked him, sources said. One director, Alberto Chehebar, was not present, but the other five directors all voted to oust Charney, according to the two people familiar with the matter. The meeting lasted about 10 hours, with Charney sporadically leaving the room and returning to explain why it was the wrong decision, these people said, adding that, while intense, discussions were calm.
A source close to Charney described his ouster as akin to "taking a baby away from its mother" and said that he'll most certainly fight the decision. Charney sill retains a 27% stake in the company, diluted after a recent capital raise to satisfy interest payments.
And though reports have emerged that Charney may rally shareholder support to add members to the board, or team up with a private equity firm to buy the company, sources said such a move would be extremely difficult to pull off given that American Apparel's charter says the board decides whether or not to increase its own size. Even more ironic is the fact that Charney handpicked each of the directors.
Still, Mayer conceded that a sale is possible "if someone were to pay an exorbitant sum of money."
If you have more information about American Apparel, please contact Sapna Maheshwari at sapna.maheshwari@buzzfeed.com or 917.727.0213.