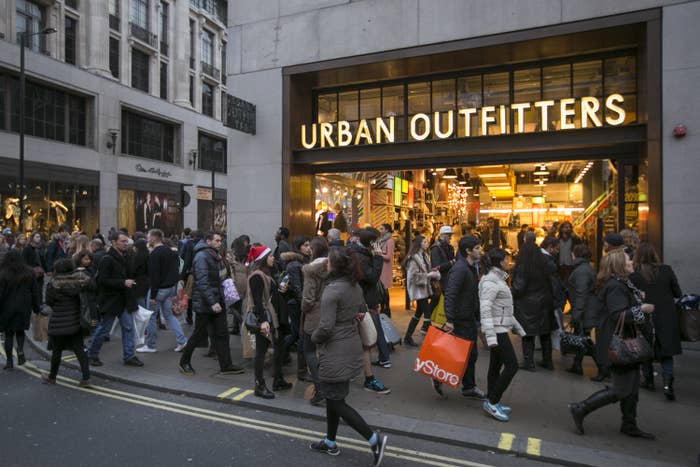 Urban Outfitters is the latest retailer to abandon the controversial practice of on-call scheduling in its stores nationwide, just weeks after it was criticized for only stopping the practice in New York, where the state attorney general is investigating whether it breaches labor laws.
The retailer, which also owns Free People and Anthropologie, said earlier this month it would stop scheduling employees for call-in shifts in New York, where Attorney General Eric Schneiderman said the unpaid shifts may be violating state law. Other retailers that announced plans to abolish call-in shifts in recent months, including Gap, Victoria's Secret and J.Crew, did not restrict the change to New York.
The Philadelphia Daily News, where Urban Outfitters is based, published a scathing front page column today that criticized the company. The column accused Urban Outfitters of "exploitation as usual" in its stores outside of New York. "You're doing the right thing in New York only because New York law requires you to," it said. "As for everywhere else, it's human decency be damned."
In a statement today, Urban Outfitters said it is "always looking for ways to improve, and as such we have decided to end on-call scheduling for all URBN brand associates throughout North America."
"Lifestyle merchandising is both our business and our passion, and our talented associates share our commitment to building strong emotional bonds with our customers. While our brands today are the strongest they have ever been, our continued growth requires that we consistently foster a creative, flexible and friendly work environment."
On-call scheduling, once most commonly associated with medical personnel, emergency responders and police officers, has become commonplace in the retail industry. Call-in shifts usually appear alongside regular shifts on store workers' schedules, but require them to phone in before start-time — sometimes as little as two hours before — to find out if they're needed or not. If not, they go unpaid.
Some retail workers say they're "on call" for up to 20 hours a week, wreaking havoc on their lives, while saving retail companies millions in labor costs, a BuzzFeed News investigation found in June. An Urban Outfitters handbook shared with BuzzFeed News at the time showed Urban Outfitters' employees were expected to call in three hours before the start of such shifts.
In the wake of the story, which centered around Victoria's Secret's use of call-ins, several major chains have worked with Schneiderman's office to end the practice in New York and nationwide. Gap Inc., Victoria's Secret's parent company L Brands, J.Crew and Abercrombie & Fitch have all said they plan to cease the practice. Together, the companies own a wide variety of brands, including Old Navy, Bath & Body Works, Hollister and Madewell.
Excerpt from Urban Outfitters handbook: