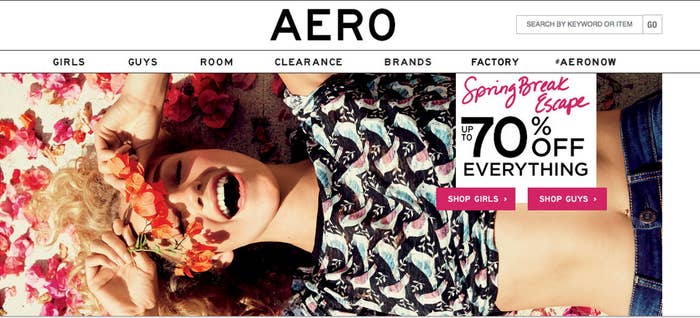 Aeropostale is reinventing itself, and a big part of its makeover will be designing clothes for America's "flirty tomboy."
The struggling teen retailer, which hired a new chief executive to lead a turnaround last year, said today that its product development teams have been adjusting its goods to fill the needs of this 14- to 17- year old archetype. Women account for roughly two-thirds of the company's annual sales.
"Our product development teams have been focused on refining our merchandise architecture to ensure the needs of our target female customer who we call 'the flirty tomboy,'" Emilia Fabricant, executive vice president of the Aeropostale brand, said on an earnings call today. "The flirty tomboy will be our refined filter as we design merchandise and allocate to the 14- to 17-year old girl who expresses herself differently based on her moods and needs and can migrate between our various sub-brands."
Aeropostale shared this and a number of other initiatives today as newly-returned CEO Julian Geiger works to revive the brand, promising a slew of changes in clothes, pricing and presentation during this fall's back-to-school season. The company said it will have a new approach to promotions this fall, which it can't yet share for competitive reasons, and that it will continue to partner with social media stars.
The company needs these changes to work: Aeropostale said today that sales slid 12% in the past year to $1.84 billion after falling 12% in 2013, and reported a net loss of $207 million. That represents its lowest annual revenue in seven years. It also said it's considering closing up to 76 more stores, even after shrinking to 860 at the end of January from 1,100 a year earlier. While Aeropostale reported a fourth-quarter adjusted operating profit of $3.7 million in its release today, that excluded charges tied to store closures, as well as severance and litigation costs. It reported an operating loss of $14 million.
Like many mainstays of the American mall, Aeropostale has struggled to compete with fast-fashion behemoths like H&M and Forever 21 . Like its pricier competitors Abercrombie and American Eagle, it has also struggled with the declining appeal of logo-emblazoned apparel.
Geiger, the former CEO of cupcake maker Crumbs Bake Shop, returned to the company in August, and has been optimistic about Aeropostale's place in the teen closet.
In December, he noted that Aeropostale's brand promise is "that the teenager can wear our clothes, go to school and not be teased or made fun of [for] the way they look." Teenagers still care about this kind of acceptance, he said.
He reiterated his confidence in the company's turnaround today despite what he referred to as a "volatile" retail environment.
"Despite that caveat, I look forward to back-to-school with eagerness and with confidence," he said. "Back-to-school will be a seminal period in which we will all see just how far we have come in the resurrection of one of America's great young brands."