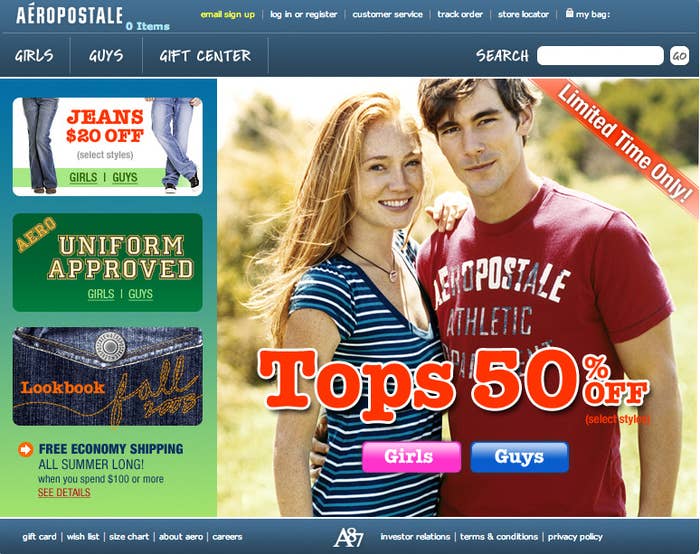 Aeropostale is crashing.
The brand's position as the cheapest alternative in the preppy apparel universe to American Eagle and, on the higher end, Abercrombie & Fitch, for graphic tees, fleece pullovers and jeans, is suffering big-time. Aeropostale yesterday reported a 15% dive in sales for the three months through Nov. 3, marking its 13th straight quarter of falling or flat same-store sales. Chief Executive Officer Tom Johnson attributed the losing streak to a "seismic shift" in teen tastes away from logos in the past five years, which the retailer has been struggling to keep up with.
The shift away from the branded, preppy styles that Abercrombie popularized over the past two decades, something that retailer has been struggling with, has been felt the most acutely by Aeropostale. Today's teens are increasingly rejecting the idea of wearing logos across their chests in favor of styling outfits from H&M, Forever 21 and discount-chains like Marshalls and Target. Further, surf- and skate-styles have been booming in popularity while preppier fashions have been on the decline, evidenced by the rise of Zumiez and Tilly's. That's to say nothing of the cash squeeze confronting today's teens, which is forcing chains like Abercrombie, Hollister and American Eagle to offer deep discounts to shoppers, crushing Aeropostale's competitive edge.
Not only were overall transactions down in the third quarter, but Aeropostale also made less per piece of merchandise sold. On its website right now, it's selling t-shirts for as little as $5 and jeggings for $14.
"What has historically made us successful, logo and price alone, are not the keys to success in the future," Johnson said.
The company has been working hard to scale back dependence on clothing branded with its "Aéropostale," "Aéro" or "P.S. from Aéropostale" logos, but that's still the vast majority of its merchandise. It has also been racing to win back high schoolers by offering more fashionable clothing, partnering with teen video blogger Bethany Mota and the show Pretty Little Liars, and amping up its social media efforts. But Johnson still conceded that "adoption is our biggest challenge."
Deeper discounts than ever aren't helping reverse course yet.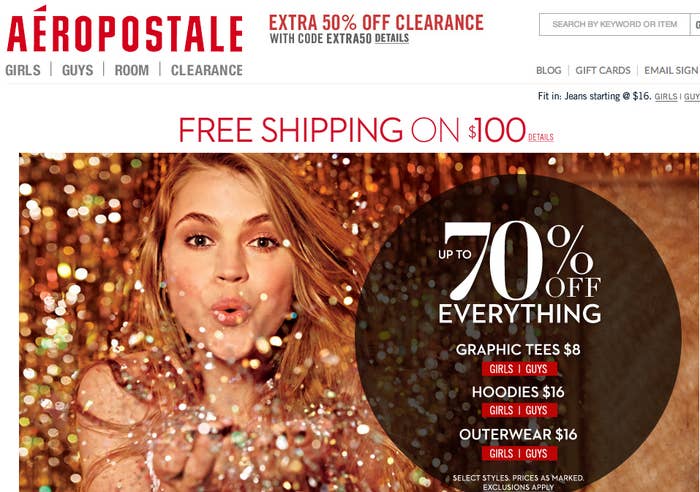 "I don't think you can ever look at Aeropostale alone, you have to look at the entire category and the entire category is really challenged," said Les Berglass, the founder and CEO of an eponymous executive search firm who has more than two decades of experience in the retail industry. "At its core, when you look at Aeropostale naked, it's a price-driven version of Abercrombie & Fitch. And, with this week's news that an activist investor is calling for the ouster of A&F's CEO, that's proof that there is trouble on the horizon for this style of apparel. After all, this is a trend-driven category whose DNA hasn't changed in 15 years."
While activist investment firm Crescendo Partners recently sent an open letter to Aeropostale's board saying the company should sell itself, citing its "strong brand name and its compelling valuation," Berglass says "there are strategic customer challenges in the business that finance people may not see."
For instance, even one of the retailer's lone bright spots, its "P.S. for Aeropostale" chain for 4- to 12-year-olds, is cutting back openings to focus on making that brand profitable. Aeropostale also said it will close 175 namesake locations in the next two years, nearly double its previous plan to shutter 100 of its 976 stores, as it looks to preserve cash. (Its cash position has dwindled by $116 million in the past 12 months.)
"We are somewhat baffled why Aeropostale is paraded by other analysts and investors as a concept worthy of an LBO that would take shareholders out of their misery at a premium price," Eric Beder, an analyst at Brean Capital, wrote in a note after the earnings report.
"The company is not a unit grower, the potential in the near term to transcend the industry and drive stronger margins is somewhat fanciful (especially given Aero's limited pricing power given their position as the lower cost teen player) and we project the business to be a net cash drain for at least the next few quarters," he wrote. "And this is a proposition for which a private equity group is going to pay shareholders a premium price and layer debt unto a company that, frankly, is not working? We do not get it...please pardon our ignorance."
Johnson said Aeropostale is not commenting on the shareholder letter. "Given we are currently in the peak holiday season and this is a critical time of year for every retailer, our team is concentrating its full energies on executing our business," he said.
The stock is down 28% this year, to $9.36 per share as of yesterday, a bigger drop than those at American Eagle and Abercrombie, which are down 21% and 26%, respectively.
Johnson tried to reassure jittery investors by noting that, at least anecdotally, teens are appreciating the addition of fashionable merchandise and the introduction of its "Live Love Dream" loungewear brand. Johnson also talked up the "great strides" Aeropostale has made over the last quarter to counter the trend of declining mall traffic from teens by "attacking social media in a significant way."
"We think that we just have to be communicating more frequently and more intensely on their terms from a social media standpoint," he said. "Our engagement factor with Facebook is up significantly on a year-on-year basis. Our Twitter sentiment has gone from neutral to negative to neutral to positive in the last quarter or so. So those are the things that tell us that consumers are really liking what they see. And clearly, when you're looking at the numbers, they're not voting at the register wholly just yet. But we think that there's lag time and that's got to happen."
Aeropostale website from a few years ago.