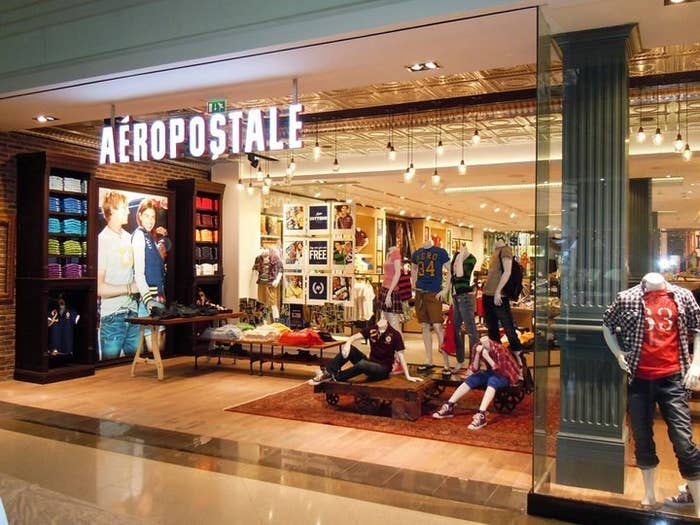 Aeropostale is a brand that teens can wear without fear of being mocked.
At least that's what recently returned Chief Executive Officer Julian Geiger, who laid out his plans for rehabilitating the struggling teen retailer on a conference call with analysts and investors yesterday, thinks.
"The teenager today wants to fit in," Geiger said. "They want to fit in by wearing things that make them feel safe. If there's a brand promise to Aéropostale, it's that the teenager can wear our clothes, go to school and not be teased or made fun of [for] the way they look."
Aéropostale brought Geiger, whose last management gig was as CEO of Crumbs Bake Shop, back to the company in August. (Crumbs filed for bankruptcy in July.) The company needs some serious work — sales have been plummeting every quarter, and at least one analyst is questioning whether Aéropostale will ever turn a profit again. Like Abercrombie, American Eagle, and many other mall retailers, the company is having a hard time battling fast-fashion behemoths like H&M and Forever 21, the decline of logo apparel and the competition posed by tech while teen wallets are thin.
Geiger explained yesterday that he thought Aéropostale had been "overly influenced by the lure of fast fashion" and must balance on-trend offerings with basics, which are "the foundation of every teenager's uniform as well as the fulcrum of our profitability."
"I still believe that while they strive for individuality in many ways, at 14 years to 17 years old, they still want to be accepted by their friends and peers and that there is still a uniform that they wear that makes them cool and fit in," he said of teens. "I think that our mandate is to be that store that best juggles this dichotomy."