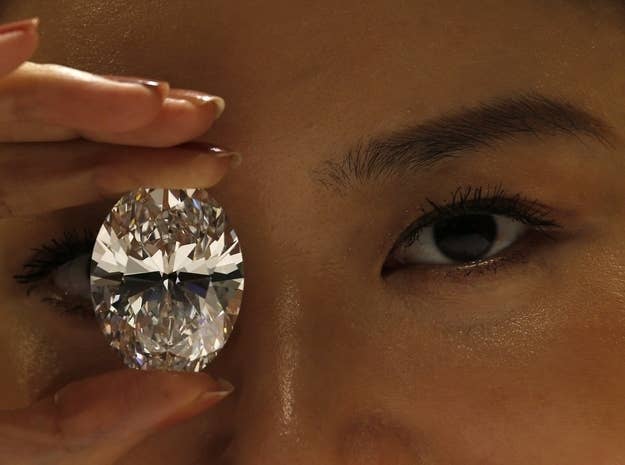 Now for some news about sparkly things!
Citigroup analysts, in a report about the growing diamond market, say that a bunch of demand is coming from China, where diamond engagement rings have only just become a trend in the past 20 years.
About 31% of Chinese couples now use diamond engagement rings, though the practice, incredibly, was virtually nonexistent in the 1990s, the analysts wrote in the Nov. 7 note, citing data from De Beers. It's a generational shift that some attribute to the connection between diamonds and romance in Western culture, and clearly, it's occurred quite rapidly.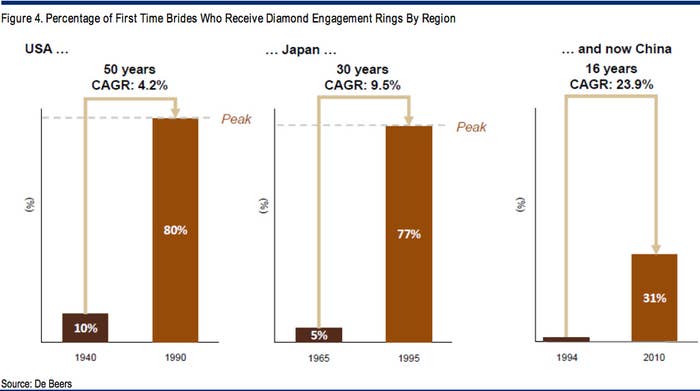 "Certain regions, such as Shanghai, have penetration as high as 62% of couples," Citigroup analyst Oliver Chen wrote. It's feasible that on average, it may become a tradition among 50% of couples in the medium-term, he wrote.
That's helping companies like Tiffany & Co., which is seeing the strongest comparable sales growth in the "Greater China" region, where it operates 67 stores. Blue Nile, the online jeweler, recently said China has an $8 billion engagement market, versus $5 billion in the U.S., which is a tremendous opportunity considering the shifting views of the Chinese consumer on big rocks.
"The growing middle class, the desire to actually have a traditional, American-based setting, which is a large stone as opposed to bunch of small stones, is really a shifting dynamic in a positive way for us," Harvey Kanter, Blue Nile's chief executive officer, said at a conference in September.
Diamond Demand to Grow in China