The appropriate skinny-jean cuff: 1.25 inch.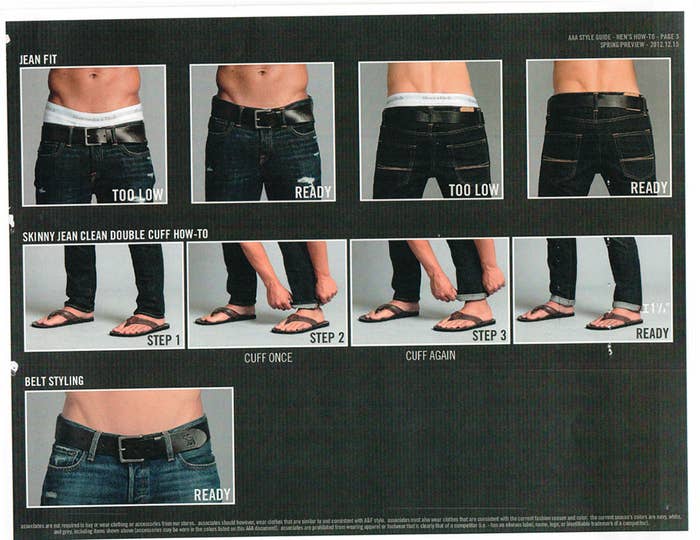 Abercrombie & Fitch advertises an effortless, preppy style to teens worldwide with its sex-meets-Ivy League aesthetic, a look that invokes LFO's "Summer Girls."
But looking that casual requires a lot of work — and a lot of enforcement, according to an internal spring 2013 employee "style guide," obtained by BuzzFeed. Employees at Abercrombie's 285 stores must adhere to rigid dress codes, such as no bigger than a 1.25-inch cuff on skinny jeans, or risk their manager's wrath.
The documents lay out a long list of extremely precise guidelines accompanied by how-to photos: Double-cuff women's jeans by seven-eighths of an inch, do an "easy side tuck" or "easy front tuck" for shirts, pull sleeves below the wrist with women's sweaters, undo the top three buttons on denim shirts, and aim to wear flip-flops, which "look great with any look." Men are even instructed on how to style their belts and where the denim should fall on their (perfect) hips.
Abercrombie, which considers its stores its main marketing vehicle, is under pressure to make them more productive: Revenue at A&F locations open at least a year or more fell 3% in the past year, and the company is closing a number of U.S. locations through 2015. The retailer pulled in $4.5 billion in annual sales this past year. And the cheaper, beachy Hollister Co. brand, which Abercrombie also owns, accounted for more revenue than Abercrombie and abercrombie kids combined.
Associates aren't required to wear clothing or accessories from New Albany, Ohio-based Abercrombie. But they are forbidden from wearing "apparel or footwear that is clearly that of a competitor (i.e., has an obvious label, name, logo, or identifiable trademark of a competitor)." While the documents don't explicitly name any other brands, Abercrombie's main rivals are American Eagle, Aeropostale and the Gap, among others.
Employees should also wear clothing "consistent with the current fashion season and color," which for the spring season are navy, white, and gray, according to the documents. You can almost smell the scent of Fierce cologne from here.
New this season: scrunch-roll sleeves.
You can't smile until you're ready. And you can't be ready without the right colors and "underlayers."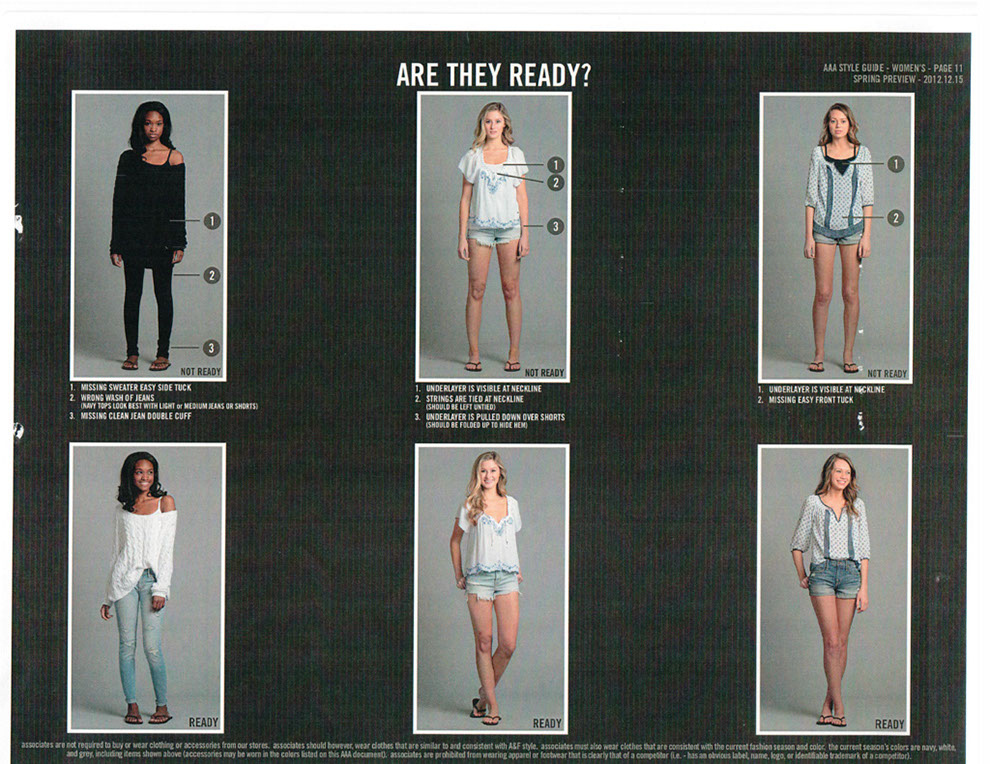 Sleeves should be pushed above the bend at the elbow...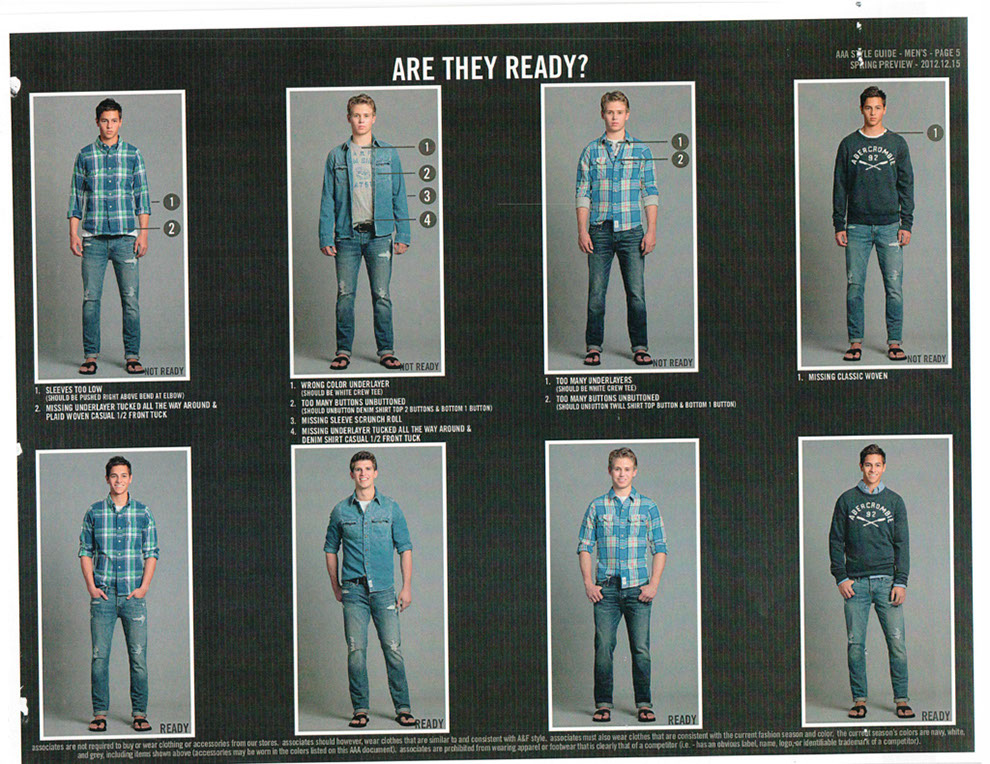 Strike: in middle photo, "Underlayer is a white pretty top. (Try wearing a nude bra or white strappy tank)."
"Woven sleeve should be cuffed 1/2 inch & slightly visible. Leave sweatshirt uncuffed."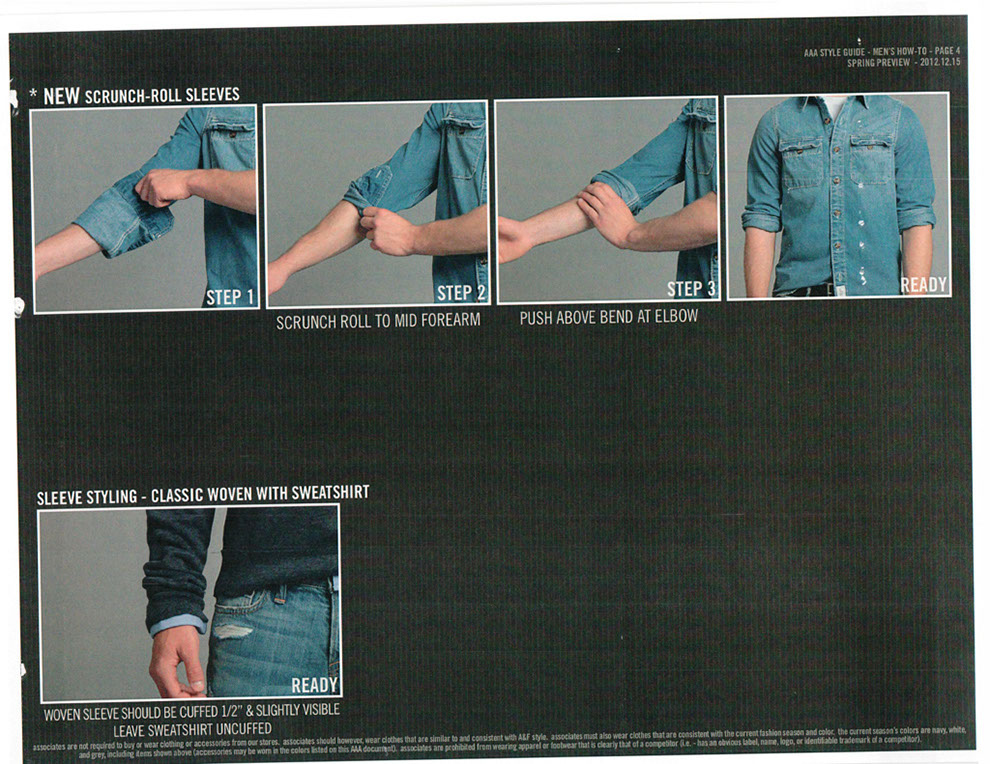 "Style suggestions: Classic wovens look best with a crew sweatshirt... dark brown leather flip flops & a dark brown leather belt look great with any look."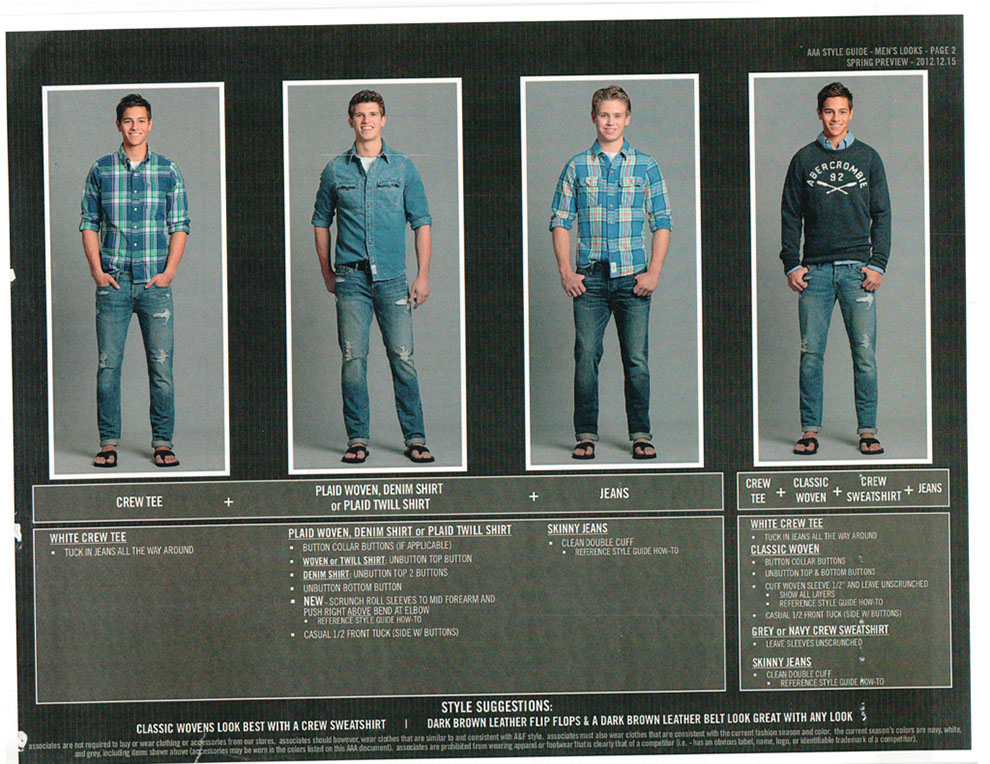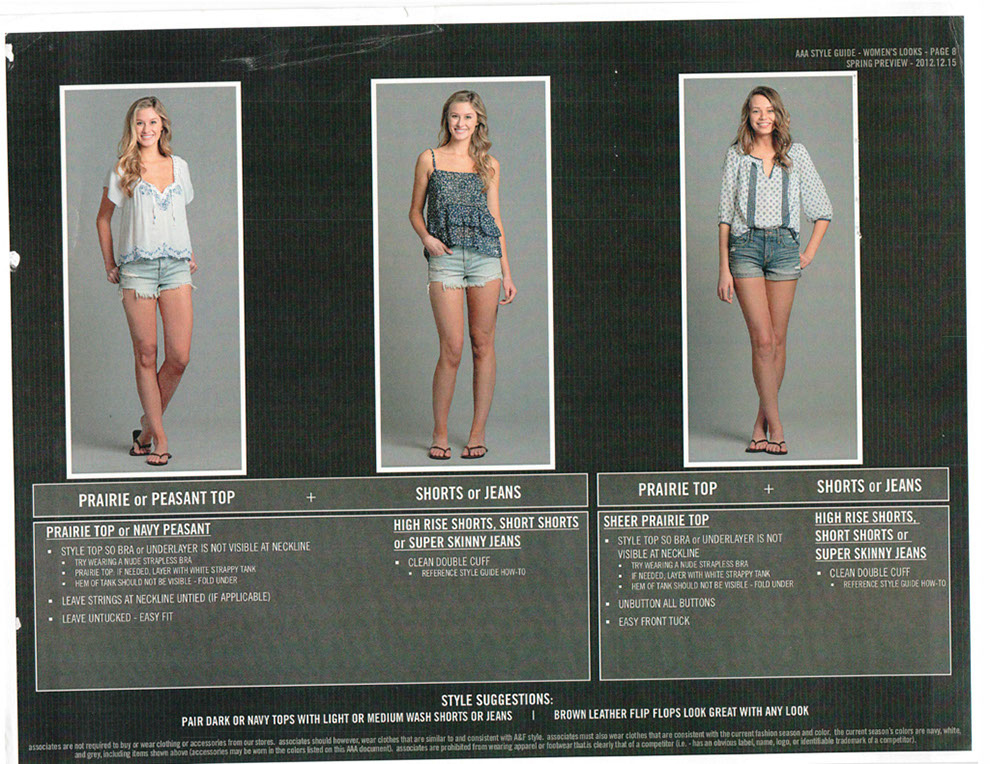 Denim shirts: Pop the collar and unbutton the top three buttons.