Abercrombie's CFO Ascends To Position Of Power Behind The Scenes
Jonathan Ramsden has gained more influence and decision-making authority at Abercrombie as CEO Mike Jeffries' hold on the company grows more tenuous, sources told BuzzFeed.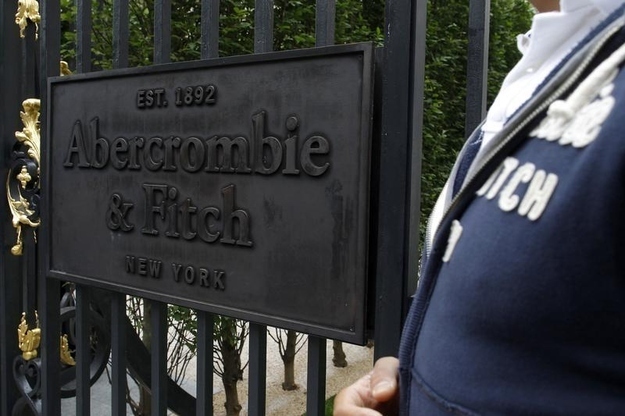 As Abercrombie & Fitch CEO Mike Jeffries' grip over the company he built grows more tenuous, Chief Financial Officer Jonathan Ramsden has assumed more decision-making authority within the organization, becoming a confidante to Jeffries and a force for change at the retailer both internally and externally, sources said.
Over the last 18 months, Jeffries' leadership has been called into serious question. Uninspired fashions have resulted in faltering same-store sales and stories of corporate misconduct, including company jet antics and the executive-level involvement of his partner, who is actually not an Abercrombie employee, have sent the retailer's shares into a tailspin. That's made Ramsden an indispensable second-in-command at the teen retailer with more influence than the average CFO, according to interviews with employees, investors, and analysts.
"Jonathan has definitely gained more decision-making power, although I still think he should be given more, but I think that's hard when you're working for Mike," one investor told BuzzFeed.
Jeffries, 69, is notorious for being a micromanager who rules Abercrombie with an iron fist. That's been harder to maintain though as Abercrombie shares have fallen 25% over the last 12 months to $36.07; last year's loss was so sharp that the company was removed from the S&P 500.
Just last month, hedge fund Engaged Capital published a nine-page open letter calling for Jeffries' immediate dismissal after 23 years at the helm of the teen retailer.
Indeed, the CEO's recent unpopularity has opened the door for Ramsden, who joined Abercrombie in 2008 from ad agency TBWA Worldwide, to exert more influence and push for changes that might not have been possible in the past, particularly in the absence of a chief operating officer.
Sources said Ramsden led the charge last spring to hire consultants to help Abercrombie boost profitability, a move Jeffries resisted because he didn't want to share company information with outsiders. Ramsden, described by sources as bright, pleasant, and bespectacled with a British accent, also encouraged hiring consultants for the retailer's first global marketing study and for some of those findings to be presented to investors in New York this fall, a meeting that ended up pushing some of its problems out into the open. Sources also said he was the one to convince Jeffries to finally shutter the Gilly Hicks stores, a failed foray into teen lingerie that was losing millions.
A darling of the investing community, which hails him for his efforts to trim expenses and boost accountability, Ramsden is also credited with changing Abercrombie's accounting method last year to what Oliver Chen, an analyst at Citigroup, called a better financial reporting policy.
With the exit of Leslee Herro — the executive vice president of merchandise planning and inventory management, who was at the company even longer than Jeffries — even more of the organization may end up reporting to Ramsden, according to sources, who said that Ramsden clashed with Herro behind the scenes and pushed for her departure.
"Mike and the executive team are completely aligned on the key priorities for the company and the actions being taken to address them," Abercrombie said in a statement to BuzzFeed. The company declined to comment further for this story.
Abercrombie shares have fallen dramatically since 2010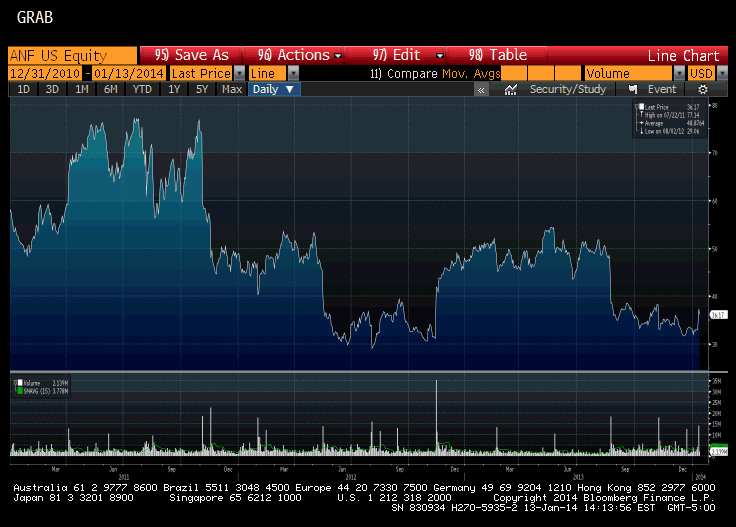 Jeffries' penchant for driving away or firing those who gain too much power makes Ramsden's ascent even more striking. And while Ramsden, two decades the CEO's junior, isn't being thought of as a successor, he will play a big role in selecting who eventually may be that person.
In a bid to appease investors frustrated by the board's December decision to renew Jeffries' employment contract for another 12 months, Abercrombie also announced that it planned to commence a search for presidents for its namesake and Hollister brands, positioning the new hires as potential successors to Jeffries in the future. (The company's lead independent director claimed in October 2012 that "the talent pool for successors, not only of the CEO but also other key executives, is deep.")
"I can't think of another multichannel retailer out there that does not have brand presidents, and this has been an issue I've been dealing with and talking about for a while," said Simeon Siegel, an analyst at Nomura Securities. "For me, it represented very much this thought of one company created in one image, even though you had what should be very distinct brands."
According to sources close to the hiring process, Ramsden and Jeffries have differing views on the type of talent required for those roles, mostly driven by Jeffries' unwillingness to relinquish control of the retailer. Sources said Ramsden wants a strong general manager with a clear focus on accountability, while Jeffries — threatened at the thought of working with other CEO types — wants to find people specifically with merchant or product backgrounds.
Who the retailer hires will "be the biggest difference in terms of Mike giving up responsibility," Siegel said.
Abercrombie's operating margins have eroded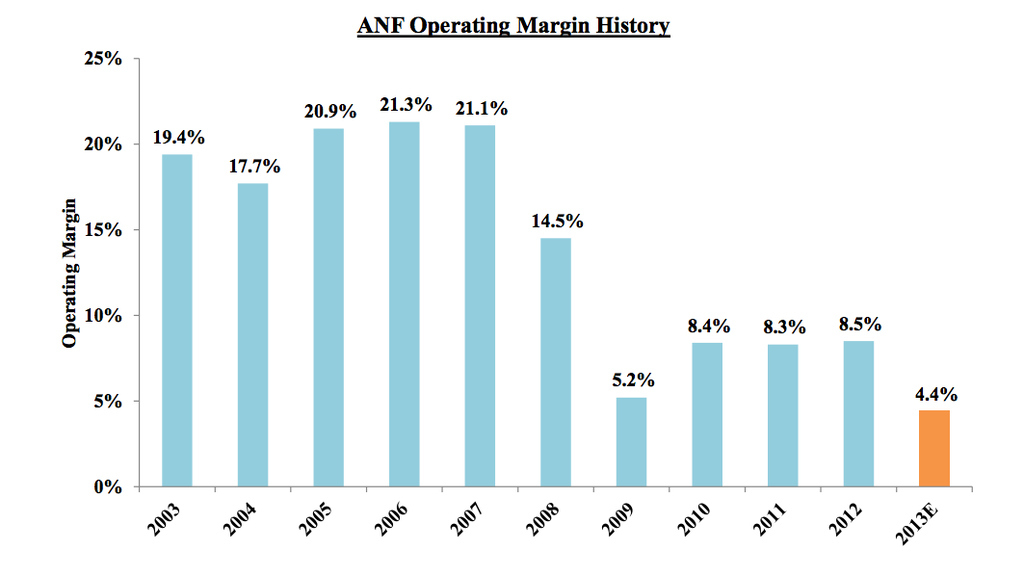 Despite his rise to prominence, Ramsden is not without his critics. Investors and analysts could rightly hold him just as accountable as Jeffries for Abercrombie's recent financial performance. In 2007, Abercrombie posted earnings of more than $5 a share off $3.7 billion in sales. Analysts are forecasting earnings per share of $1.60 for the latest year despite an increase in revenue to more than $4 billion. Operating margins have deteriorated and same-store sales have swung wildly.
Rob Wilson, president and founder of Tiburon Research Group, wonders whether Ramsden is perhaps more of a politician than an effective CFO.
"I kind of laugh whenever I hear these things from my clients because they'll say, 'Well, Jonathan really gets it,'" Wilson said. "But does he really get it, or is it the fact he gave you a call back and spent 20 minutes on the phone with you? I always question why management teams are giving all this time and energy to investors when they should be more focused probably on fixing the business, and not so focused on reaching out to every investor."
Wilson continued: "Stock prices are highly correlated to good storytelling, and I think Jonathan is a marvelous storyteller."
Even with the acknowledgment that he bears some responsibility for Abercrombie's failure to hit its numbers and accurately forecast its business, investors aren't calling for Ramsden's removal the way they are Jeffries'. To be sure, the brunt of the blame for Abercrombie's fall from grace appears to be placed squarely on Jeffries — which should ultimately benefit Ramsden if the CEO doesn't last beyond his latest contract or is removed before that day.
"It's more Mike Jeffries' issue than it is a problem with [Ramsden]," one investor told BuzzFeed. "If Mike was to leave, I don't think this guy would get thrown out right away."