1.
As many know, more sales than ever began on Thanksgiving this year, in a new phenomenon known as "Gray Friday."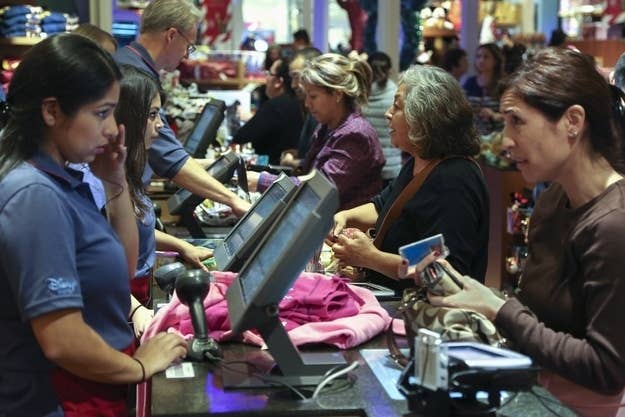 2.
It was the coldest Black Friday in 11 years, which was good for sales of jackets, boots, and other cold-weather gear, according to J.P.Morgan analysts.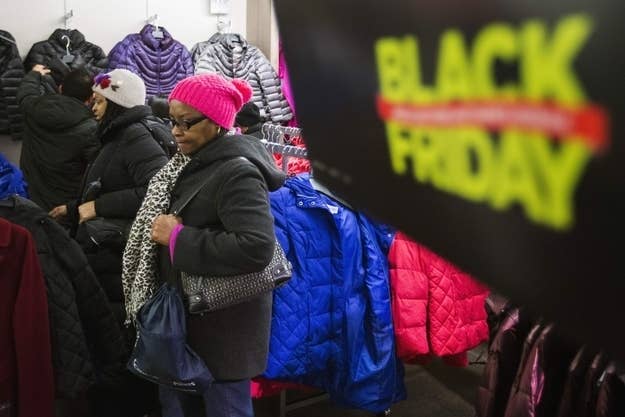 3.
More retailers are running campaigns on Twitter. From September 2012 to this past September, the number of retailers using Twitter's ad products nearly doubled.
And, holiday shopping conversations rose 22% during the 85 days before Thanksgiving this year vs. the same period in 2012, according to Twitter.
REI has been using the platform to give gift ideas to customers, and will begin tweeting customized video content to users looking for gift suggestions in early December.
"We're not trying to sell quite as much in this medium, as much as respond to our customers and make sure that we are creating an experience and an engagement around things they really care about," Craig Rowley, REI's director of integrated marketing, told BuzzFeed. The appeal is in the real-time interaction with shoppers, he said.
Lululemon has been doing something different too — they started a #NoHumbug campaign on Nov. 24, tweeting a new challenge to their followers to do something nice every day for 30 days, in line with the yoga retailer's community-based ethos. Examples: call your best friend, give your neighbor a hug, and so on.

4.
Abercrombie & Fitch renamed Black Friday "Hot Friday," with numerous shirtless, male models posing at its stores.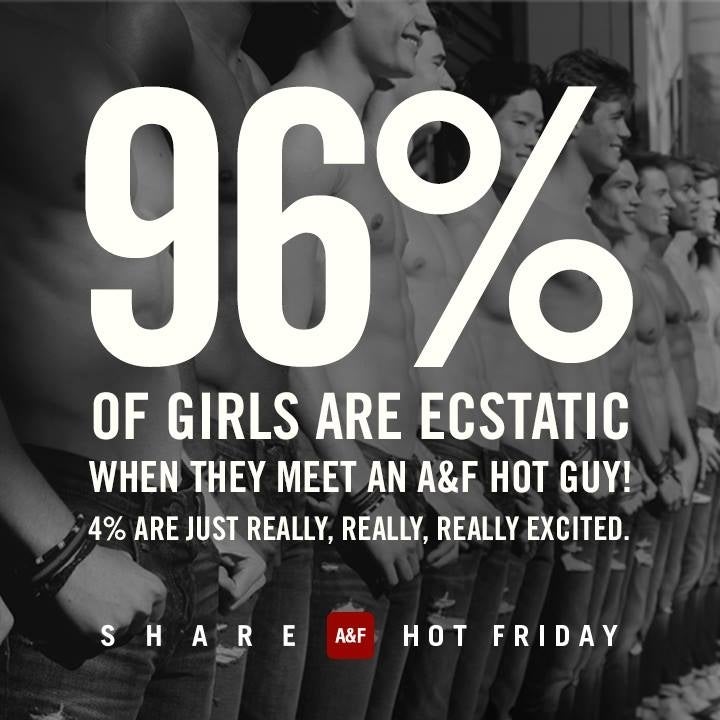 It peppered its social media platforms with stats like the one above. Another "Hot Friday" statistic from its Facebook page: "Number of times the hot guys pick up a fan to pose for a photo: approximately a lot."
5.
And Hot Topic renamed Black Friday as "Burgundy Friday" in honor of Anchorman 2.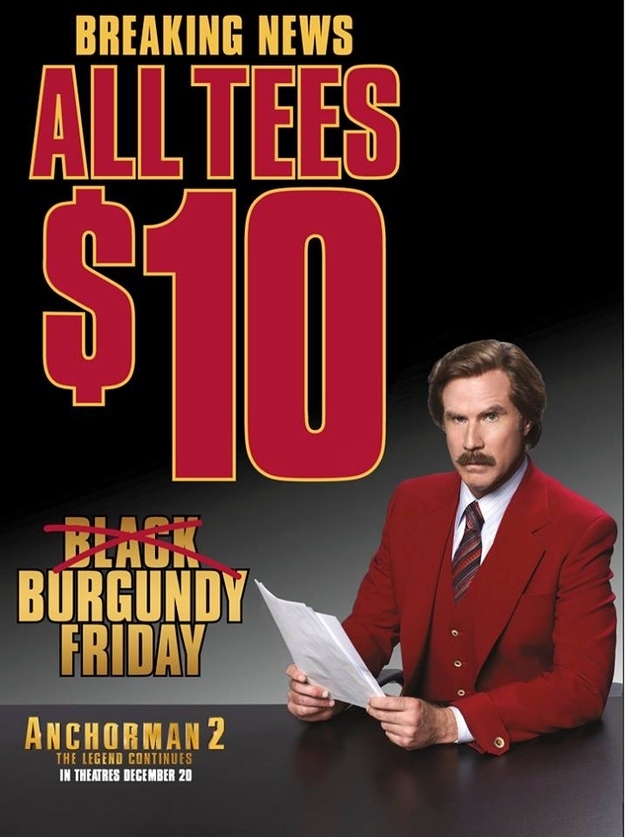 6.
While Patagonia went with #AntiBlackFriday, urging customers to repair their worn Patagonia gear instead of buying new merchandise.
7.
Malls stepped up their game. Simon Malls, for example, provided shuttles for customers and piloted coat- and bag-check services, concierge help via text messaging, and ran giveaways of gift cards and snacks.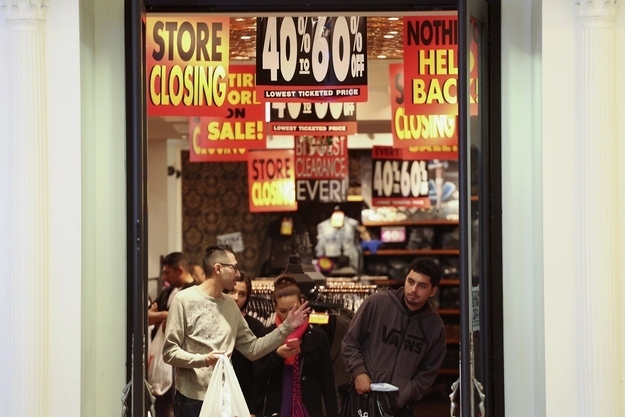 8.
And on that note, online sales hit records. Thanksgiving Day sales passed $1 billion for the first time while Black Friday sales rose nearly 40% to $1.93 billion, according to Adobe.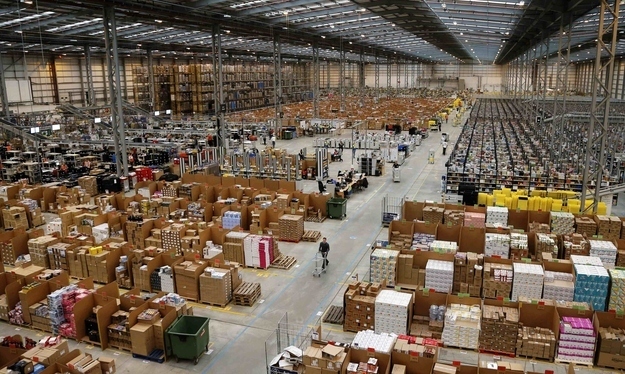 9.
iOS devices drove more than $543 million in online sales, predominantly from the iPad, dwarfing the $148 million from Android devices.
Also according to Adobe Digital Index.
10.
Speaking of iOS devices, NPD Group noted that this is the first year Apple has seemingly approved discounts of its core products (iPads, especially) at partners like Wal-Mart, Target, and Best Buy.
11.
Santa Claus got arrested...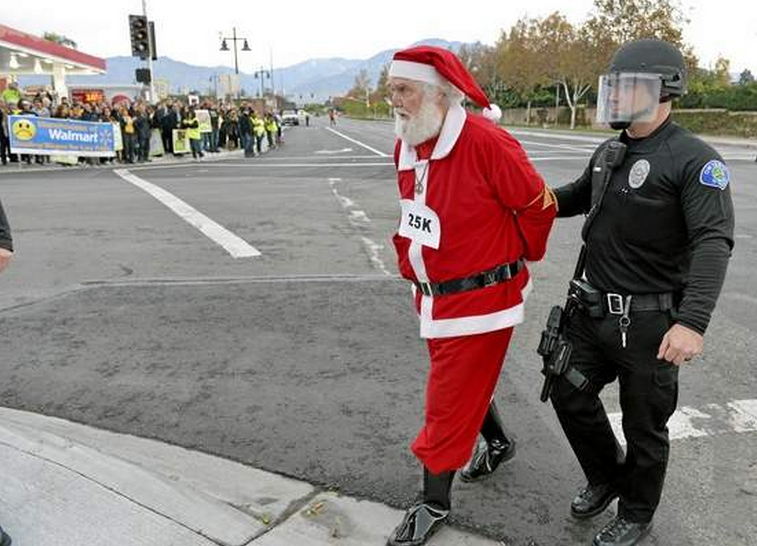 12.
J.C. Penney brought back its free Black Friday snow globes after a hard-fought battle by a group of customers for most of the year.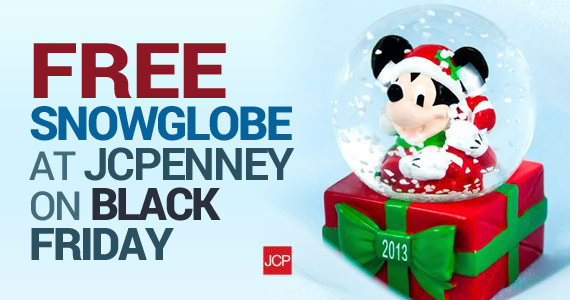 13.
According to Citigroup analysts, 50% was the new 40% at specialty retailers across the mall.
Retailers were nervous about consumer confidence following October's government shutdown as well as the six fewer shopping days between Thanksgiving and Christmas this year vs. in 2012.
They're likely feeling slightly better after sales this weekend. The results from the so-called "Retail Superbowl" will be trickling in Sunday afternoon from the National Retail Federation and from other sources throughout the week.