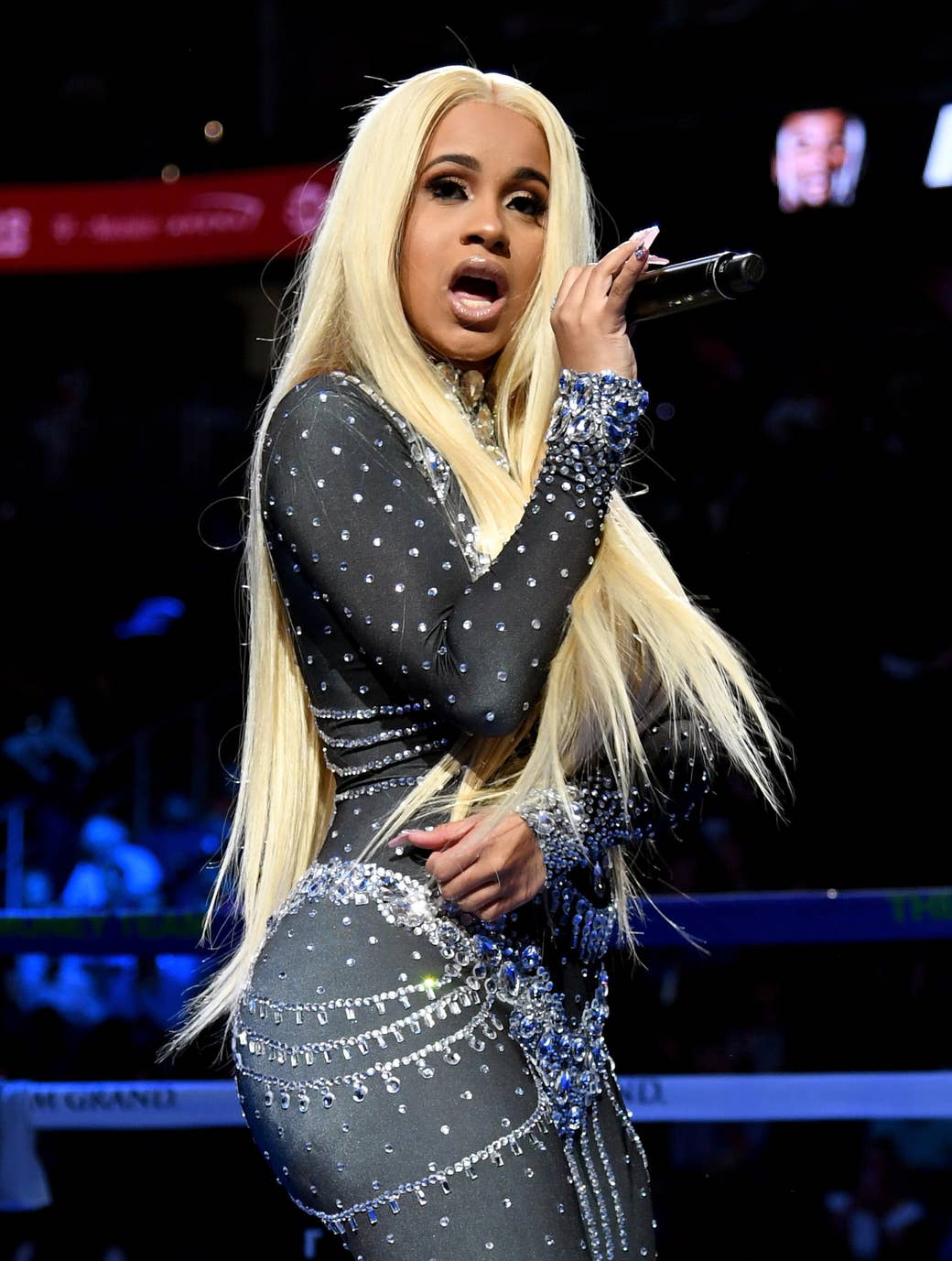 "Bodak Yellow" is an anthem that travels. The hit track by rapper Cardi B — born Belcalis Almanzar to a Trinidadian mother and Dominican dad — seeps out of cars cruising through New York City's boroughs. It's launched the 24-year-old onstage for Drake's OVO Fest, the MoMA PS1, and Hot 97's Summer Jam. Janet Jackson danced to it on tour. Missy Elliott, Idris Elba, Rihanna, and even Gayle King have cosigned it. And this week, it reached No. 1 on the Billboard Hot 100.

This is no small feat. By virtue of its comprehensiveness, the Billboard Hot 100, which counts physical and digital sales, radio airplay, and most recently, streaming and YouTube to determine a song's popularity, bears considerable weight. The Hot 100 reflects what the majority of the country is listening to.
Between the chart's inception in August 1958 and this week, 1,067 singles have earned the coveted top spot. But despite hip-hop's enduring popularity, fewer than 75 of those singles have been by rappers. In his prolific career, Jay-Z has only topped the Hot 100 twice — as a featured artist on Mariah Carey's 1999 single "Heartbreaker" and with 2009's "Empire State of Mind" featuring Alicia Keys. Kendrick Lamar (with "Humble") and Drake ("One Dance") are one-timers as lead artists while Kanye West has managed to fit two No. 1s under his belt ("Stronger" and "Gold Digger") as the lead artist. Nas has never broken through the Top 10.
Women who rap are an even rarer sight at the chart's summit. Lauryn Hill was the first to earn a No. 1 single with 1998's "Doo-Wop (That Thing)." In the nearly 20 years since then, no solo female rap performance had earned the same distinction, with the contentious exception of Iggy Azalea's "Fancy" — until Cardi B. Given the limited number of women rappers who manage to break through the mainstream, this scarcity isn't altogether surprising. But the fact that artists such as Missy Elliott and Nicki Minaj have yet to reach the No. 1 spot proves how elusive the position is even to the most popular hip-hop artists, especially those who are women. With "Bodak Yellow," Cardi B — a self-proclaimed "regula degula shmegula girl from the Bronx" — is making history.
Cardi's rap career has been meteoric, playing off a number of factors, but the path to it was indirect. At 19, the New York native began stripping to make money. Her clientele grew. Soon she began posting candid, daily Instagram videos in her downtime.
With "Bodak Yellow," Cardi B — a self-proclaimed "regula degula shmegula girl from the Bronx" — is making history.
"When I started doing videos and everything, I just took a camera and was, like, talking about how corny guys are, how corny bitches are. Just doing jokes that I do with my friends," she told Complex in 2015. "A lot of people when they meet me will be like, you are just like your Instagram video. I'm like, 'bitch, I know.' That's who I am."
Next, she parlayed her internet popularity into a two-season stint on Love & Hip Hop: New York. A gift from the GIF-gods, her mix of cheeky hilarity, disarming honesty, and brash behavior charmed viewers and expanded her fanbase further. Encouraged by a manager, she decided to focus on pursuing music — a long-standing dream of hers — and wound up reaching her widest audience yet. Cardi turned viral catchphrases into rhymes and, after recording two mixtapes within 12 months, signed to Atlantic Records earlier this year.
Released with no major promotion this past June, "Bodak Yellow" is her first charting single, and a mammoth one at that. Leaning on a minimal beat of three alternating notes and trap drums, Cardi borrows from the cadence used in Kodak Black's 2014 hit "No Flockin'." But while Kodak's style was laid-back, here Cardi's thick, husky voice is coolly aggressive, much like a seasoned boxer.
Although women in hip-hop have been some of music's most electrifying, pioneering, and influential artists (see: Lauryn Hill, Missy Elliott, Queen Latifah, Lil' Kim, Trina, and Salt-N-Pepa for proof), in recent years they've been on a decidedly downward trajectory. Few are signed to popular labels, and when they are, they often face targeted discrimination. That they are predominantly women of color means there are even more obstacles before them, inside and outside the industry. In Ava DuVernay's documentary My Mic Sounds Nice: A Truth About Women in Hip-Hop, Trina reveals that "females don't get as much exposure and as much perks as the guys," while Salt-N-Pepa have been candid about dealing with racist record companies. Accompanying the racism, colorism, sexism, misogyny, and general exploitation that goes unchecked, there's a pressure to fit parochial beauty standards. Missy Elliott was kept out of a Raven-Symoné music video early in her career because she didn't "fit the image," and her verse was lip-synched by a thinner, light-skinned actress instead. Women who rap face a minefield.
But Nicki Minaj defied the odds. After releasing three mixtapes, she signed on to Lil Wayne's label, Young Money Entertainment, in 2009, and it wasn't long before she began tearing up the charts. For the past decade, she has bypassed industry biases against women who rap by hinging on pop sensibilities and her whimsical brand of Barbie bohemia. And with that followed a myriad of endorsement deals and manufacturing opportunities. Last year, the rapper released an eponymous mobile game, aptly titled "Nicki Minaj: The Empire"; she's aware of what she's built.
But the superstar still bumps into barriers, even when bursting through others. Earlier this year, Minaj broke Aretha Franklin's record for most entries on the Billboard Hot 100 chart. Despite collecting 79 charting singles — 32 in which she's been the lead artist — and counting, she's never hit that No. 1 spot. Her closest call came with 2014's "Anaconda," peaking at No 2 behind Taylor Swift's "Shake It Off." (Coincidentally, Bodak Yellow usurped another Taylor Swift track — "Look What You Made Me Do" — to top the chart.)
Beyond the obvious element of pure data, it's impossible to pinpoint the deciding difference between Cardi's triumphant position and what has kept Minaj from achieving that same goal. But for a hip-hop purist, the differences between the two are actually encouraging. It's even more exciting for those who champion women who rap.
For one, Cardi B's professional power doesn't come tethered to a man. Though she's reportedly dating Migos member Offset, she's always been up front about her independence and appetite for man-eating. "Ever since I started using guys, I feel so much better about myself," she revealed in the sixth season of Love & Hip Hop: New York. "I feel so damn powerful." Meanwhile, a lot of her predecessors had male mentors or collaborators who helped them gain exposure and hit a turning point career-wise. This isn't to say they weren't ultimately at the helm of their own ships — their livelihood demands fierceness — but Cardi proves that a woman needn't be accompanied before given a seat at the table.
And now that she's at the table, she's gracious. Beefs are practically ingrained into hip-hop, harkening back to old-school rap battles and persisting since. In June, fellow Bronx-bred rapper Remy Ma's diss track "ShETHER" rampaged throughout the internet, earning her the BET Award for Best Female Hip-Hop Artist (and ending Minaj's seven-year winning streak). Nevertheless, Cardi stays humble. She's shown love to both Taylor Swift and Nicki Minaj. When asked if she's coming for Minaj's crown, she brushes it off: "I don't wanna be, like, queen ... I just wanna make music and make money."
"Bodak Yellow" is pure, unadulterated hip-hop; it goes hard. Meanwhile, throughout her career, Minaj has used pop-oriented music as a path to the mainstream. This may have been a personal preference, a clever choice, or perhaps more of a necessity; the industry traditionally deems women to be more marketable as pop artists than rappers. With this in mind, "Bodak Yellow" could signal a sea change, or at least provoke one.
Still, make no mistake: This is a specific victory for women in hip-hop, but it also obliquely carries a win for hip-hop overall. This past July, according to Nielsen Music, hip-hop/R&B dethroned rock as the most popular genre when it comes to overall music consumption in the United States. Hip-hop's recent coronation comes as a result of the increasing popularity of streaming and, unsurprisingly, so does "Bodak Yellow"'s success.
It's important to remember that the Billboard Hot 100 is a measure of mainstream popularity. It's not necessarily indicative of artistry or quality. (Again, Missy Elliot has yet to top the chart. Baha Men on the other hand...) And looking at all of the singles to conquer the chart since its inception, it starts to read more like a barometer of the music climate and its subtle prejudices. A disproportionate number of rap artists who've earned No. 1 singles are white. For instance, Eminem has had four while Macklemore, in his relatively short career, has earned two. And then there's the fact that the first three rap vocals to earn the honor came from Debbie Harry, Vanilla Ice, and Marky Mark.
Even the claim that the Hot 100 has historically denoted overall popularity is debatable. Before digital means for music consumption existed, Billboard only considered physical sales numbers and radio play. It couldn't incorporate the cassette tapes, CDs, or .zip files shared between hip-hop heads and other underground music fans. Though this is a factor that might sound negligible to some, it shouldn't be discounted. Most of today's successful rappers used mixtapes as inroads to their success. According to the Recording Industry Association of America, by 2006, the mixtape circuit was responsible for an estimated 30 to 50 million sales per year.
While streaming has largely replaced mixtapes — the original street albums of hip-hop — and is now a commanding factor in where a single lands, it feels questionable to give all previous chart-toppers as much credence as they've received; we can't truthfully equate their winning with conquering. Pre-internet sources for songs were mostly limited to the whims of major labels and AM/FM stations. In other words, for a long time, our musical tastes were more curated than discovered.
That is, until now. It sounds extreme, but "Bodak Yellow" — especially considering its journey as a sleeper hit — is a song of the people. That an often-underestimated 24-year-old Afro-Latina crafted it, makes it all the sweeter. Admittedly, this victory brings no guarantees; plenty of Hot 100 chart-toppers are also one-hit wonders. But the possibilities escorted by "Bodak Yellow"'s success are thrilling. This is more than just a feat for hip-hop; it's a moment. Nicki Minaj mastered how to work a system. Cardi B may be ushering in a new one.
Sandi Rankaduwa is a Sri Lankan–Canadian writer, comedian, and filmmaker who's written for The Believer, Rolling Stone, This Hour Has 22 Minutes, Exclaim!, and The Coast. She splits her time between Brooklyn and Halifax.

CORRECTION
Jay-Z has topped the Billboard Hot 100 twice, not once.