Trump Tower, the president's namesake building on New York's 5th Avenue, became a natural rallying point for supporters and protesters of the real estate magnate after the November election. In the days and weeks following it, the building shifted to play a greater national role as Donald Trump used his property as a base during the presidential transition and as his wife, Melania, continues to reside there. Photographer Samir Abady spent several days hanging out at there as the site continued to draw tourists eager to see one of the homes of the president.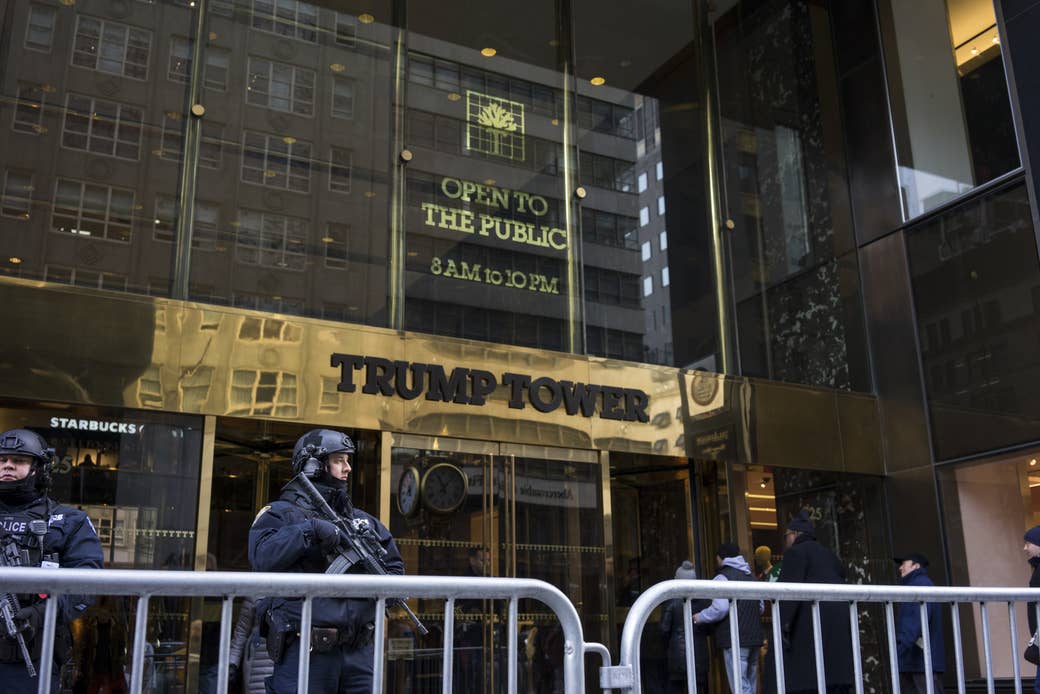 Just after the presidential election, I was both curious and concerned about how New York City would be affected by the Trumps living there. In addition to photographing protests and rallies, I decided to investigate their home itself.
The base of Trump Tower is made up of several floors of public space, housing a bar, food court, gift shops, a Starbucks, and a waterfall. The space, as is, is forgettable, but because of its high-profile residents it has become a stop on the tour for visitors from across America and Europe, as if it were the Empire State Building. They enter, stand in either amazement or disappointment, rarely vocalizing the latter, ride endless escalators while looking down at the atrium, take the same photos, and make the same jokes.
Often I heard a member of a group point out the Trump Bar or ask the not-so-hidden-in-plain-sight men and women with American flag pins on their lapels whether Melania Trump was going to make an appearance. This garners no reaction from the security personnel, who discourage the joking tourists, and allows them to fade into the background, to watch and wait and protect what's become a sensitive space.
Besides the first balcony, close to where Trump descended escalators after his 2015 announcement that he was running for president, the next most visited sights are the gift shops. While one gift shop sells merchandise made in America, the other takes advantage of the foot traffic and undercuts it with a wider variety of goods made everywhere else (no one seems to mind this difference).
The space, other than a display case and gift shops, doesn't show off anything pertaining to the presidency or Trump's history, and maybe it doesn't need to because the reminders are so obvious — the political signs and the armed NYPD officers right out front and the Secret Service–operated X-ray machines inside inside. As a monument, a landmark, a sight to be seen, Trump Tower promises quality and elegance — only to be discovered as a piece of costume jewelry.