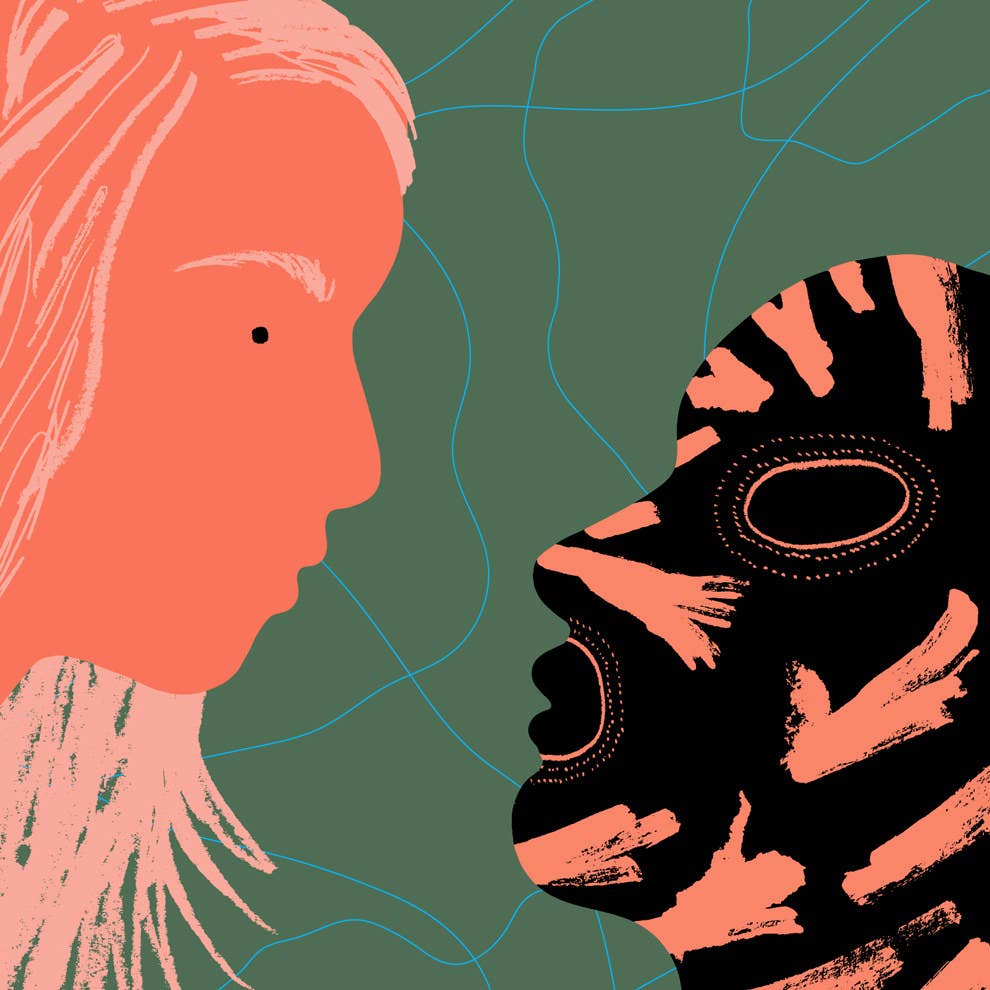 Samantha Hunt wrote a book, Extreme BDSM for Sexual Freaks: Filling, Breath Control, Scissor Play, Hose Play, Punishment. "Filling" suggests a process tantalizingly vague: empty space awaiting potential meaning. "Filling" is a mystery. I love mysteries.

On the book's cover there are two pale legs, each coated in fecal matter as if dipped in a sewer and left to harden on paper like caramel apples. My name is printed across the cover's soiled feet. "By Samantha Hunt," in Apple Chancery — that most debased font.
My brother-in-law Peter was offered Extreme BDSM in an Amazon roundup: "Other books by Samantha Hunt you might enjoy."
Peter called my mother. "Does Sam have a new book out?"
"Not that I know of." My mother loves mysteries too. She visited Amazon and sleuthed around. Extreme BDSM for Sexual Freaks was easy to find, listed alongside the four books I did write. My mom bought Samantha Hunt's new book, a nine-page, dirty, digital download.
"Hurt me!" I say louder.

He whips me right above the vagina. It squeezes my vaginal wall, hurting me more. Tiny rocks scrape against my insides. Both pain and pleasure are getting too intense. I feel like I can barely withstand another orgasm coming on.

"You didn't scream loud enough! I want you to beg. I want you to be desperate for me to dare make you scream in pain. Beg! Scream!"

"Hurt me! Hurt me! Please, hurt me! I am a horrible, dirty, nasty girl and I need to be hurt!" I scream loud enough that people from the other side of the store probably hear, but I'm too aroused to care.

"Very well then," he says, smirking.
I didn't write Extreme BDSM for Sexual Freaks, but neither my mother nor my brother-in-law fully believe that, even though Hunt's excerpt accommodates more exclamation marks than I've used in my career. The repetition of "vagina" and "vaginal wall" disturbs my sense of economy in language, but that doesn't matter to anyone beside me. Samantha Hunt is mine. We are made responsible for our doubles. They belong to us even when we don't want them.
Before this Samantha Hunt entered my life, egotistically I hadn't imagined another Samantha Hunt, writer. I hadn't considered the possibility of her, even though I am the mother of twins and a fan of Vertigo. Now that this other Samantha Hunt, writer, is with me, I don't know where to keep her or what to make of her. I'd like to tell you that I invented her, but I didn't. Narcissistically I ask: Is Samantha Hunt an alias? An algorithm? Is Samantha Hunt, writer, really a man? A faker? Someone seeking revenge on me? Or is she a relief pitcher sent to help me out, to assist? As soon as I ask these narrow-minded questions, I cannot help but hear the follow-up thought: Or maybe I'm the relief, the alternate, secundo, tertio. Maybe I am the other Samantha Hunt.
The cover image helps me recognize that, beg pardon, a lot of shit, a lot of ego, has to flow out of a body before it can be filled with compassion for the other.
Still I worry. My kindergarten teacher reads my novels. Was she also offered Extreme BDSM for Sexual Freaks? And did she look away, embarrassed for me, or did she click on the excerpt, remembering when she taught me the letters F and S, and how to make words that work?
The real mystery is that my family said nothing to me about this book Amazon markets as mine. For a month or so, I went on believing I was the only Samantha Hunt, writer, some shining, selfish singularity, a Samantha Hunt ignorant and unsullied by duplicates or doppelgängers.
In Stephen King's The Shining, the child Danny is special. He has a shine. When I first heard about him, I wanted a shine too. Wearing my mom's gaudiest, most blatantly fake piece of costume jewelry — a ring with a red stone big as a strawberry — I'd tense up my muscles until I trembled. The ring dosed me up with magical powers.
Afterwards, I'd be flooded with guilt. I'd promise to never do it ever again, never try to be special. I am the youngest of six. I know how foolish it is to think one self is unique.
"Mom," I said. "I could write much better porn than that."
A month after my mom bought Samantha Hunt's book, she checked her email. Amazon wanted her to review her recent purchase. She's in her eighties. By then, she had zero memory of buying or reading Extreme BDSM for Sexual Freaks. But she saw my name on the email. She saw that cover image. She punched my phone number into her landline. "Why have you been buying porn on my computer? Buy it on your own damn computer!"
At that point I was still operating under the small idea that I alone was Samantha Hunt, writer. Plus, I don't buy porn on my 80-year-old mom's computer. I worried she had descended into dementia. "Pardon?"
It took a long time to unravel the mystery. Her spotty memory and technological illiteracy further confused us. It took far longer to convince her I'm not the Samantha Hunt who wrote Extreme BDSM for Sexual Freaks.
"Why didn't you and Pete tell me about her?" I asked.
"We didn't want to invade your privacy."
"If I want to keep something private, I won't feature it on Amazon."
"So you did write it."
"I did not."
"Really?"
A word that asks us to check the perimeters of our reality.
Really? Am I Samantha Hunt? Yes, I am. Really? No, I am not.
Eventually, carefully, I cracked open some doubt in my mother's version of this story. "Mom," I said. "I could write much better porn than that."
She thought a moment. She exhaled loudly in defeat. And then she gave it to me. "I know you could, honey. I know you could."
I wrote a book called Mr. Splitfoot and after I did, I learned that a book called Mr. Splitfoot already existed. Three years before I was born, Helen McCloy published her Mr. Splitfoot, a mystery featuring Dr. Basil Willing. I ordered a used hardcover online and dug up some research about McCloy's life.
She was born in New York. I was born in New York. My father was a managing editor. So was hers. McCloy married a writer. So did I. Her Mr. Splitfoot takes place in Saugerties, New York, a town directly across the Hudson River from Tivoli, the town where I wrote Mr. Splitfoot, unaware of her book. What does it mean to write a book someone else has already written? It is even more intimate than our daily doublings: living in the same town, walking where many have walked before, breathing the air they once exhaled, creating worlds from the same 26 letters so many others have handled before I came this way.
McCloy's Splitfoot arrived. The brown cover is dominated by a black shadow of a cloven-footed creature. There's just a glimpse of the original, real body. His bright pink cloven feet create a focal point. This doubling of the body is not lost on me. Still the question, Am I the shadow or the magenta? Then the realization that that is a stupid, small question to ask.
Everyone is magnificent and no one really matters.
Beneath McCloy's title, the cover reads, "A novel of suspense." Yes, I think. Yes, indeed, because Helen McCloy died in 1994, and all the questions I have for her will remain forever unanswered.
My copy, decommissioned from the New Castle-Henry County library, bears a tremendous stamp on the text block's edge: "DISCARD," a stark reminder of our real similarities, an odd comfort. Oh, Helen. Where you lead, despite my best efforts, I will one day follow. Everyone is magnificent and no one really matters. We are born. We will die. Our dust will be recycled into making new people. How tragic. How wonderful. Discard.
Google ranks the Samantha Hunts, making a hierarchy both hideous and hilarious as it parrots the absurd premise that one human life is more valuable than any other. Rejecting this fake hierarchy, I greet my others warmly. Hello, Samantha Hunt, Latter-day Saints girl from England who dreams of becoming an "air hostess." Hello, Samantha Hunt married last fall in New Jersey. Hello, Samantha Hunt, model and photographer; Samantha Hunt, e-Commerce Marketing Channel Manager; Samantha Hunt, fiddler; and Samantha Hunt, writer of porn, with all your pointy exclamation marks and rocks in your vagina.
I get a text from my kids' babysitter. "JUST SAW YOUR DOUBLE. SHE LOOKS EXACTLY LIKE YOU. SHORTER HAIR."
The sitter's message — in all caps — seemed plain: You are not unique.
"Where?" I wrote her back. Bloodthirsty. "Where is she?"
She sent the address: my husband's office building. Was my sitter trying to make me lose my mind? The prospect of a physical double seemed so much more nefarious than any of the doubles collected on the internet. A physical double is a freak of biology. Maybe she would try to take my place.
I organized a stakeout so quickly I forgot the essentials like binoculars, a book to pass the time, snacks. I parked my black car in the black tar lot near the door of the office building. I waited for her as if I'd come to fetch her, as if we'd agreed to meet. What would I do when she appeared? I wasn't yet sure. Would I recognize myself?
The front door to the building did nothing. No one stirred. No one entered or left the premises. Clearly she was onto me.
Why is it horrifying to learn we are not unique?
It was July. My car went from preheat to broil. What if she were hideous or cruel, withered or dishonest? What if I am? What if she already knew my husband? My friends? What if she tried to confuse my kids? What if she tried to confuse me? What if she voted for Donald Trump? What does it mean to be othered? Why is it horrifying to learn we are not unique? Does uniqueness offer us some imagined protection from death? No. It doesn't.
It was very hot. Perhaps I just cannot recognize myself. I waited for a double who did not appear before realizing that perhaps everybody here was her, was me, our double. The man carrying the drum kit, the older woman in a plastic kerchief, the child with shoes untied.
Samantha Hunt's excerpt has one sentence that wounds me worse than any other. It is so careless in its construction. "I want you to be desperate for me to dare make you scream in pain." It makes no sense. It has me stuck asking, what does that mean? In this way, I have taken Samantha Hunt in. I have been filled by the Samantha Hunt that is not me. She doesn't really fit here and I know her not through our similarities, but in the chunky, hard places where our differences are stark and seemingly insurmountable. The discomfort of having an awkward, pointy-shaped Samantha Hunt, writer, inside me, brews a mixture of both humiliation and compassion. It develops the start of an antidote to our selfish, selfie culture. I let the other in not because I want to, but because here she is. I let her in where we can compare our bumps and lumps, our foul grammars and freaky ways. Samantha Hunt fills me with mystery, fills me with what I don't know about me. I mean her. I mean me. ●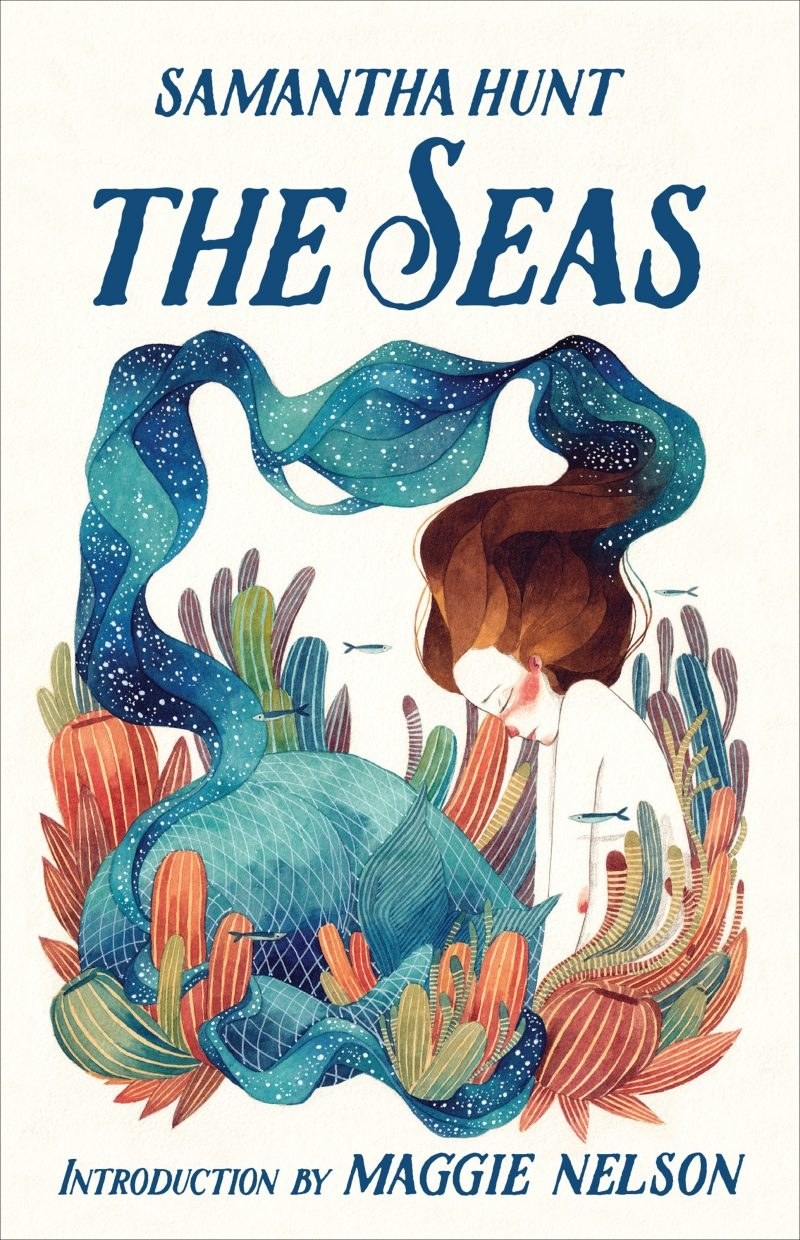 Samantha Hunt is the author of four books: The Dark Dark: Stories; Mr. Splitfoot, a ghost story; The Invention of Everything Else about inventor Nikola Tesla; and The Seas, republished by Tin House Books in July, 2018. Hunt is the recipient of a Guggenheim Fellowship, the Bard Fiction Prize, and the National Book Foundation's 5 Under 35 Prize. She was a finalist for the 2018 PEN/Faulkner Award for Fiction.

The Seas is out July 10.