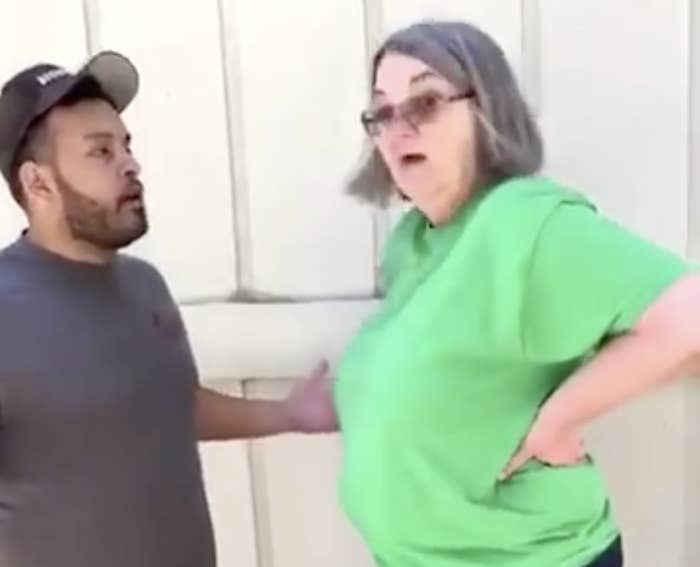 A California woman berated a Latino landscaper, calling Mexicans "drug dealers, rapists, and animals," during a recorded rant that has spread online.
The unidentified woman can be seen putting her middle finger just inches away from 27-year-old Esteban Guzman's face, while he asks her, "Why do you hate us?"
"Because you're Mexicans," she says.
"We're honest people right here," Guzman tells the woman, who laughs.
"Yeah, you're rapists, and animals — drug dealers, rapists, and animals," she says. "Even the president of the United States says so."
Guzman posted the video on his Facebook profile Saturday, and it has since gone viral.

Guzman, a systems administrator from Los Angeles, told BuzzFeed News that he spends weekends working with his family for his brother's construction and landscaping company. They were working on a new client's home in Running Springs, about 80 miles east of the city, he said, when the woman approached his mother and started screaming at her, "You're all illegal."
"I've dealt with racism for 25-plus years, but I've never seen anyone yell at my mom like that," Guzman said. "I was very emotional because they were yelling at my mom."

Guzman said his mother continued working despite the harassment, but that he decided to intervene because he was concerned his mother's English might not be strong enough to allow her to defend herself.
"I rush over and I confront her, asking her, 'What's wrong with you?'" he said, adding that he pointed out to the woman that he was born in the United States.
At one point, Guzman's mother can be heard in the video speaking in Spanish, telling her son, "Tell her that what she's seeing..." The unidentified woman cuts her off, apparently mocking her by saying, "blah blah blah blah blah."
Guzman said after he filmed the recording, the woman complained he and his mother were making too much noise with a leaf blower, and that they were blowing debris onto nearby properties.
He said they tried to explain that the adjoining property belonged to their client as well, but that the woman continued to berate him and his mother. "After she realized she was in the wrong, she was just, 'blah blah blah,'" he said.
Guzman said he was particularly struck by the woman's choice of words, which reminded him of the anti-immigration rhetoric used by President Donald Trump, who famously referred to Mexican immigrants as "rapists" and criminals in his speech announcing his 2016 candidacy.
"I just felt like she just quoted him," Guzman said. "I just get more emotional because it deals with my mom. She's a single parent with two boys."
Since taking office, Trump has doubled down on his use of derogatory language when talking about immigrants, coupling the dehumanizing rhetoric with hardline immigration policies aimed at increasing prosecutions and deportations of people living in the country illegally. Most recently, his administration has come under fire for implementing a "zero tolerance" enforcement plan that has resulted in the separation of parents and children apprehended at the US–Mexico border.
Although his mother was rattled by the encounter Saturday, Guzman said that she seemed to have taken the racist harassment in stride. As the woman continued to yell at them, he said, his mother told him to ignore the ranting and get back to work.