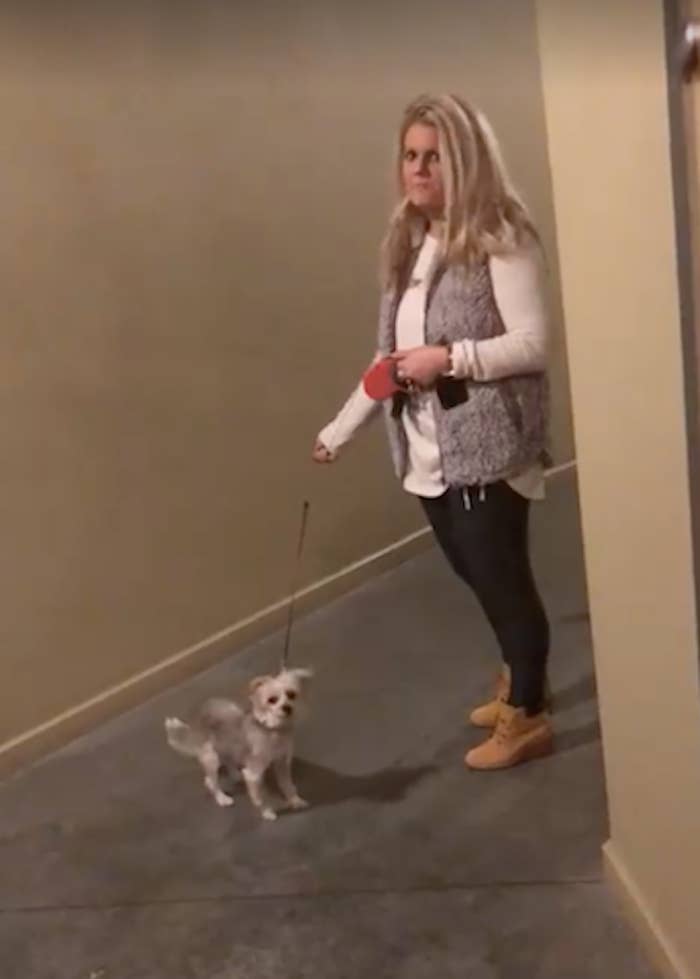 A woman in St. Louis, Missouri, has been fired from her job after a video showed her blocking a black man from entering his own apartment building, and then following him four floors upstairs to his unit.
In three videos posted to Facebook by the man, D'Arreion Toles, a woman is first seen blocking Toles' entry into the downtown residential building. When he asks her to "please move, ma'am," she demands to know if he is a resident.
The uncomfortable exchange continues for several minutes, with the woman asking Toles for his unit number and to see his key fob for the building. The videos have been shared more than 134,000 times since they were posted online Saturday.
"I'm uncomfortable," she said, explaining why she continued to block his way.
"OK, you can be uncomfortable," Toles answers. "That's your discretion. You're uncomfortable because of you."
The woman is then seen following Toles in the building and trying to block his way into the elevator. Once inside, she follows him to his floor while continuing to ask to see his keys. "I want to see who you're going to see," she tells him.
"So no, you're following me?" Toles asks.
"Yes," she said. "Because I would like to know whose friends, and why you're here."
"Because I live here," Toles said.
Leading her dog on a leash, the woman continues to follow Toles up to the moment that he unlocks the door to the unit where he lives. She then, apparently convinced that he is, in fact, a resident, tells Toles she'd like to meet him, "because you're a neighbor."
"You didn't start off from good, ma'am," Toles answers. "I don't want no dealings with you."
The encounter is the latest in a series of recent videos that have gone viral showing minorities being confronted for doing seemingly normal things.
"She feels insecure, Downtown St. Louis luxury loft, because she don't feel that I belong," Toles wrote on Facebook Saturday. "Never really thought this would happen to me, but it did!"
About 30 minutes after the encounter, he said, police knocked on his door asking him about the incident.
The St. Louis Metropolitan Police Department confirmed to BuzzFeed News there was a 911 call made to the location, but said that no report was written.
The woman has since been identified as Hilary Brooke Mueller, an employee at a St. Louis apartment management company that is not associated with the building where the incident took place.
Her estranged husband, Brandon Mueller, told the New York Times he was shocked and disappointed to learn about the incident, and noted that his father is black.
Neither Mueller nor Toles could immediately be reached for comment by BuzzFeed News.
On Monday, her former employer, Tribeca-STL, said that she no longer works for the company. In a statement posted to its website, the company called the video "disturbing" and said it did not happen at one of their buildings.
"The Tribeca-STL family is a minority-owned company that consists of employees and residents from many racial backgrounds," the company said. "We are proud of this fact and do not and never will stand for racism or racial profiling at our company."
"After a review of the matter the employee has been terminated and is no longer with our Company," the statement continued. "At Tribeca-STL we want all residents, guests and visitors to feel welcome, safe and respected."