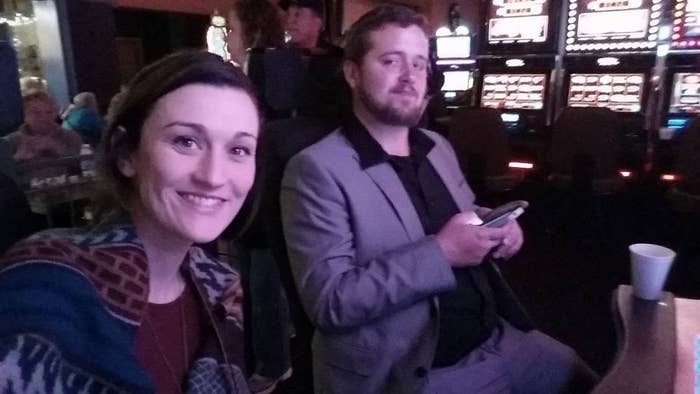 Laney Sweet wants to know why her husband was killed.
Two months ago, Daniel Shaver was crawling on the ground and pleading for his life when he was shot five times by a Mesa, Arizona, police officer.
"Please don't shoot me," the 26-year-old Texas man begged police before an officer opened fire.
Officer Philip Brailsford, now facing a second-degree murder charge, was wearing a body camera, and Sweet hopes the footage will answer her questions about what went wrong.
Maricopa County Attorney Bill Montgomery recently invited her to view the video at his office, but when Sweet started talking about how outraged she was over his death and that she might speak with reporters, the offer was quickly withdrawn.
"It was just really intimidating," Sweet told BuzzFeed News. "I didn't know what my rights were."
Sweet said she was told she would be allowed to view the footage only under the condition that she not discuss it with the media.
"The information that I'm going to share on that video, you can't share it with the media because it will affect the case," a man who Sweet identifies as Montgomery, says in a recording of the exchange she uploaded to YouTube. "In sharing that with you, it can't go any further than the people in this room, OK?"
The case highlights what many see as the limits of police body cameras, which has become the adopted tool of choice for police departments that have faced increased scrutiny over their use of force and fatal police shootings. In fact, as police departments committed to adopt body cameras within their ranks, lawmakers began introducing bills to limit public access to them.
Though more police are now equipped with the cameras than ever before, public access to the video continues to be extremely limited, curtailing the oversight the cameras were meant to provide.
Some police departments and prosecutors have adopted arbitrary policies about releasing the video, often ignoring the state's public record laws that would require they be publicly released, experts told BuzzFeed News.
Maricopa County prosecutors told BuzzFeed News they could not comment on the story, or confirm the authenticity of Sweet's recording, because of the ongoing investigation.
David Bodney, an Arizona attorney that focuses on media law and represents several news organizations across the state, told BuzzFeed News that law enforcement agencies in Maricopa County were more willing to honor the county attorney request than follow state law.
"The Maricopa County Attorney's Office has taken extraordinary steps in criminal proceedings to seal or otherwise control the release of such footage," Bodney told BuzzFeed News.
In Arizona, for example, there is no law forbidding a person from watching the police video and speaking publicly about it, like in Sweet's case.

"There is nothing in Arizona, much less the Constitution, that would prevent her from sharing her thoughts," Bodney said. "We have no Arizona law that prohibits victims from sharing their concerns about what they learned."
For Sweet, being able to talk about the video is an issue of accountability. Though police reports have been released describing the video, Bodney argued the videos could point to inconsistencies in the reports.
Sweet said she was given few details about what happened to her 26-year-old husband and, just before she was set to watch the video, was told prosecutors planned to offer a plea deal to the officer accused of shooting him.
The deal would reduce the charge to negligent homicide, which brings a much lighter maximum sentence of 3.75 years.
Sweet said she felt that by not releasing the body camera video law enforcement officials were withholding the severity of how her husband was killed, while offering a plea deal to the officer.
"I felt like they knew they were in the wrong, and they ultimately didn't care," Sweet said. "I feel like I'm being re-victimized by county prosecutors."
Daniel Barr, an Arizona attorney with 30 years experience in public records and media law, said officer body camera footage falls under the state's public records law, but several jurisdictions have tried to add restrictions.
"Like anything else that's new, people think it has to be treated differently," he said.
Controversial videos of police shootings across the country and subsequent public outrage seemed to have also increased the efforts by some jurisdictions to hold on to the recordings, he said.
Refusal to release videos has also increased public suspicions about police accountability. In Chicago, for example, police refused to release video of the shooting of 17-year-old Laquan McDonald for more than a year.
The officer was charged a week after a judge ordered the department to release the video.
Meanwhile, in Arizona on Thursday, both prosecutors and defense attorneys successfully petitioned the judge to seal the body camera footage.
Sweet, who is now represented by the law firm Geragos & Geragos, issued a statement opposing the order, calling it "grossly hypocritical, coming at the same time a sweetheart plea deal was offered."