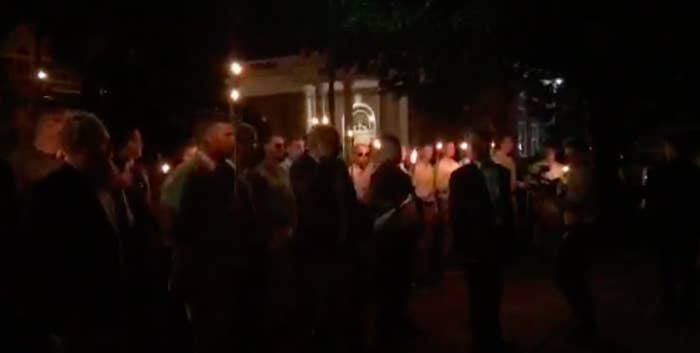 Tiki torches in hand, white nationalists once again returned to Charlottesville, Virginia, Saturday night in what appeared to have been a harried rally, conducted under the cover of night.
About 40 to 50 people, mostly men wearing khaki pants and white button-up shirts, participated in the rally, which prompted the quick ire of local officials who called their presence "despicable."
"You're not welcome here!" Charlottesville Mayor Mike Signer tweeted as news spread of the event. "Go home!"
The Virginia college town is still reeling from the death of 32-year-old Heather Heyer during an Aug. 13 white supremacist rally that turned violent after one of the men who attended the rally, 20-year-old Ohio resident James Alex Fields Jr., plowed his car into a group of counterprotesters.
Two Virginia State Patrol officers were also killed during the August clashes, when their helicopter crashed while assisting the law enforcement response to the rally.
The incident immediately caused a national political storm when President Donald Trump initially responded by criticizing "violence on many sides" — comments that prompted both Republicans and Democrats to urge the president to issue a more forceful condemnation of white supremacist groups.
Saturday's appearance in Charlottesville marked the third time that white nationalists, led by leading white supremacist Richard Spencer, chose the city as a site for their demonstrations.
According to the Charlottesville Police Department, the group descended on the city's Emancipation Park and stayed for about 10 minutes. Social media posts from the rally showed the group chanting "You will not replace us!" in front of a now-covered statue of Confederate leader Robert E. Lee.
The group also sang "Dixie" and left after chanting, "Russia is our friend, the South will rise again!" according to video of the event.
Officials said there was no disorder during the event, and that Spencer and the group left the park and boarded a tour bus.

"Officers with our department then followed the tour bus to ensure that the group was leaving the city," police said in a statement. "Our department is conferring with city leadership and the Commonwealth Attorney's office to determine what legal action may be taken in response."
Lt. Stephen Upman of the Charlottesville Police Department declined to tell BuzzFeed News Saturday night whether Spencer's group applied for, or was issued, a permit for the event.
It's unclear what action the city could take against Spencer's group, but at least some Charlottesville officials called for a strong response against the ralliers.
"When White Supremacists Make odes to White Power, and clearly use torches to send a message to our community that they are the superior race while trying to strike fear and intimidate others, they are breaking the law," the city's vice-mayor, Wes Bellamy, wrote in a Facebook post. "Our community does not deserve this."
In a video posted on Twitter Sunday, Spencer, with a bit of sweat gleaming on his forehead, heralded "Charlottesville 3.0" as a success.
"We came, we triggered, we left," he said.
Still, at the end of the rally, video shows several of the attendees running away from the park toward a bus, and a voice can be heard telling people to "walk" and "don't panic."
"Nothing to panic about," the voice says. Police cars can be seen parked, with emergency lights on, at street corners as somone yells out, "hustle!"