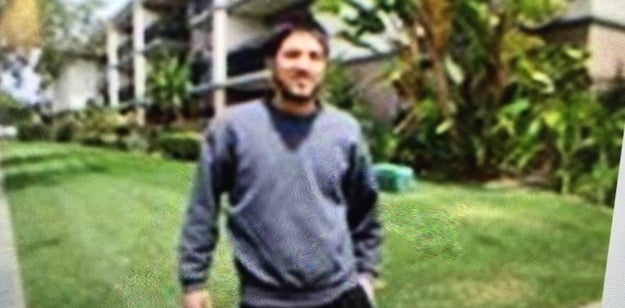 Syed Farook, left. Tashfeen Malik, right.
The suspected shooters who attacked a social services center in San Bernardino, California killing at least 14 people, were a married couple with a 6-month-old baby who appear to have stockpiled weapons and ammunition at home.
Syed Rizwan Farook, 28, and Tashfeen Malik, 29, were identified Wednesday as two suspects killed by authorities in a shootout after the attack on the center. Police initially said Malik was 27.
There is "indication of radicalization by killers and potential inspiration by foreign terrorist organization," FBI Director James Comey said, but "no indication these killers are part of an organized larger group or cell."
The FBI is now investigating the shooting as an act of terrorism, saying, there were "telephonic connections" between two shooter suspects and other individuals they're investigating.
Malik reportedly pledged allegiance to ISIS leader, Abu Bakr al-Baghdadi, in a Facebook message under under an alias around the time the attack began, the FBI said. She then deleted the message. A Facebook spokesperson confirmed to BuzzFeed News that the site removed the profile from public view and reported its contents to law enforcement.
The FBI said it was aware of the Facebook post. An FBI official said, "We did not have [Malik] under investigation previously."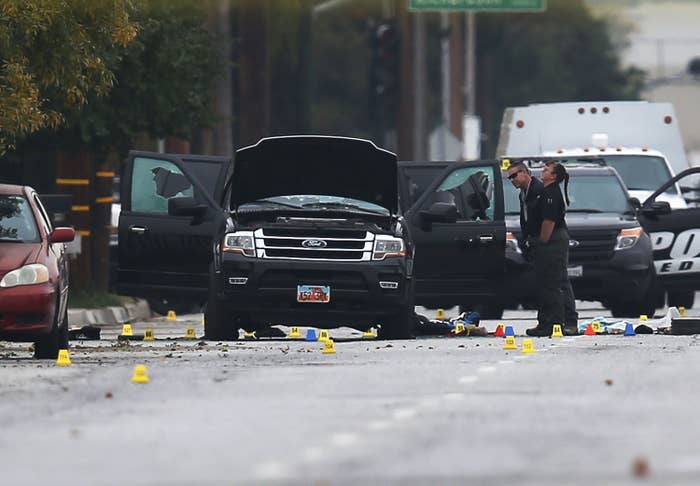 The Shooting
San Bernardino Police Chief Jarrod Burguan said Farook attended the holiday party and left "under circumstances that were described as angry."
Both shooters were armed with what Burguan said were .223-caliber assault rifles — one a DPMS model A-15, the other a Smith & Wesson M&P-15 model. They were also armed with semiautomatic handguns, he added. All were legally purchased, and Farook bought the handguns himself.
Farook and his wife also seemed to have an arsenal at a home in Redlands. Police found 12 pipe bombs, 2,000 9 mm bullets, 2,500 .223 mm rounds, and more than 2,000 long rifle rounds in the home.
Based on the type of weapons, clothing, and the way the attack occurred, Burguan said "some sort of planning went into this."
During the shooting, a bag was placed on a table in the center containing three pipe bombs attacked to a remote-controlled device, police said.
After the shooting, Farook and Malik fled in a black SUV, police said. More than four hours later, more than 20 officers engaged in a shootout with the two suspects.
Farook and Malik were both killed. According to reports, they were married and had a 6-month-old daughter who they'd left with Farook's mother on Wednesday morning.
According to Transparent California, which publishes public employee salary information, Farook was working as an environmental health specialist in San Bernardino County. In 2013, he earned a salary of $51,747 plus benefits.
The Couple
Farook was born in Illinois, and had been working with the county for five years.
Malik was a "shy" woman who moved from her native Pakistan to Saudi Arabia, along with her family, 25 years ago.
She returned to Pakistan to study pharmacy at the Bahauddin Zakariya University in Multan, according to the university's 2012 examination records, which show Malik obtained 74.8% in her fourth of year of obtaining a pharmacy degree. The university could not confirm if the pharmacy student was the suspect in the mass shooting.
A professor who said Malik was a former student, Dr. Nisar Hussain, told BuzzFeed News said was a quiet and hardworking woman.
"She was a very good student, a brilliant student. She was clever and calm and studied all the time," he said.
"I never would have expected her to do something like this. I really condemn this. It's very upsetting and everyone at the university is very upset.
"There was no evidence of these views when she studied here."
The LA Timesreported that Malik's family was "politically influential" and had ties to militant Islam. Malik Ahmad Ali Aulakh, Malik's father's cousin, had been a provincial minister, according to the Times.
A resident who lived in the Layyah district of Pakistan, where Malik's family is from, told the LA Times, "The family has some extremist credentials."
A Skype username, "pharmacistlarki" — translated from Urdu to pharmacistgirl — appears to belong to a Tashfeen Malik in Saudi Arabia. Syed Farook's coworker, Patrick Baccari, told the Associated Press that Farook had told him his new wife was a pharmacist.
In an interview with CBS, Farook's sister, Saira Khan, said she liked Malik and described her as "shy" and someone who "kept to herself" much like her husband, Farook.
Farook's family had not been in contact with Farook or Malik since Wednesday morning, said Hussam Ayloush, executive director of the Council on American Islamic Relations.
Farook's father told the New York Daily News his son was religious and a hard worker.
"He was very religious," he told the paper. "He would go to work, come back, go to pray, come back. He's a Muslim."
His father later spoke to an Italian newspaper and said his son was obsessed with Israel and subscribed to ISIS ideology.
Farook attended prayer services twice a day at the Islamic Center of Riverside for several years, Mustafa Kuko, the center's director, told BuzzFeed News.
Kuko, who described Farook as shy and a "little bit withdrawn," said he didn't mix easily with others but befriended some of the other mosque members.
"He was very mild, very calm, very peaceful, very nice, very decent," Kuko told NBC News.
Kuko was present at the wedding reception Farook and Malik held at the Islamic Center after they returned from Saudi Arabia.
Kuko told BuzzFeed News that Farook seemed "very comfortable" with his decision to get married to Malik who he met on an online "Islamic marriage" website.
"He tried his best to know who she is, what her personality traits and characteristics are. He checked on her, if she had correct morality," Kuko said. "The moment he made the decision [to marry her] he never gave it a second thought."
In 2013, Kuko said that Farook told him that his to-be wife had a Pakistani family who lived in Jeddah in Saudi Arabia. Kuko said that Farook told him her family was good and that they were religious people, but he did not indicate if they were conservative.
Farook and Malik were married as per Islam's rituals in Saudi Arabia and she entered the U.S. on a K-1 visa for fiancés of American citizens. A couple has to marry in the U.S. within 90 days after which the visa expires. Officials said that Malik was granted a conditional green card in July 2015.
Kuko said he did not know if Farook and Malik were married in the U.S. when they held their reception at the Islamic Center. He said he was sure Malik and Farook were communicating with each other before he left to marry her in Saudi Arabia.
"He told me he got her photo," Kuko said.
"He would come and pray here with us, he was a very simple person, very nice," Nizaam Ali, 23, a mosque member of the Dar-Al-Uloom Al-Islamia — which Farook attended in San Bernardino — told BuzzFeed News.
Ali, who knew Farook for two years, said the FBI questioned him at his home Wednesday night.
"I never saw him upset or angry or talk about politics," Ali said. "There are no words to describe the feeling I got when his name was said at the press conference."
"He's a mosquegoer," Kuko told The New York Times. "Something might have happened to him mentally, physically or whatever that made him change."
Farook's father said his son inspected restaurants and hotels, and graduated from La Sierra High School in 2003.
A person with the name Syed Rizwan Farook attended Cal State Fullerton in the fall semester of 2014, a spokeswoman said. He was in the graduate program in environmental engineering.
Farook appeared to have a profile on imilap.com, which describes itself as "a premiere matrimonial and dating site" for "people with disabilities and second marriage." However, the profile also says that it was created by Farook's parents, so it isn't clear whether he was involved in its creation.
The profile lists the username of farooksyed49, a 22-year-old Muslim male living in Riverside, California, who is working as government employee. In the profile, family values are described as "Eastern and Western mix" and the religion is listed as Muslim.
The profile reads: "religios (sic) but modern family of 4, 2girls 2boys I work for county as health,safety and envorimental (sic) inspector. Enjoy working on vintage and modern cars, read religios (sic) books, enjoy eating out sometimes travel and just hang out in back yard doing target pratice (sic) with younger sister and friends."
The username farooksyed49 was also registered on a marriage service website called Dubaimatrimonial.com — "first and only legal marriage service provider in UAE." The profile said he belonged to a "Syed sunni faimly living in USA."
In 2013, Farook appears to have set up a profile on BestMuslim.com, which describes itself as an "online Muslim marriage and matrimonial site."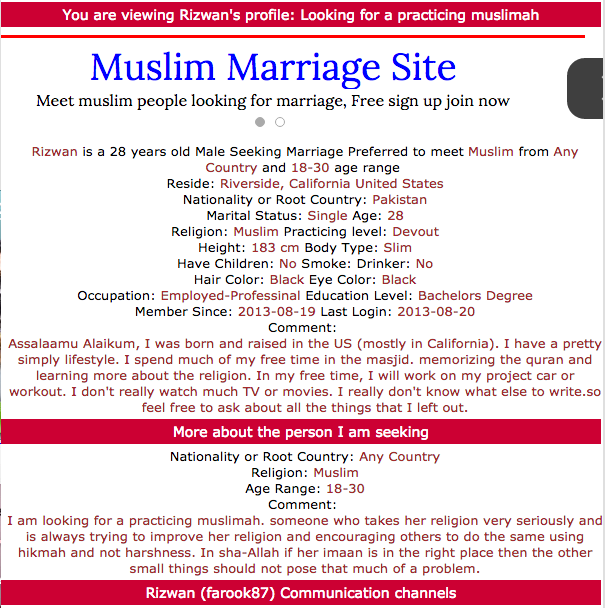 In the profile, Farook specified that he was looking for a Muslim wife "who takes her religion very seriously and is always trying to improve her religion and encouraging others to do the same." The profile noted that he cared more about her faith than about her appearance and other "small things."
While it is not known if he met Malik through one of these websites, co-workers told the Los Angeles Times Farook had recently traveled to Saudi Arabia, and when he came back he was married to a woman he met online.
Intelligence officials are now questioning Malik's family in Pakistan, including her uncle Javed Rabbani, who is the brother of Malik's father, Gulzar Ahmed Malik, Reuters reported.
Rabbani told Reuters that Gulzar Malik had become conservative after he he moved to Saudi Arabia."When relatives visited him, they would come back and tell us how conservative and hard-line he had become," Rabbani said.
Another of Malik's uncle told Reuters that the family had built a house in Multan, which Gulzar stayed at when he visited Pakistan.
Hifza Batool, who said Malik was her step-niece, told AP she had become more religious in recent years. Batool said Malik used to wear Western clothes but began wearing the hijab head covering or the all-covering burqa donned by the most conservative Muslim women about three years ago.
"I recently heard it from relatives that she has become a religious person and she often tells people to live according to the teachings of Islam," Batool, a school teacher in Pakistan, told AP.
Malik had two brothers and two sisters and was also related to Ahmed Ali Aulak, a former provincial minister, Pakistani officials told Reuters.
The couple had a baby and were "living the American dream," Patrick Baccari, a fellow food inspector, told the paper.
Baccari shared a cubicle with Farook, and said he worked with him for three years.
Griselda Reisinger, who worked with him before she left in May, told the Times, "He never struck me as a fanatic, he never struck me as suspicious."
Court records reviewed by BuzzFeed News also paint a picture of chaotic — if not abusive — home life for Farook and his two siblings.
Records filed in Riverside County Court by his mother over the years allege that the family was subjected to verbal and physical abuse, and that at one point, Farook and his brother witnessed their father threaten suicide.
In petitions seeking restraining orders and, eventually, dissolution of marriage, starting in 2006, Rafia Farook described her husband, Syed Farook, as "bipolar" and "mentally sick."
She also described him as being "an alcoholic" who screamed and threw stuff around the house. And at one point, Syed threatened suicide in front of his two sons, court fillings show.
"I do not know why he is bad," Rafia Farook wrote in a petition for a restraining order preventing Syed from coming closer than 100 feet. The request was granted.
Rafia Farook eventually filed for a legal separation, which a judge granted in October 2008. The billing clerk at Kaiser Permanente Riverside Medical Center was also granted her sole custody of her teenage daughter.
CORRECTION
Farhan Khan is married to Syed Farook's sister. An earlier version of this story misstated this.