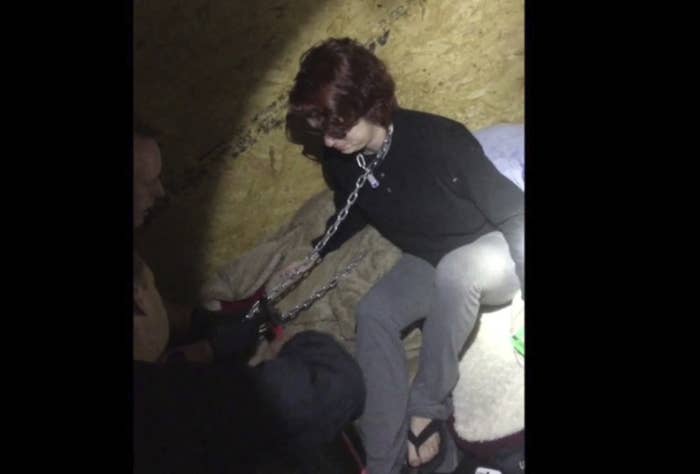 Videos released late Friday by South Carolina prosecutors show a serial killer confess to seven homicides, as well as the moment that police officers broke into a metal container to rescue one of his victims who had been chained up for two months.
The killer, Todd Kohlhepp, pleaded guilty last month to killing seven people in South Carolina, and to chaining a woman, Kala Brown, inside a metal container after murdering her boyfriend, Charlie Carver. He also pleaded guilty to raping Brown.
In a video released by authorities and made public by several news outlets, Brown is seen with a large chain padlocked around her neck when police finally reach her in a dramatic rescue.
While one officer uses bolt cutters to cut through the chain, another asks her, "Do you know where your buddy is?"
"Charlie? He shot him," Brown tells officers very matter-of-factly .
"Who did?" the officer asks.
"Todd Kohlhepp shot Charlie Carver three times in the chest, wrapped him in blue tarp, put him in the bucket of the tractor, locked me down here. I've never seen him again," she says in the video. "He says he's dead and buried. He says there are several bodies dead and buried out here."
In all, law enforcement discovered three bodies on Kohlhepp's property after finding Brown on Nov. 3, 2016.
Once in custody, Kohlhepp confessed to killing four other people in a South Carolina motorcycle shop shootout in 2003, a case that had gone unsolved for 13 years.
In other video footage released by prosecutors, Kohlhepp tells authorities in detail how he killed each of his seven victims. He appears calm, even jovial at times, as he talks to investigators about the murders.
As part of his deal with authorities, Kohlhepp was allowed to give his mother money from his bank accounts before confessing.

When asked about the shooting at the motorcycle shop, Kohlhepp bragged about how quickly he killed the four victims, offering a description of each shot fired.
"That was one big building. I cleared that building in under 30 seconds," he said. "I'm sorry, but you guys would have been proud."
Asked if any of the victims asked to be spared, Kohlhepp said he could not remember. "I will tell you that once I engaged, I was engaged," he said. "It was almost like a video game."
He also told detectives about killing another couple — Johnny Coxie, 29, and Leigh McCraw-Coxie, 26 — in December 2015. As with Carver and Brown, Kohlhepp killed Coxie immediately, and then tried to keep McGraw-Coxie locked up. He decided to kill her, he told investigators, because she tried to burn down the container with cigarettes.
"She wanted Little Caesar's pizza. I hate that shit. It gives me heartburn," Kohlhepp said. "Dr. Pepper, cinnamon rolls, and freaking Newports. If you go down to that building, you'll find an unused package of Newports that I bought for her."