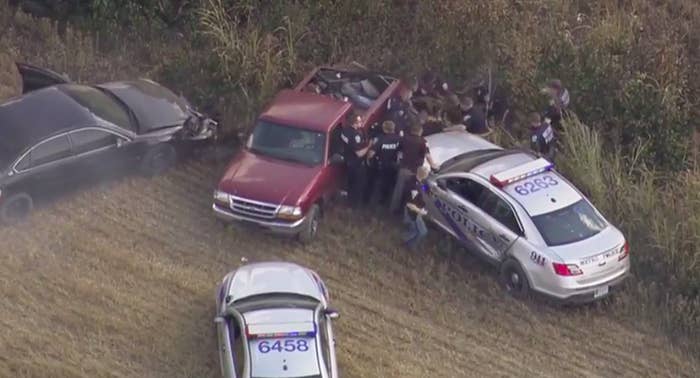 A wild police chase across two states ended Thursday with police officers beating a driver in an open field after he appeared to raise his hands to surrender to authorities.
Video shot by a news helicopter hovering overhead showed at least a dozen officers surrounding the driver at the end of the chase, several of them delivering punches and kicks while the suspect appears to be on the ground.
In the video, one officer is seen holding himself up by putting his hand on the hood of a patrol car as he visibly kicks the driver that led police on a 30-minute chase from Louisville, Kentucky, to an Indiana field.
Indiana State Police identified the suspect as Robert G. Ellis from Louisville. He was suspected of multiple purse thefts.
Sgt. Jerry D. Goodin told BuzzFeed News the Louisville Metro Police Department initiated the chase, but asked Indiana State Police to take over when it entered Indiana.
Video footage of the end of the chase, however, shows that many of the officers that crowded around Ellis were driving patrol cars that appear to belong to the Louisville Metro Police Department.
LMPD officials did not return multiple calls and emails from BuzzFeed News for comment.
In a statement, Indiana Police said LMPD entered the state at about 5 p.m. in pursuit of the red Ford Ranger pickup.
Officers were able to set up a spike strip and deflate the truck's tires just before Ellis drove onto an open field with about a dozen patrol cars behind him. An officer in an unmarked dark-colored car struck and disabled the pickup near a ravine.
Officers approached the truck with their guns drawn, but one officer who exited an LMPD patrol car was seen holstering his handgun before walking to the driver's side of the truck and pulling the driver out by his raised hands.
Ellis is seen being dragged out and thrown to the ground as about a dozen officers surround him. The red truck and a patrol car obscure the view of the helicopter filming the incident overhead, but officers can be seen delivering multiple punches and kicks.
One officer in particular can be seen raising his arm over his head and punching multiple times until another reaches across the patrol car toward the officer, putting his hand on his shoulder.
Indiana State Police did not address BuzzFeed News questions about whether the driver threatened officers or resisted arrest after he was taken out of the truck.
"After a short struggle, the driver was taken into custody," a police statement reads. Ellis was taken to a hospital in Floyd County after "complaining of pain."
News coverage of the incident showed officers picking up Ellis from the ground in handcuffs and placing him into the back of an Indiana State Police patrol car.
Police did not address the extent of injuries Ellis suffered in the exchange.