New Body Camera Footage Shows LAPD Officers Accidentally Shoot And Kill A Hostage
It's the second time in the last six weeks Los Angeles police officers have fatally shot a bystander or hostage while confronting a suspect.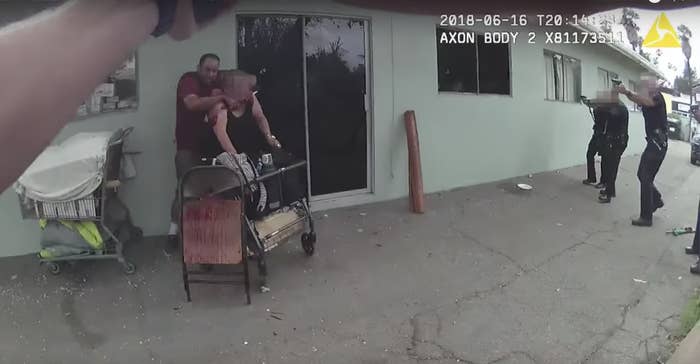 Los Angeles police on Tuesday released graphic video of officers fatally shooting an armed man and the hostage he was holding at knifepoint.
Together with the fatal shooting of a Trader Joe's employee during a chaotic confrontation with a gun-wielding suspect on July 21, it was the second time in less than two months that LAPD officers have inadvertently killed an innocent bystander.
"Tragically, this is another case where officers were forced to make split-second decisions based on the actions of a violent individual," Los Angeles Police Chief Michel Moore told reporters Tuesday.
Before the two recent accidental killings, it had been 13 years since an LAPD officer had shot an innocent bystander or hostage, Moore added.
"In the last six weeks, it's happened twice," he said.
The video released by the department Tuesday depicted officers' actions as they responded to a stabbing at a church in Van Nuys on June 16.
As officers arrived, 32-year-old Guillermo Perez was standing outside the church holding a large knife and a metal folding chair. Officers repeatedly yelled for him to drop the knife and seconds later fired less-than-lethal rounds at Perez, who could be seen lifting the chair to try to deflect the rounds.
As officers continued to approach Perez, he took hold of a woman, putting the knife to her neck.
Police said Perez began to cut the woman's throat when three officers opened fire, striking both Perez and his hostage, 49-year-old Elizabeth Tollison, who was described as being homeless. Of the 18 bullets that were fired, she was hit by two.
Perez and Tollison were pronounced dead at a nearby hospital.
"This was a tense situation that unfolded very quickly and it's every officer's worse nightmare," Moore said.

The three officers who opened fire were identified as Andrew Trock, Cristian Bonilla, and Eugene Damiano.
The department is still investigating the shooting, Moore said, including looking at the number of shots fired by the three officers.
Current training teaches recruits to attempt an accurate headshot during similar situations, Moore said.
"We've had a number of such instances where that training was used and the suspect's actions were stopped," Moore said. "In this instance, we'll look at the officers' actions in determining, and will make a determination, in how it matches up to our training."
Moore, who became LAPD chief after the Van Nuys shooting, said the department had already started an analysis of officer-involved shootings after noticing an increase in 2017.
The department had also found that the average number of shots fired, the number of officers involved, and the number of officers armed with a firearm had also increased for similar incidents, prompting the department to implement changes.
The department has started pushing officers to use time and distance more frequently during armed situations and to "command control" of the situation before using lethal force.
The department faced criticism after the Trader Joe's confrontation when officers traded gunfire with the suspect outside the busy neighborhood store, accidentally striking and killing assistant store manager Melyda Corado.
The LAPD has recently deployed new, 40 mm weapons that fire foam baton rounds. The weapons, Moore said, are more effective and accurate than the current beanbag shotguns that have been used by officers in the past.
"Our goal is to improve the effectiveness of less-than-lethal weapons," he said. Still, he added: "Sometimes deadly force is the only option."
CORRECTION
Michel Moore's name was misspelled in an earlier version of this post.