Police have identified the suspect who opened fire inside a public bus on the popular, tourist-filled Las Vegas strip on Saturday, killing one person and injuring another.
Rolando Cardenas, 55, was booked on charges of murder, attempted murder with a firearm, discharging a firearm within a vehicle and burglary with possession of a firearm, Clark County Jail records show.

Cardenas began shooting inside the bus around at around11 a.m. local time, striking Gary Breitling and another person as passengers and the driver ran outside the vehicle near the Cosmopolitan Hotel, police said. The 57-year-old from Sidney, Montana, died at the hospital, the coroner's office said.
He opened fire "for no apparent reason," police told the Associated Press, and then barricaded himself inside the bus, shutting down the packed Strip before surrendering to police after a standoff that lasted nearly four hours, police said.
The second victim is expected to live, the AP reported.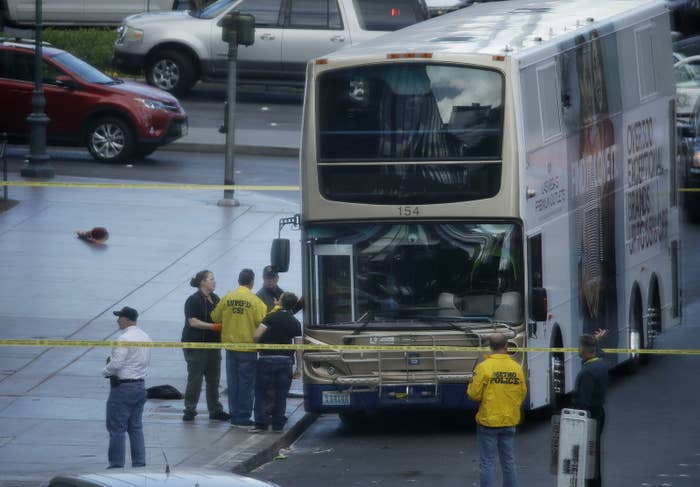 SWAT officers and crisis negotiators were called to the area where the suspect had barricaded himself in the bus near the Cosmopolitan Hotel.

Police said there didn't appear to be a motive for the fatal shooting, which they believed to be carried out by someone they described as mentally ill.
"From listening to the negotiations he seemed to be talking about seeing people and things like that," police told reporters. "Definitely was not completely with it."
He also fired shots at robots that police used to try to reach him via phone.
Police also shutdown about a half-mile portion of the Las Vegas strip, where casinos such as the Bellagio, Paris, and Planet Hollywood sit.
MGM Resorts also sent out a tweet, asking visitors to cooperate with police on the street closures until the situation is cleared.
The northbound side of the road was opened just before 4 p.m., but police said the southbound portion of the street would remain closed during their investigation.
The shooting came just hours after an armed robbery occurred inside a high-end jewelry store in the Bellagio.
Hadfield told reporters there was no information indicating that the robbery inside the casino and the shooting in the bus were connected.