Two Men Accused Of Plotting Attack On Alaska Facility They Believed Trapped Souls
The two men allegedly believed conspiracy theories that the Alaska High Frequency Active Auroral Research Program was responsible for controlling the weather and collecting human souls.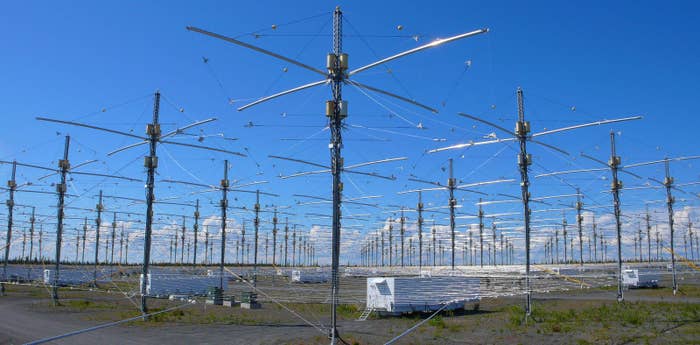 Two men from Georgia are accused of amassing a large arsenal of weapons in a plot to attack a research facility in Alaska that conspiracy theories have claimed has the ability to control the weather and people's minds.
The men planned to travel more than 4,000 miles to the High Frequency Active Auroral Research Program (HAARP) in Alaska with the weapons, including four AR-15 rifles, four hand guns, and more than 3,000 rounds of ammunition, Coffee County Sheriff officials told WALB.
Michael Mancil and James Dryden Jr. allegedly collected the large cache of weapons because they believed conspiracies that have circulated for years, including theories that the facility has caused floods, earthquakes, downed commercial airliners, and can collect the souls of people with its equipment.
Created in 1993 by the Air Force and Navy, the facility includes 180 high-frequency antennas spread across 33 acres and studies Earth's atmosphere. It was handed over to the University of Alaska Fairbanks in August 2015.
Coffee County Sheriff Doyle Wooten told WALB investigators became concerned while investigating Mancil, 30, for possible drug sales. During the investigation, a local gun shop told investigators Mancil was looking to buy a large amount of weapons.
Mancil and Dryden, 22, had also collected bullet-proof vests and radios for the alleged plot, Wooten told WALB-TV, and had been watching online videos about conspiracy theories surrounding the facility.
In reality, university officials told BuzzFeed News the transmitter for the facility has not been used for more than two years.
It was not clear what charges the men might be facing, and Coffee County Sheriff officials did not immediately respond to a request for comment.
The university became aware of the alleged plot on Monday and have been in contact with investigators since then.
The school has dealt with conspiracy theorists in the past, but officials said this was by far the most serious.
"The conspiracy theories are mostly just an annoyance," Sue Mitchell, spokeswoman for the university, told BuzzFeed News. "We are trying to be very open and transparent about the great research that this facility is capable of."
The school plans to begin using the facility for experiments in March 2017.