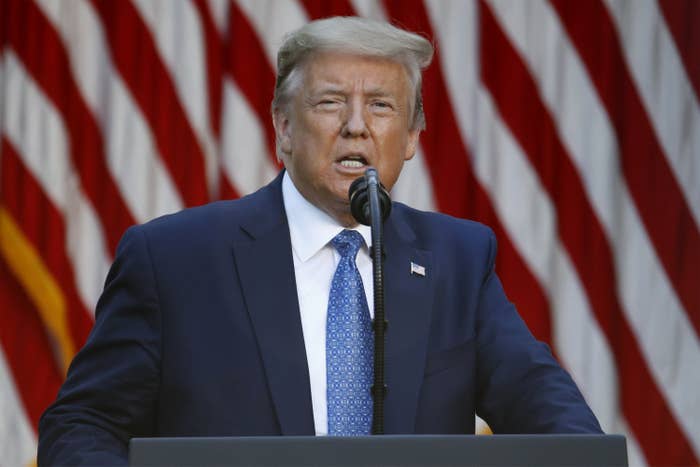 Police unloaded rounds of tear gas at peaceful protesters outside the White House on Monday evening, clearing the way for President Donald Trump to deliver an ominous speech against the nationwide protests sparked by the latest killings of unarmed black people. He then walked through the newly opened path to participate in a nearby photo op.
Trump was apparently agitated by night after night of looting and violent protests outside his door and around the nation. The dystopian scenes played 24/7 on cable news, paired with reports that last week he was rushed to a White House bunker amid the unrest, brought him to lash out beyond his own Twitter feed.
Trump spent the earlier part of the day calling governors "weak," as days of demonstrations against the killings of George Floyd in Minneapolis and Breonna Taylor in Louisville turned into violence. After that, looters took advantage of the unrest.
Speaking from the Rose Garden, amid surreal booms of police firing gas, helicopters thumping overhead, and authorities clashing with protesters — a backdrop of his own making — Trump attempted to cast himself as a hero of peaceful protesters, even though he spent days agitating and undermining the protests and spreading false information, at one point calling for protesters to be shot.
He then threatened to deploy the American military on American citizens.
"If a city or state refuses" to call in the National Guard, he said, "then I will deploy the United States military and quickly solve the problem for them."
"I am also taking swift and decisive action to protect our great Capitol Washington DC. What happened in this city last night was a total disgrace. As we speak, I am dispatching thousands and thousands of heavily armed soldiers, military personnel, and law enforcement offices to stop the rioting, looting, vandalism assaults and the wanton destruction of property," he said, amid split-screen scenes of police hitting people with plexiglass shields.
"I am your president of law and order," he declared, while, around the same time, police in Philadelphia fired gas at people who had taken over an expressway.
Demonstrators had been peacefully gathered outside the White House, chanting and holding signs several feet away from police who were lined up in full riot gear. But as the time neared for Trump's address — announced just a short time in advance — police suddenly came face-to-face with the crowd.
Suddenly, officers charged the crowd as demonstrators tried to flee.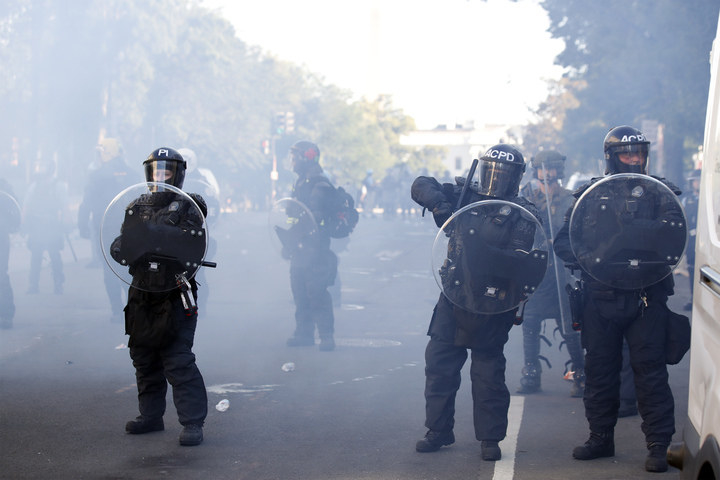 Video showed police swinging their batons at protesters' backs, punching reporters, and using their shields to hit photographers.
Once his address was over, Trump used the path cleared by police to walk to St. John's Episcopal Church, which had sustained fire damage during protests the night before.
Remnants of the gas deployed earlier irritated journalists following him, leaving some coughing. The street was littered with trash, and there were boarded-up and graffitied buildings around him.
Then Trump, who has on only a few occasions been seen publicly inside a church, stood outside the 204-year-old church and held up a Bible.
He said the US was the "greatest country in the world," he said. And "we're going to keep it that way."
The Right Rev. Mariann Budde, bishop of the Episcopal Diocese of Washington, blasted the president for using tear gas to disperse the crowd, and for using a Bible and the church as "a backdrop for a message antithetical to the teachings of Jesus and everything that our church stands for."
"To do so, he sanctioned the use of tear gas by police officers in riot gear to clear the church yard," Budde wrote in a message posted on Twitter. "I am outraged. The President did not pray when he came to St. John's; nor did he acknowledge the agony and sacred worth of people of color in our nation who rightfully demand an end to 400 years of systemic racism and white supremacy in our country."
The response was published just minutes after the photo op, and after Trump returned to the White House.
"In no way do we support the President's incendiary response to a wounded, grieving nation," she wrote.
A spokesperson for the diocese did not immediately respond to a request for comment.
Video of the short visit showed Trump holding the Bible in various poses, then holding it up in his right hand, then settling it tucked to his side while photographers clicked away.
"Is that your Bible?" a reporter asked.
"It's a Bible," the president responded.