President Trump on Wednesday tweeted that he had been briefed about "the start of our Southern Border WALL" and included pictures depicting construction for the project, but there was one slight problem with the announcement.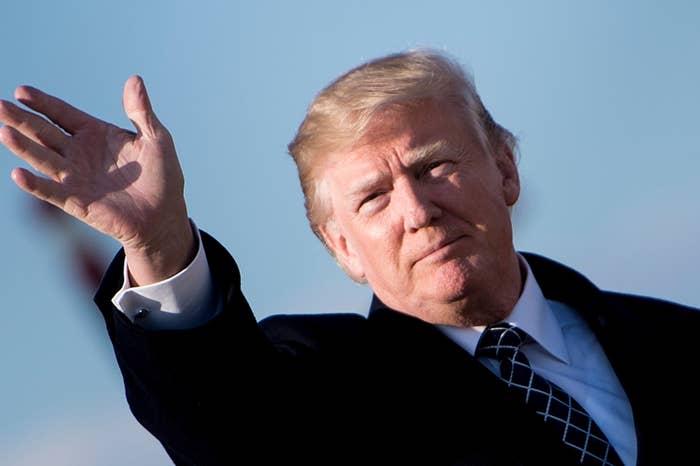 The images tweeted by the president were not of his long-promised wall, but a months-long project to replace existing portions of a wall along Calexico, California.
The project, which started in 2009, will replace a 2.25-mile section in the California-Mexico border wall, according to a statement last month from US Customs and Border Protection.
The original wall in that section, built in the 1990s, had been built from recycled metal scraps and old landing mat materials, the agency said.
"Although the existing wall has proven effective at deterring unlawful cross border activity, smuggling organizations damaged and breached this outdated version of a border wall several hundred times during the last two years," CBP said.
The project will replace the old wall with a 30-foot-high, bollard-style structure.
A DHS official told BuzzFeed News that Trump did meet with Homeland Security Secretary Kirstjen Nielsen and US Customs and Border Protection Commissioner Kevin McAleenan on Wednesday afternoon, but did not provide details of the briefing.
The White House did not immediately respond to a request for comment on Trump's tweet, or his briefing with DHS officials.
The Border Patrol office in San Diego tweeted some pictures of the project in February, some of which were included in Trump's tweet Wednesday.
Building a wall along the southern border has been a key promise from Trump, one which he has assured would be paid for by Mexico.
However, the Department of Homeland Security is still evaluating prototypes for construction of that wall and no new sections have been built, said Carlos Diaz, a spokesperson for US Customs and Border Protection.
Funding for the wall, which Mexico has repeatedly and vehemently rejected to paying for, has also hit a snag for the Trump administration.
On Tuesday, CNN reported that Trump has suggested paying for the wall through the US military budget.
Trump's inability to fund the wall has rankled some of his supporters, some of whom also pointed out Wednesday that the pictures he tweeted were not of new construction on the border.
The tweet also seemed to have irritated Advocates for Victims of Illegal Alien Crime, an Arizona-based advocacy group for victims of crimes perpatrated by undocumented immigrants, which supported Trump during his presidential campaign and appeared with him at some of his campaign rallies.
In a blistering open letter to Trump Wednesday, the group blasted him on the lack of construction of the wall, and his signing of the omnibus spending bill.
"With a stroke of a pen you made it worse," the statement read. "Money for 'the wall'? Not a dime but maybe you can build a 'beautiful' picket fence."