Trump Takes Credit For Keeping Ford Factory In US, But It Was Never Moving To Mexico
While the automaker planned to shift production of one Lincoln model elsewhere, it had no plans of shuttering the Kentucky plant.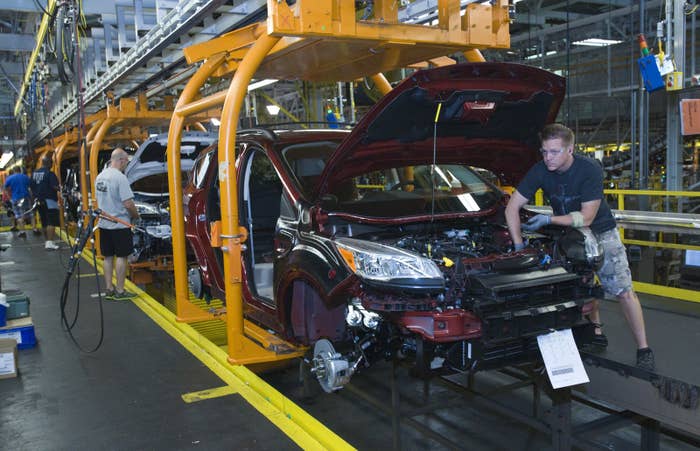 President-elect Donald Trump took credit Thursday for keeping a Ford auto factory in Kentucky from moving to Mexico, but the automaker did not have any plans of shuttering the plant.
Trump made the announcement on Twitter Thursday night, saying he received a call from Ford Chairman Bill Ford about keeping the plant in Kentucky, insinuating there were plans to move it to Mexico.
Trump followed up about 15 minutes later saying he "worked hard with Bill Ford to keep the Lincoln plant in Kentucky."
However, a contract that was signed between Ford and the United Auto Workers union would have prevented Ford from closing the plant, Reuters reported.
In a statement to BuzzFeed News, Ford confirmed it was looking at plans to move production of the Lincoln MKC vehicle out of the Kentucky plant, per a contract signed with the UAW in 2015.
However, the plant — which also produces the Ford Escape — would not have lost any jobs, UAW Vice President Jimmy Settles told the Courier Journal.

The paper also reported the production of the MKC was likely to move to Chicago, not Mexico.
"We have shared our commitment to continue investing in the U.S. and creating American jobs — building on the $12 billion we have invested in our U.S. plants and the nearly 28,000 U.S. jobs Ford has created in the past five years," Ford said in a statement.
The company said it "confirmed" to the president-elect the Lincoln vehicle would continue to be made in Louisville.
"We are encouraged that President-elect Trump and the new Congress will pursue policies that will improve U.S. competitiveness and make it possible to keep production of this vehicle here in the United States," the statement read.
Ford has said it plans to shift small-car production to Mexico, but that no plants would be closed in the US as a result.