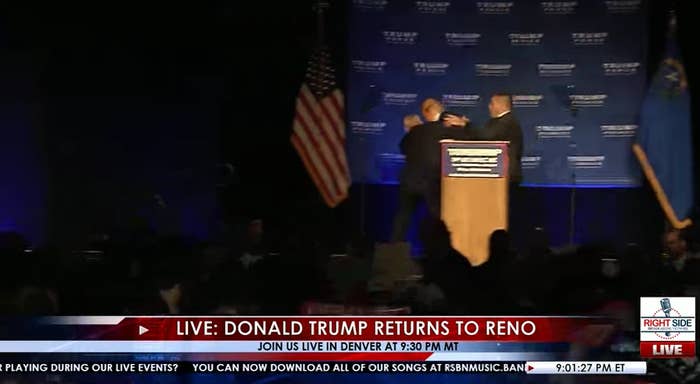 RENO, Nev. — Donald Trump was rushed off the stage while at a campaign rally in Reno, Nevada, Saturday afternoon due to a disruption in the crowd caused by someone shouting "gun," US Secret Service officials said.
No weapon was found after a "thorough search of the subject and the surrounding area," according to the Secret Service statement:
This evening at approximately 9:05pm (EST), at a Presidential Nominee Trump rally in Reno, Nevada, Mr. Trump was removed from the stage by his Secret Service protective detail after a commotion occurred in the crowd. Immediately in front of the stage, an unidentified individual shouted "gun". Secret Service agents and Reno Police Officers immediately apprehended the subject. Upon a thorough search of the subject and the surrounding area, no weapon was found.

A thorough investigation is ongoing at this time by the U.S. Secret Service and the Reno Police Department.

Candidate Trump ultimately returned to the stage and continued with his remarks.
The sudden disruption at the event caused mass confusion for hours on Saturday night as people in the crowd and reporters tried to figure out just what had happened when the Secret Service agents rushed Trump offstage.

On Saturday night, police and security tackled a man in the crowd, handcuffed him, and led him outside. He was later released.

According to the Guardian, the man who was arrested during the disruption, Austyn Crites, has been released and said he was holding a "Republicans Against Trump" sign. Crites told the Guardian that he's a Republican and will vote for others, just not Trump.

"The people who attacked me – I'm not blaming them. I'm blaming Donald Trump's hate rhetoric," Crites said. "My heart still aches for what this nation could potentially do by electing him. That hurts me much more than any of this violence."

Speaking Sunday on CNN, Trump campaign manager Kellyanne Conway called the man a "a Democratic plant or operative trying to disrupt our rally."
A Secret Service appearance onstage is unusual but has happened at various points this year. In March, Secret Service agents rushed Trump onstage after someone attempted to breach the security barrier; at one point this summer, agents physically removed animal rights protesters who rushed the stage at a Hillary Clinton event. Prior to attending a presidential campaign event, people pass through security, including magnetometer screening.

On Saturday, shortly after Trump left the stage, there was then an announcement that Trump would be back soon and the press corps, which had been whisked outside, was allowed back to see the end of his speech.

About five minutes after being whisked offstage, Trump walked back and continued his speech.
"I want to thank the Secret Service, these guys are fantastic, they don't get enough credit," he said. "They're amazing people."

He did not address the incident further during the rally. Following the rally, Trump released the following statement along similar lines to what he had said during the rally:
I would like to thank the United States Secret Service and the law enforcement resources in Reno and the state of Nevada for their fast and professional response. I also want to thank the many thousands of people present for their unwavering and unbelievable support. Nothing will stop us — we will make America great again!
This year, the election has put enormous demands on the time of agents — many of whom, due to a federal salary cap, have not received overtime pay in months despite the long hours. DHS Secretary Jeh Johnson has said that the department "must and will fix this."