Trump Offers Housing Secretary Job To Ben Carson
The retired neurosurgeon previously declined a cabinet position in the Trump administration, citing "no government experience."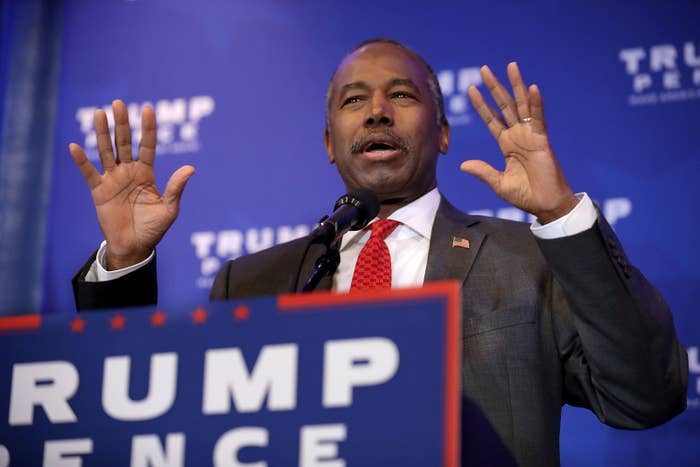 Former presidential hopeful Ben Carson said Thursday President-elect Donald Trump has offered him the position of secretary of the Department of Housing and Urban Development and that he will be "thinking and praying about it" in the coming days.
One of Trump's earliest backers during the campaign, Carson was previously floated as a potential secretary of Health and Human Services in the Trump administration, but the 65-year-old said he was not interested in serving in a cabinet position.

"It's something that has definitely been a long term interest of mine," Carson told Fox News' Neil Cavuto. "I'll be thinking and praying about it seriously."
Asked if Trump had offered him the HUD secretary position, Carson replied: "That is one of the offers on the table."
Despite rejecting the earlier offer, Trump did not hide his interest in having Carson serve in his cabinet.
A retired neurosurgeon, Carson's experience in the health field seemed to make him an obvious choice for the Health and Human Services post.
But a spokesman for Carson told The Hill last week he turned down the offer because of a lack of experience, telling the paper Carson has "no government experience."
"Dr. Carson feels he has no government experience; he's never run a federal agency," spokesman Armstrong Williams said. "The last thing he would want to do was take a position that could cripple the presidency."

On Thursday, however, Carson told Cavuto he was seriously considering the HUD position.
"I grew up in the inner city and have spent a lot of time there, and I have dealt with a lot of patients from that area," Carson said. "We can't have a strong nation if we have weak inner cities and we have to get beyond the promises and start really doing something about it."