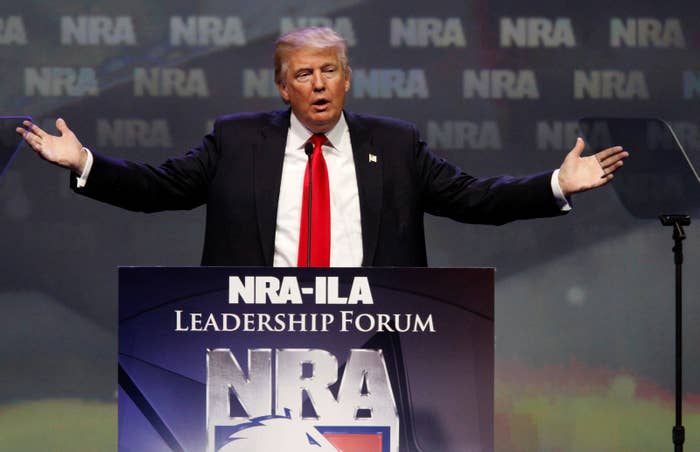 During his presidential campaign, Donald Trump cast himself as one of the most unabashedly pro-gun politicians in recent history, boasting an early endorsement from the National Rifle Association and the support of many gun owners who appreciated his promise to roll back limits to the Second Amendment.
But his presidency has not been good for the gun business.
Gun sales have slowed dramatically since Trump's election last November, manufacturers have cut down on production, and laid off workers, and gun shop owners say they're seeing less foot traffic in their stores.
In July, the number of FBI background checks — a proxy for monthly gun purchases — plunged more than 20% compared to 2016, continuing a downward trend that's been seen in all but one month this year, according to data from the FBI's National Instant Criminal Background Check System.
Sturm, Ruger & Company, the largest firearm manufacturer in the US, recently reported a $36 million drop in gun sales for the second quarter, a 22% year-over-year decline that the company's CEO attributed to "a big hangover coming out of the election cycle that had to be worked off."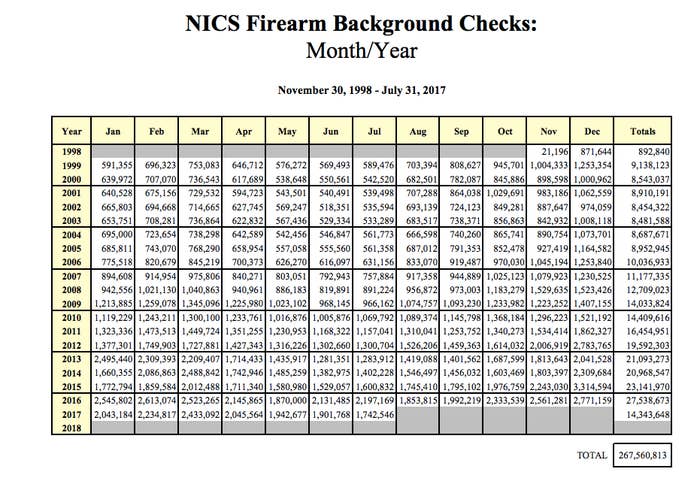 The numbers signal the end of an eight-year hot streak for the gun industry, which began when President Barack Obama took office, and accelerated amid national calls for tighter gun control during his second term. Last year, gun sales spiked to a record 27 million, according to background check data, driven in part by election-year fears that a new Democratic successor would push through gun bans and taxes.
"You had people that would normally not go out and buy an AR-15 go out and buy an AR-15 just because they were afraid Hillary would get elected," Keith Nichols, owner of OC Guns and Gear in Orofino, Idaho, told BuzzFeed News.
Despite — or rather, because of — the nationwide push for tighter gun laws and expanded background checks, the Obama years were a windfall for Nichols and other gun shop owners.
"As a businessman you take whatever business you can get," he said. "As an American, you wish that it wasn't out of fear."

But times have changed. Since Trump took office, Nichols said, he's seen fewer customers on the sales floor. He wouldn't call it a "slump," but said sales seem to have returned to "normal" after the gun-buying panic of the last few years.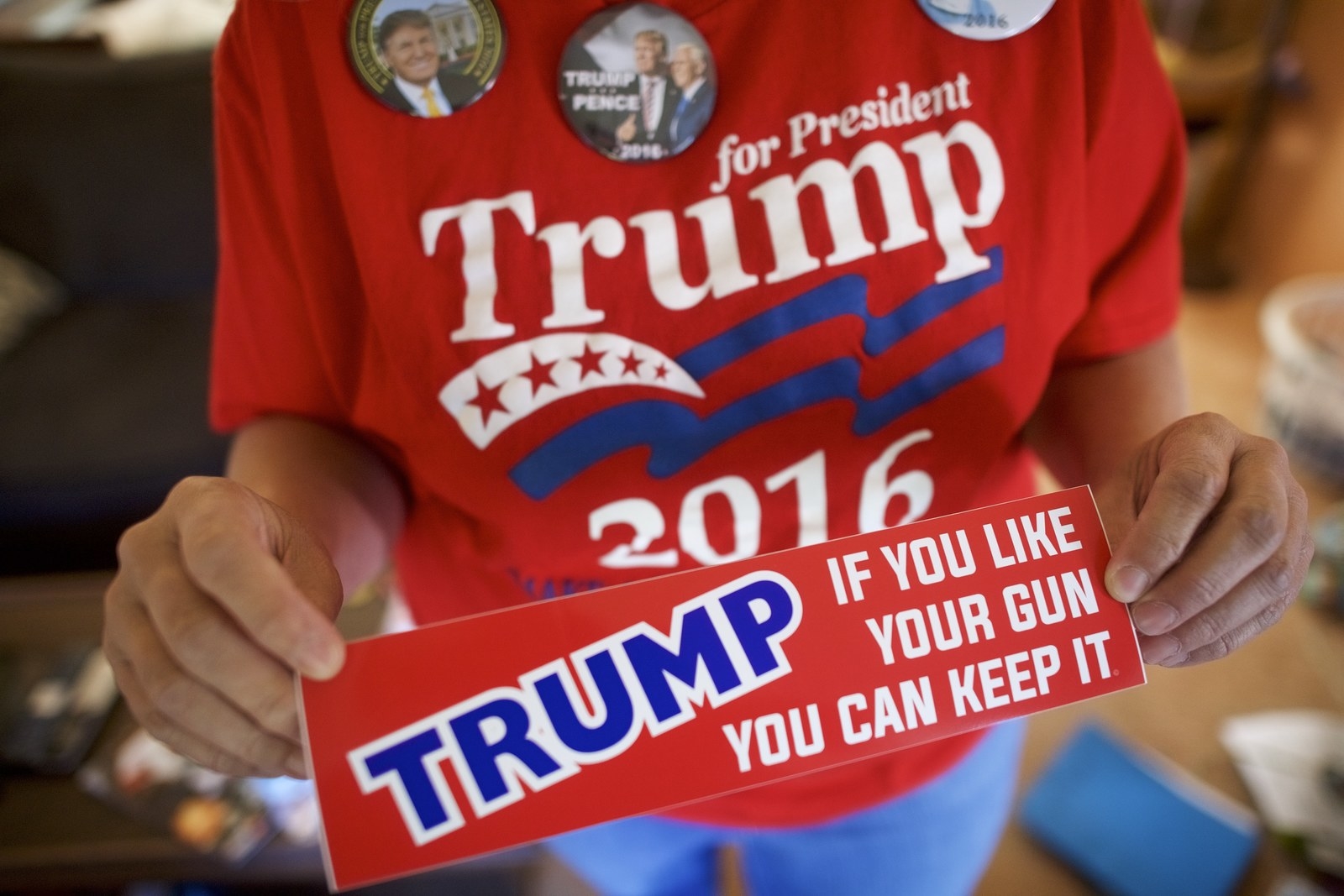 The shift can be attributed, at least in part, to Trump.
As a presidential candidate, Trump enthusiastically embraced pro-gun positions. At rowdy campaign rallies across the country last year, he promised to protect — and expand — gun rights, telling supporters at rallies that Democrats would "take your Second Amendment away."
The NRA, long a major donor in presidential elections, spent a whopping $30 million to get Trump elected — more than doubling the $12 million it had put toward Mitt Romney four years earlier, according to the Center for Responsive Politics. In a national ad blitz, the group cast the presidential race in foreboding terms, warning voters not to "let Hillary Clinton leave you defenseless."
Since taking office, Trump has continued to bask in this support. At the NRA's national convention this April, he reminded the audience what his victory meant for gun owners.
"You have a true friend and champion in the White House," he told a roaring crowd of 10,000. "The eight-year assault on your Second Amendment freedoms have come to a crashing end."
A spokesperson for the NRA told BuzzFeed News the organization does not comment on the business of gun sales or manufacturing, and that the group's focus is instead to safeguard the rights of gun owners.
But with their gun rights now apparently secure, potential gun buyers seem less inclined to stock up on new weapons.

"Since the fall election, we have continued to see a slowdown in firearms and shooting related categories," Tommy Millner, CEO of the outdoor and hunting supply chain Cabela's, said in an statement to investors earlier this month.
In the same statement, the company reported a 9% decline in sales for the second quarter, half of which came from a drop off in purchases of ammo and shooting products.
American Outdoor Brands Corporation, previously known as Smith and Wesson, saw a decrease of $9.6 million, or 6.5%, in handgun sales, according to its last earnings report.

Remington Arms also saw their firearms sales fall by $31 million in the first three months of the year, a decline the company directly attributed to the results of the November election. With new gun control legislation unlikely under Trump and the current Republican-controlled Congress, gun buyers feel little urgency to purchase new firearms, the company said, resulting in lower demand that has, in turn, slowed down production.
That's not surprising to Joe Ferrero, manager of Gun World Burbank, in California.

"The manufacturers didn't think Trump would make it into office," Ferrero told BuzzFeed News. "They geared up for a Hillary regime and they made a lot of guns, and now, they're sitting on more guns than they can sell."
"Now that there's a Trump administration, no one is worried about taking their guns away from them, so the manufacturers are sitting on a stock pile of guns," he said.

Business at Ferrero's gun shop isn't bad, he said. Rather, sales over the last eight years were abnormally high, he explained, with customers buying weapons simply out of fear that certain types of guns would have been outlawed.
In a certain sense, he added, business might have been a lot better if Clinton would have won the presidency.

"It was a gamble for them [gun makers]" Ferrero said. "If a Clinton administration would have made it into office, the whole United States would have spiked in guns sales across the states, 50, 100%."
But for now, at least, the gun boom is over.