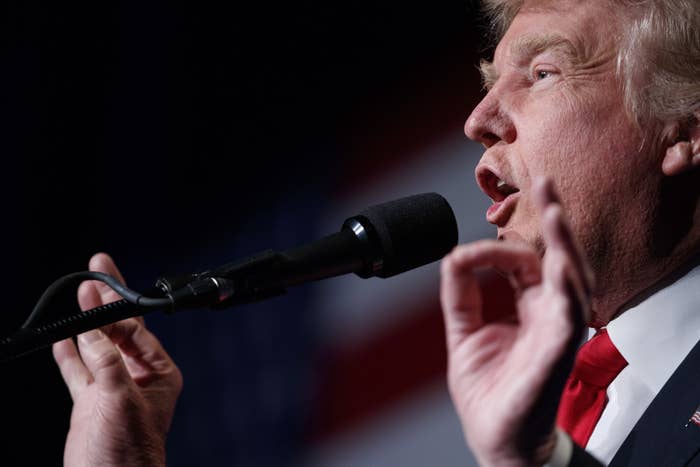 Donald Trump falsely claimed that voting polls in a largely Latino precinct in Nevada were kept open for hours Friday night to "bus and bring democratic voters," telling a crowd of supporters the system was "rigged."
"It's being reported that certain key democratic reporting stations in Clark County were kept open for hours and hours after closing time to bus and bring democratic voters in," Trump said. "It's a rigged system, and we're going to beat it."

The claim, however, appeared to be false.
County officials told BuzzFeed News on Saturday polls were kept open several hours later than usual because of the record-breaking turnout of early voters Friday, and that, despite issues of long waits, there were no other problems reported at the Nevada county polling stations.
Nevada voting laws require polling stations to stay open if there are people waiting in line to vote at the scheduled closing time.

"As we do throughout early voting and have done for many years, if the early voting site is scheduled to close at a certain time and there is still a line, obviously we continue to process those votes," Clark County spokesman Dan Kulin said. "There were long lines, we were busy, but I didn't hear of any significant issues."
Although political parties assign poll watchers at certain stations, any problems are also reported to the county's registrar of voters, Kulin said.

The Las Vegas Review Journal reported more than 57,000 voters cast their ballots. County officials called it the largest single-day early voter turnout they had seen.
Pictures from voters there showed long lines of voters standing outside a Latino market waiting to cast their ballots. No news outlets, however, reported any incidents or claims that people were bussed to the market.
Still, Trump was not alone in his comments.
Before Trump took to the rally stage, Nevada Republican Party Chairman Michael McDonald also referenced the large Latino voter turnout in Clark County.
"If we don't get our people out to vote, they're going to win," McDonald told the crowd. "Last night in Clark County they kept a poll open till 10 o'clock at night so a certain group could vote."
McDonald raised his hands and used air-quotes as he said "a certain group."
"The polls are supposed to close at 7," McDonald continued. "This was kept open till 10."
The Nevada code that says polls must stay open if there are people waiting in line at 7 p.m. is NRS 293.305.
"Yeah, you feel free right now?" McDonald asked the crowd. "You feel this is a free and easy election."
Nevada appears to be a battleground state as the two candidates look toward the presidential election Tuesday. However, the large turnout of early voters, particularly in the Latino community, has been seen by experts as favorable for Hillary Clinton, who has been polling better with Latino voters.
Speaking Sunday on CNN, Trump campaign manager Kellyanne Conway said her team had "not been able to independently verify" if the Clark County polls had stayed upon because people were still in line at the scheduled closing.
"If that is true, there's not a problem. We don't know that's true. We'll take a look at Tuesday as well. We just want the rules and law followed," she said.